Chuck Grassley Won't Rule Out Limits On NSA
The incoming judiciary chairman says "something has to be done before June 15."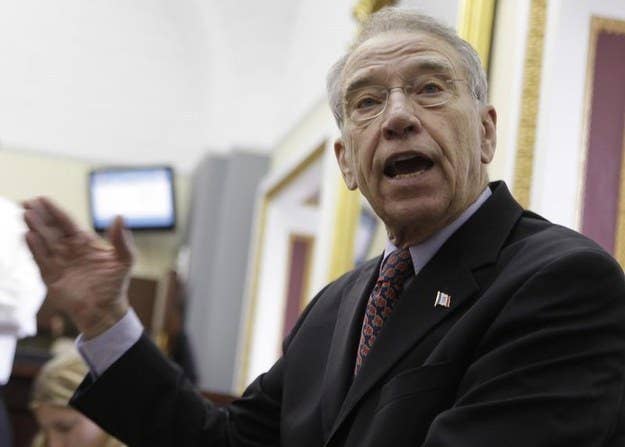 WASHINGTON — The incoming chairman of the Judiciary Committee said he was keeping "an open mind" about a bill to rein in the National Security Agency after the Senate failed to pass a bill this term.
Republican Sen. Chuck Grassley of Iowa was a "no" vote on moving forward with Sen. Patrick Leahy's USA Freedom bill, which would have placed certain limits on the NSA's ability to spy and collect data on citizens. However, he wouldn't rule out taking another look at Leahy's bill when he takes over the Judiciary committee in the next Congress.
"I don't want to say that," Grassley told BuzzFeed News when asked if he would scrap USA Freedom entirely. "I just think I have to very much keep an open mind."
Grassley also pointed out that his committee will need to move some sort of bill forward in the next Congress because a key provision of the Patriot Act expires in June and will need reauthorization. The provision allows the government to search certain records without knowledge or consent in the name of counterterrorism.
In light of the revelations made by NSA whistleblower Edward Snowden, many members of Congress have called for stricter oversight of the agency's domestic spying practices.
"I'll have two less Democrats, two more Republicans and I think it's a case of looking at the whole field and finding out what needs to be done and where you can find some consensus," Grassley said. "We have joint jurisdiction with the Intel committee, you know, so there will be some cooperation there. And you know there's a new membership in the House and a lot of people in the House have strong feelings both ways on this."
"Something will get done because you have to track terrorists and something has to be done before June 15," he added.
Kate Nocera is the DC Bureau Chief for BuzzFeed News. Nocera is a recipient of the National Press Foundation's 2014 Dirksen Award for distinguished reporting on Congress.

Contact Kate Nocera at kate.nocera@buzzfeed.com.

Got a confidential tip? Submit it here.