Capitol Hill Workers Are Starting To Freak Out About Not Getting Paid
Essential workers on the Hill won't see a paycheck until the shutdown ends. "If this goes past the end of the month, I'm fucked," an officer said.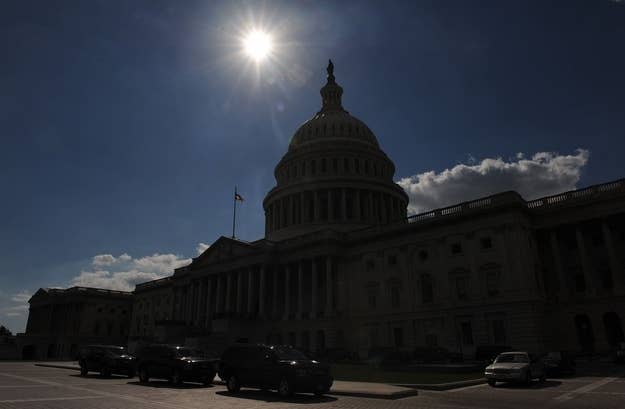 WASHINGTON— As the government shutdown drags on, the staffers who keep the Capitol running are starting to get nervous.
Congressional staff, the Capitol police, and the hundreds of employees on the Hill are still showing up to work despite the fact they will not get paid until the shutdown ends. But bank accounts are starting to dwindle, and it's hard to go anywhere in the Capitol complex without hearing a steady refrain of worry.
"If this goes past the end of the month, I'm fucked," said one Capitol Hill police officer. "I won't have money for gas, let alone my mortgage. I really, really don't care whose fault it is, I just want them to figure it out."
While it's now practically guaranteed that workers will receive back pay the government opens again for business, a lapse in a check for many will mean missing important payments. A worker told BuzzFeed that she had contacted her landlord, electric and water company, and phone provider and none were very sympathetic.
"They all just said 'sorry, you still have to pay. You have a grace period, but that's it.' So I am going to have to borrow money from my family, and I don't really have a choice about that," she said. "It's actually humiliating. I don't have a ton of savings, but I also don't know many people these days that do."
An officer became incensed when they discovered that the Senate had taken the time to designate this week "National Chess Week," while the government remains shutdown.
The workforce on the Hill is just a microcosm of what is happening across the country, with hundreds of thousands of federal workers are in the same boat.
There is some help, at least for the members of the Congressional Federal Credit Union They've been deferring loan payments, upping credit limits and a special program has been established for their members, offering a 90-day zero percent interest loan for furloughed employees. Staff at the Credit Union said they've been fielding tearful calls from people fretting about their finances.
One congressional aide said a number of staffers were looking into borrowing against their retirement plans if it started to look like the shutdown would last into November. And by the end of the day Thursday, many were worried that it would.
House Republican leadership floated a plan to increase the debt ceiling for six weeks, which would deliver some breathing room to negotiate a way forward on the budget with President Obama, but not re-open the government immediately as negotiations took place. And the positions the parties have taken to get the government re-opened haven't budged. House Republicans still want some concessions from Democrats before agreeing to a short-term funding bill, Democrats say they won't begin longer term negotiations if the government is still shuttered.
After leaving a meeting with White House Thursday, Majority Leader Harry Reid was asked if they would begin negotiations with the government still closed.
"Not going to happen," Reid said.
Nearly every lawmaker BuzzFeed spoke with expressed sympathy that workers aren't receiving paychecks. But as is the way in Washington, each side blamed the other for the stalemate. The House unanimously passed a bill on Wednesday to ensure that federal workers would be paid on time, but like the vast majority of the mini-funding bills passed in the House, the President issued a veto threat arguing the House cannot pick and choose what to fund.
"We are going to pay them, but we should pay them now and not make them wait, make them worry about making their mortgage payments. We know we are going to pay them, why we cant agree to pay them now it beyond me. You'd have to ask the Senate about that," said South Carolina Republican Mick Mulvaney.
Rep. Collin Peterson, a Democrat from Minnesota, was exasperated when asked about furloughed workers, blaming Republicans for the shutdown.
"Don't talk to us, we're not the ones who shut this place down. They've been beating me up, their political arm for the last six months that I won't repeal Obamacare," he added. They've been beating me up because I won't vote to keep the government open and get rid of Obamacare. They shut the government down over Obamacare, everybody's forgotten that. That's what happened ok, and I did not support that."
Jacob Fischler contributed to this report.
Kate Nocera is the DC Bureau Chief for BuzzFeed News. Nocera is a recipient of the National Press Foundation's 2014 Dirksen Award for distinguished reporting on Congress.

Contact Kate Nocera at kate.nocera@buzzfeed.com.

Got a confidential tip? Submit it here.