50 Years After The March On Washington, Jim Clyburn Is Worried
The South Carolina Democrat fears a younger generation has grown complacent. "I don't think there's an urgency of what's happening now. I don't think people see the correlation between today and 50 years ago," he tells BuzzFeed.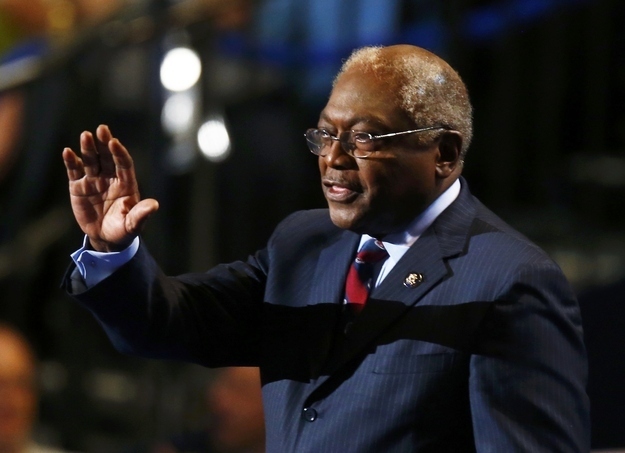 WASHINGTON — When Congressman Jim Clyburn was 15 years old, a white store owner pointed a gun in his face during a dispute over the cost of some honey buns and sodas.
He remembers every detail about the day: how his mother let him take the car to go to a school homecoming 20 miles away in Sumter County; how he had left his clarinet behind and couldn't march with his school's band in the parade; how the store was right off of Highway 378; and how terrified he was when he stared at the end of the gun.
"The guy told us how much we owed him and we disagreed with the price that he was charging us. We knew how to add — it added up to less money than he told us we owed him," Clyburn told BuzzFeed. "We ended up paying him what it cost, what was on the labels. And we walked out of the store. I got to the car and started to turn the ignition and the man came out with Colt 45 pistol and put it on the window of the car. He said, 'You boys owe me 50 more cents' with a pistol in my face. My two friends jumped out of the car yelling and crying and gave him the rest of the money they had on them — more than 50 cents. And we took off. It was a harrowing experience."
As the nation commemorates the 50th anniversary of the March on Washington this week, Clyburn, 73, said he feared too many people today were giving in to what Martin Luther King Jr. called "the tranquilizing drug of gradualism" — and forgetting the details of the past.
Citing events of the last year — from new voter ID laws in states across the country to the recent Supreme Court decision to invalidate part of the Voting Rights Act and the shooting death of Trayvon Martin — the South Carolina Democrat said he was fearful that a younger generation was becoming too complacent. Members of Congress, like himself and Georgia Rep. John Lewis, have spoken out forcefully against new voting laws and the Supreme Court decision, pledging to work to come up with a legislative fix that will prevent states from implementing laws he believes are intended to depress minority voter turnout. But he said he was concerned by a lack of engagement outside of Congress.
His sentiment was echoed during a Saturday event on the National Mall, where many speakers implored young people and the thousands gathered to become more involved and politically active.
"These are the kind of things that are happening today, we thought they were behind us," Clyburn said. "So I'm hopeful that this will be a call for us to learn the lessons of our past and at least conduct ourselves as if we've learned those lessons… I don't think there's an urgency of what's happening now. I don't think people see the correlation between today and 50 years ago. While we are commemorating I hope we're not celebrating."
Clyburn also spoke about the conversations he has had with his children and grandchildren about racism and sexism as it exists today. While much has changed since he was growing up, Clyburn said these conversations remain something "that most African-Americans have with their children."
"I have a grandson and I have talked with him about the way he conducts himself and the way he reacts to things. I've tried to be real with him. I told my daughter when she first left home to go away to school, I had a conversation with her that most African-American parents have with their children. I told her when she got to school that a lot of things were going to happen to her that were positive, and I said a lot of things that would happen to her that were negative. 'You're a woman and you're black, those will never even out. Those are things that you have to work to overcome,'" Clyburn said.
"It's an added burden that black children have that white children don't have," he said.
He was cautiously optimistic that Congress would come up with a new formula for the Voting Rights Act. The Supreme Court ruled in June that several states with histories of racial discrimination would no longer have to seek federal approval to change their voting laws, ruling that the model used to determine which states should face that regulation was old and outdated.
Clyburn said there was "urgency" among the black, Hispanic, and Asian-American caucuses in the House to come up with a solution, but he did not see that urgency elsewhere.
"I think it's possible that we'll do what's necessary to protect [the] Voting Rights Act. I don't hold it against the Supreme Court for saying the data was old and should be updated, and I think the invitation is there for us to fix it. I disagree the data was old," he said.
Because of his work as a schoolteacher, Clyburn did not attend the March on Washington 50 years ago but was active in demonstrations and recently wrote in a USA Today op-ed, "although my body was in South Carolina, like millions of Americans, my heart and soul were in Washington, D.C." He'll attend multiple events surrounding the anniversary, including a speech on Wednesday by President Barack Obama.
And Clyburn says he hopes people will pay attention.
"My history students used to ask, 'Why do we have to spend all this time talking about things that happened way back when?' Those things are never going to happen again. Well, I'm not too sure they wont happen again," he said.