You Won't Believe These Baseball Photos Are From This Century
America's pastime is captured with an old-school photo technique, and the results are bonkers.
Sports photography often places a premium on speed, the better to freeze the motion of fast action plays. Photographer Tabitha Soren's book Fantasy Life goes in the opposite direction — she looks at the in-between moments of the players' lives and uses tintypes, one of the slowest forms of photography, to capture beautiful images of baseball. The intersection between past and present, art and sports is captivating, with the resulting images reminiscent of the early days of the game despite being thoroughly grounded in the modern era.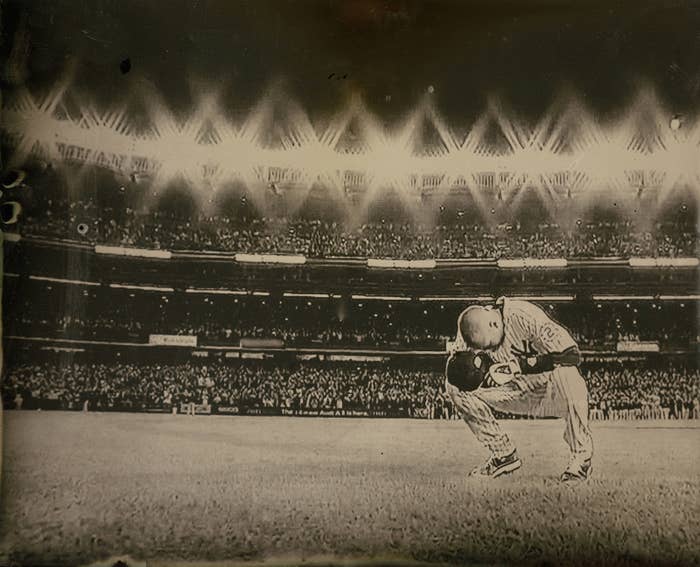 "Tintypes are photographs made by creating a direct positive on a thin sheet of metal coated with photographic emulsion. The first recorded baseball contest took place in 1846. The tintype process was first described by Adolphe-Alexandre Martin in France just seven years later. So since baseball and tintypes came into the world at the same time, I thought making my own dry-plate tintypes might be a good way to make the action shots look like my work — and not anyone else's," Soren says.

"I'm not a baseball fan, and when I started I knew very little about the game. The players and coaches couldn't understand why I was back year after year or what in the world I was going to do with all these pictures. At the same time, some in the the art world couldn't figure out why I'd want to explore such a mainstream subject. Didn't we have enough pictures of sports in the universe already? The tintypes are the element of this project that really stand out as art objects. Action tintypes just haven't been made before, to my knowledge. That's because they require a long exposure. It took me years to figure out how to make a sharp in-focus tintype."