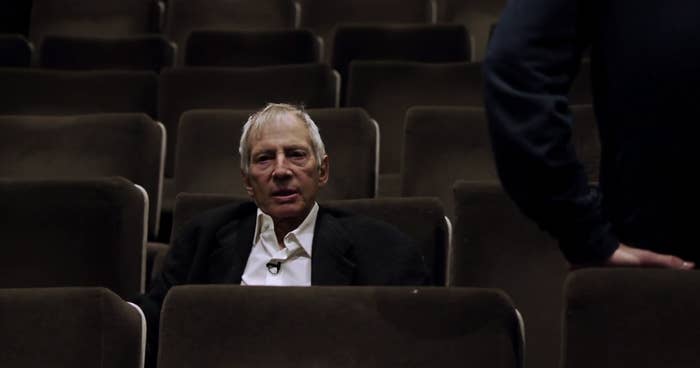 In the finale of The Jinx, director Andrew Jarecki prepared to confront the HBO docuseries' subject, Robert Durst, with the seemingly damning evidence the production had turned up: a letter from Durst to his late best friend, Susan Berman, that matched not only the handwriting but the misspelling of "Beverley" on a note Berman's presumed murderer sent to police in 2000.
Talking to the camera, Jarecki confessed to being nervous. "I think Bob is a lot more volatile than I've ever thought before," he said. Then, he added: "For years, I've been saying to people, 'I'm not afraid of him, I don't feel fear.' But at the same time, you know, you can't help consider that if you're about to let him know that you're potentially becoming the enemy."
Leading up to this dramatic showdown, The Jinx laid out what appeared to be a precise order, and one thing seemingly led to another. In the previous episode, Durst stalked the home of his brother in front of cameras. Then in the finale, we were shown Durst putting Jarecki off repeatedly — until he was arrested and needed the filmmakers' help, which brought him back to them for the final interview.
So of course Jarecki was right to be on edge heading into that interview. The Jinx is, after all, the story of a man who allegedly murdered three people, two of whom he is thought to have killed because they backed him into a corner. And on that day when he did confront Durst, Jarecki did indeed extract a creepy on-camera reaction from the accused murderer. He also got an even creepier off-camera one, in the form of Durst's "killed them all, of course" audio mumblings that served as The Jinx's haunting, shocking ending, which exploded as a news story after the finale aired.
But at some point during that day — the day when Jarecki, The Jinx's co-writer–cinematographer Marc Smerling, and the rest of its production team were geared up to confront Durst, a man they were now sure, after exhaustive research and evidence-finding, was a murderer — they also appear to have taken time to do something else: film Robert near the workplace and home of his estranged brother Douglas Durst, who, as Jinx viewers know, is afraid of Robert.
The assumption that these events took place on the same day comes from the fact that Jarecki and Durst are wearing the same clothes in the interview footage and footage outside Douglas Durst's home and a Durst Organization office building (as reported by BuzzFeed News' Anne Helen Petersen). We first saw footage of them from that day — without knowing any context — in a small snippet in the premiere of The Jinx. But it was used most extensively in the episode before the finale, titled "Family Values," in which Durst skulked around 1133 6th Ave. in Manhattan, a building owned by the Durst Organization where Robert's office once was, and also around W. 43rd St., where Douglas Durst and other Durst family members live. (Douglas Durst, the family's second son, runs the Durst real estate empire, and one thesis of The Jinx is that his ascension over Robert upended a natural order.)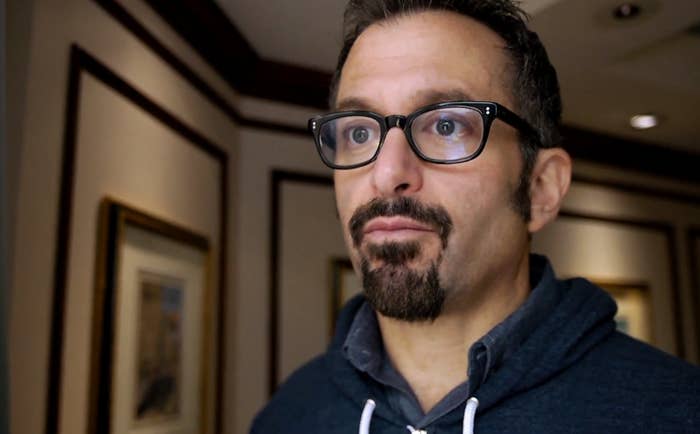 There was no reason to distrust the chronology of the series' layout. Why would we? Though it was illustrated with artful re-enactments, The Jinx was presented by HBO's respected documentary division; Jarecki had devoted years of his life to investigating Robert Durst; and in the most dramatic turn possible, one that couldn't have been scripted, Durst was arrested in New Orleans on Saturday, March 14, the day before the finale, to face charges for Berman's murder. But as soon as the finale ended, its timeline seemed to fall apart. The New York Times' Charles Bagli, the foremost expert on Robert Durst and a talking head in The Jinx, published an in-depth story about Durst's arrest and The Jinx's discoveries that included the assertion that "more than two years passed after the interview before the filmmakers found the audio" of Robert Durst's bathroom confession.
How could that be? In the finale, we first saw Durst ducking a second sit-down with Jarecki & Co., meaning they could not confront him on camera with the evidence of the envelope; then we saw that Durst's arrest (which occurred in August 2013) meant that suddenly the filmmakers had "a lot of leverage" on Durst, as Jarecki put it, even if the reasoning wasn't quite clear and we didn't hear any quid pro quo. Nevertheless, this leverage seemed to lead directly to Durst then calling Jarecki to say, "I am ready to be filmed if you're still interested in doing that."
The rest is twitching, burping, seemingly confessional history. But if that arrest was in August 2013 — an easily google-able fact — and it took them two years to find the audio, according to Bagli, then obviously something was off. Bagli confirmed to BuzzFeed News that the "second Durst interview took place in 2012," but the audio "was not discovered until last year."
Representatives for Jarecki and Smerling did not respond to a detailed outline of what would be in this story. A representative from HBO sent this statement: "We simply cannot say enough about the brilliant job that Andrew Jarecki and Marc Smerling did in producing The Jinx. Years in the making, their thorough research and dogged reporting reignited interest in Robert Durst's story with the public and law enforcement. Most importantly, we believe the relevant information was turned over to the authorities in a timely and responsible manner."
In the postmortem interviews the filmmakers did the Monday morning after the finale aired — before they ended up canceling their scheduled media appearances and interviews at around noon ET, issuing a statement citing that they might be "called as witnesses in any case law enforcement may decide to bring against Robert Durst" and so it was "not appropriate for us to comment further on these pending matters" — Jarecki appeared to fumble questions about the timeline. On CBS News, when asked specifically whether it had been two years before they found the audio, he first said it had been "months" and then "many months" after the second Durst interview. To the Times, when asked whether the interview had come before the Durst arrest, he said, "Yeah, I think I've got to get back to you with a proper response on that."
And the envelope and the audio — when did they give those to law enforcement? "We need to be careful about how much we describe about the details of the case, so what we'll say about that is we provided the relevant evidence to law enforcement some months ago, and it's been in their court," Jarecki told the Times. In the filmmakers' statement, they said the same thing about timing: "We can confirm that evidence (including the envelope and the washroom recording) was turned over to authorities months ago."
Months ago: Is it hazy because they began cooperating with investigators early in their process — earlier than they wanted to reveal? In Bagli's Times story, he wrote of the filmmakers' dilemma about what to do with the envelope. "If they did so too soon, their lawyers told them, they could be considered law enforcement agents in the event of a prosecution, possibly jeopardizing the material's admissibility in court, Mr. Jarecki said."
Even so, according to the Times, "They began speaking to Los Angeles investigators in early 2013."
A source close to The Jinx production told BuzzFeed News that the first set of Durst interviews was filmed in Los Angeles in mid-December 2010 over a few days. In the phone calls we hear between Jarecki and Durst trying to schedule the second sit-down, they mention dates in October and November, and we then see a wall calendar for the month of January. So this haggling seems to be taking place in fall 2011 and winter 2012. That would appear to indicate that Sareb Kaufman, Berman's surrogate son who discovered the "Beverley" envelope from Durst to Berman, found it between late December in 2010 and early fall of 2011. Although it should be noted that during these scenes in which Durst is being elusive, Jarecki does not specifically mention the envelope; he refers to "everything we've learned in the meantime." The filmmakers do consult with forensic handwriting analyst John Osborn on camera, and show him the envelope — but it's impossible to figure out when any of these events took place. Kaufman did not return a phone call to his office nor a Facebook message from BuzzFeed News asking when he had found the envelope; Osborn told BuzzFeed News, much like Jarecki and Smerling, that because he is a potential witness, he could not answer any questions.
Taking this timeline morass to one possible conclusion, if the envelope was found in that period (between late December of 2010 and early fall of 2011), and the filmmakers gave it to authorities "months ago," that would indicate that they might have held onto it for a few years.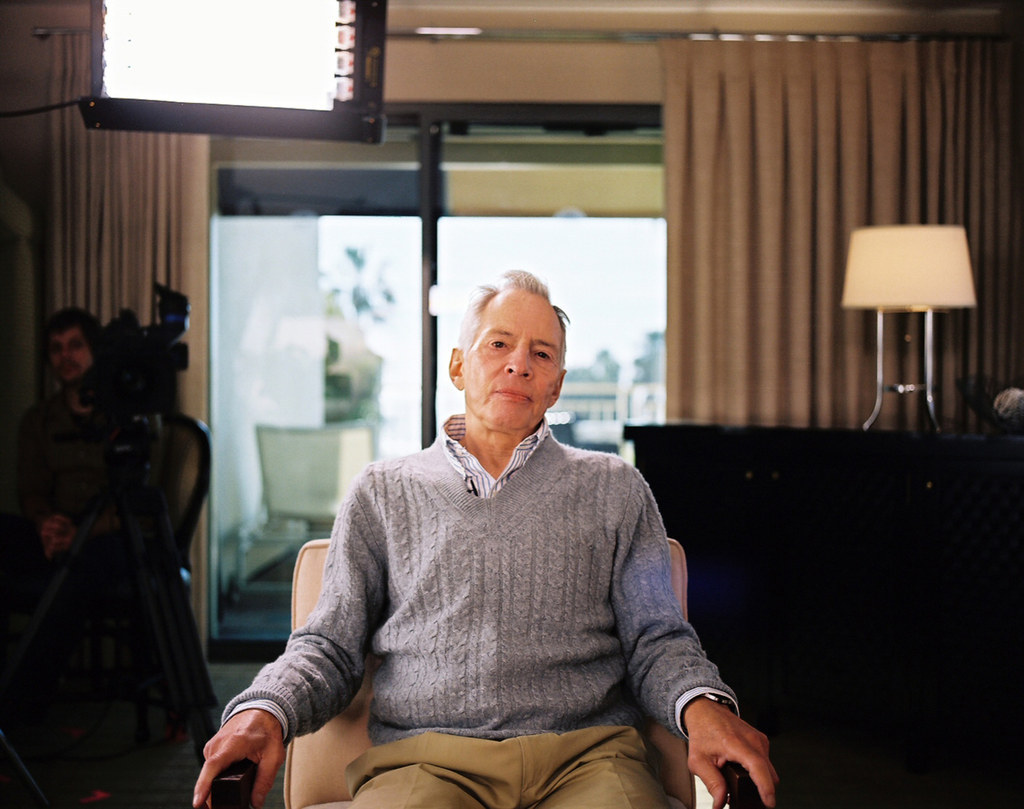 That's one ethical question. Here's another: What's the reasoning for creating an apparently false sequence of events in which Durst's 2013 arrest led him back to Jarecki? It's not only presented as sequential in The Jinx, it's shown to be causal: Just as they think they'll never get him to come in for that second interview, Durst is arrested. As we see footage of him leaving his arraignment, an unidentified speaker (from listening to previous scenes, it sounds like Zac Stuart-Pontier, a Jinx producer and editor) says in voiceover, "In court, they said Doug had put an order of protection on Bob after that day we shot in Times Square." The images flash back to Durst and Jarecki standing outside of 1133 6th Ave., and him lurking outside of Douglas Durst's house on W. 43rd St. He continues: "They had video surveillance footage of Bob approaching Doug's house" — and here the audio sounds slightly different, suggesting an edit — "a couple of weeks later. And so apparently he'd broken the order of protection. So they went and arrested Bob. And they had a bail hearing — he got $5,000 bail."
Muddle, muddle, toil and trouble. According to the New York Post, the arraignment for Durst that is shown in The Jinx took place on Aug. 16, 2013. He had been arrested for events that occurred on June 2, 2013, during which he appeared to be casing Douglas' house, as well as other Durst family houses, all on W. 43rd St.
BuzzFeed News spoke with an eyewitness who saw Durst and a film crew outside of 1133 6th Ave. on April 18, 2012. That is more than 13 months before the June 2, 2013, incident that led to the arrest — and even more significant, provides an exact date for when Durst and Jarecki did the second interview. And a time of day too: This person said that Durst and the cameras were outside 1133 6th around noon on April 18.
So why did The Jinx say that Durst trespassed "a couple of weeks" after filming? Is there a specific reason Stuart-Pontier referred to that sequence as "that day we shot in Times Square" instead of something like the day of our second interview with Durst, which seems like the more significant event of that day? Stuart-Pontier did not respond to an email from BuzzFeed News asking to speak in order to clarify these questions. And as far as the chronology of April 18, 2012, goes, it's also confusing. We see Jarecki greet Durst in the lobby of the Regency Hotel on 61st and Park Avenue, and they go upstairs for what looks to the viewer like a short interview: some softballs, some fact-checking — and then, of course, the "Beverley" confrontation. When Jarecki and Durst say good-bye, Durst looks at his watch and says, "It's five after four." After which, presumably, he goes into the bathroom, still wearing his microphone.
Let's assume it was 4 in the afternoon, and that the eyewitness was correct that Durst was outside of the Durst building around noon. Did they meet at the Regency and go upstairs, only to then travel to shoot footage in Times Square, at 1133 6th Ave., on W. 43rd St., and in the Starbucks we saw Durst in during Episode 5? Durst and Jarecki are also wearing the same clothes in the scenes in the empty movie theater (seen in each episode's opening credits): so that was presumably shot that day too. Did they then go back to the Regency to film the rest of the interview? Is that when the bombshell questioning happened? Given the indeterminable amount of time spent at the interview, it would be good to feel confident that Durst's "killed them all, of course" mumblings directly followed his being questioned about the envelope. But it seems like it was a long, complicated day of filming.
Another intriguing bit: According to a motion to dismiss the charge against Durst that was denied on Dec. 16, 2013, Dominick Manzi, who does security for the Durst Organization, said that on April 17, 2012, Durst was spotted on 43rd Street between 9th and 10th avenues. The motion to dismiss cites Manzi's account of that day: "Defendant was crouched behind a tree, outside the residence at 413 West 43rd Street. I told defendant, in substance, that I was a security agent in the employment of Douglas Durst, and the Durst Organization, and that he was to have no contact with" the family.
Besides being sinister and weird that Durst scoped out his family's homes the day before shooting The Jinx on that block, that detail is especially important because the first order of protection from Douglas and his family against Robert Durst — also reviewed by BuzzFeed News — is dated Aug. 16, 2013, coinciding with the arrest, not with the filming in April 2012. The charge, according to the motion to dismiss, is simply trespassing. (He was eventually acquitted.) There is a mention of a "stay-away order," which was Manzi telling Durst to get away from the family houses. But is the entire idea of an order of protection that Durst violated causing this arrest a fiction? If so, whose fiction: Durst's? Or The Jinx's?
The day after the Jinx finale, it seemed clear that the filmmakers had inserted Durst's arrest in between his ducking them and his eventual interview. We don't know why. We do know they accompanied a man they were positive was a murderer to the home of someone who fears being murdered by him, at the same time they might have been withholding evidence from law enforcement.
Douglas Durst has not been secretive about being scared of his older brother. In a deposition tape featuring Douglas that was broadcast in the first episode of The Jinx, he said that he has had reason to hire bodyguards "to protect my family" from him. As Douglas put it plainly to the New York Times in an article in early January of this year, "There's no doubt in my mind that if he had the opportunity to kill me, he would."
There's no doubt in my mind that if he had the opportunity to kill me, he would.
Now that The Jinx is over, it is easy to see its accomplishments. It is an entertaining, engaging, obsessive, and at times gasp-inducing miniseries. Whether its efforts ended up helping the prosecution of Robert Durst or hurting it, we will see in the coming months (and possibly even years) — assuming he is actually successfully brought to trial. But when you look closely at its construction, The Jinx leaves many questions that the filmmakers now refuse to answer. With a project as ambitious as this one, it's unfortunate that Jarecki's on-camera statement that its No. 1 goal is to "get justice" might end up being another of its fictional re-enactments.
Ken Bensinger, Susan Cheng, Tom Namako, and Nicolás Medina Mora contributed to this report.