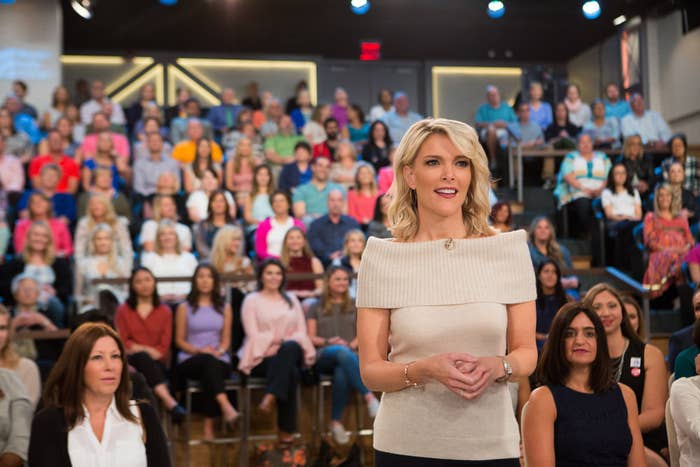 The trouble for Megyn Kelly Today and NBC News is getting worse.
From the start, Megyn Kelly Today's Nielsen ratings have been down compared to the third hour of Today, which was cohosted by Al Roker and Tamron Hall last fall. Despite a huge marketing push for Megyn Kelly Today, the show was down 12% in total viewers in Week 1 (2.9 million for Roker and Hall versus 2.5 million for Kelly), 24% in Week 2 (2.9 million versus 2.2 million), and 23% in Week 3 (2.9 million versus 2.3 million). Worse are Kelly's ratings in the key demographic for news, adults 25 to 54: Week 1, down 25%; Week 2, down 38%; Week 3, down 33%. (Oct. 9 was Columbus Day, during which daytime shows traditionally get a bump, and Kelly drew a .8 in the 25-to-54 demo that day, tying her highest rating since the show's premiere. For the rest of the week, she drew .5s and .6s.)
The ultimate aim of Megyn Kelly Today was to challenge Live With Kelly and Ryan, which is syndicated by ABC, but the contest is not even close. In Megyn Kelly Today's first week, Live beat it by 14% among viewers and 17% in the 25-to-54 demographic. In the second week, the gap widened, with Live besting Megyn Kelly Today by 34% among viewers and 60% in the demo. (Syndicated shows have a one-week lag in delivering ratings, so Week 3 comparisons are not yet available.)
Beating Live was the dream. Now that NBC News is in a waking nightmare surely the goal must be to not destroy Today's popular wine-soaked fourth hour with Kathie Lee Gifford and Hoda Kotb. (NBCUniversal is an investor in BuzzFeed.) And while it's not total carnage in the ratings yet, the weaker lead-in from Megyn Kelly Today is certainly affecting Kathie Lee and Hoda: It's down both in total viewers and among 25- to 54-year-olds compared to the same weeks last year. In last year's demo ratings, Today's third hour (with Roker and Hall) drew a .8 in the first two weeks of the season and a .9 in the third week, handing a strong lead-in to Kathie Lee and Hoda. Megyn Kelly Today has drawn a .6, .5, and .6 during the same weeks, which leaves Today at 10 a.m. struggling to hold on: The results are double-digit declines when compared to the start of the 2016 season.
Any further erosion for Kathie Lee and Hoda will surely cause Megyn Kelly Today's crisis moment, whether that means a cohost for Kelly, flipping the order of the shows, or some other attempt to fix this $18 million mess.