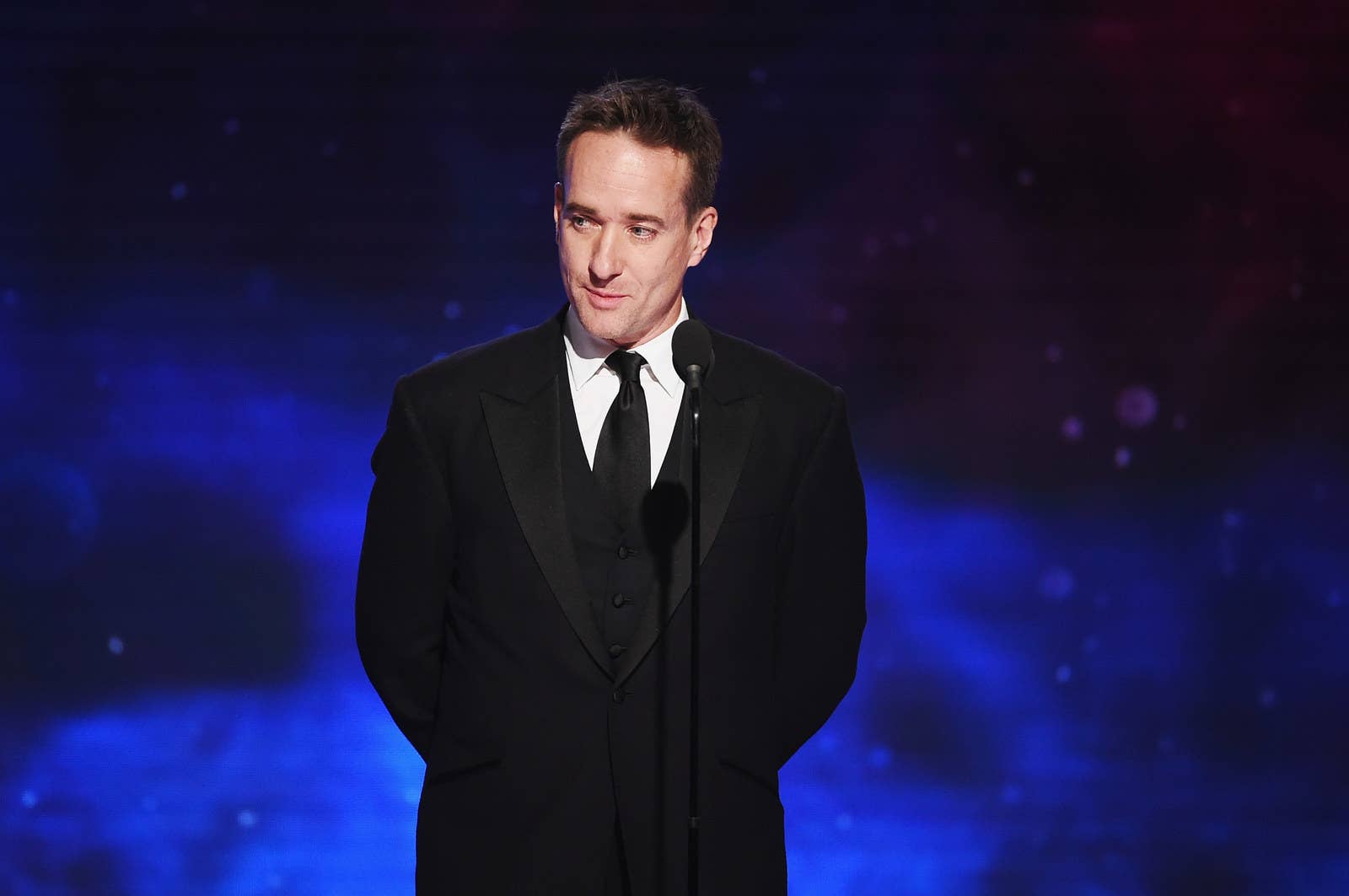 In the eighth episode of Succession — HBO's comedic drama about the Roy family, a wealthy, Murdoch-like dynasty that runs the many-tentacled Waystar Royco — Tom (Matthew Macfadyen) is being feted at his bachelor party. He is soon to marry Siobhan Roy, called Shiv, the lone daughter of the four adult Roy kids, who each display different pathologies but share one common trait: entitlement. Shiv (Sarah Snook), whose nickname is fitting, is having a full-blown affair (unbeknownst to Tom) — and has granted Tom a hall pass for the night. Tom, who desperately loves Shiv, is nervous about the agreement and calls her for specifics: "If I touch a boob, do you grab a dick?" Shiv can barely give him two seconds to discuss it: "Tom, I can't negotiate right now, but we know, right?" Tom, who does not actually know, looks flummoxed: "Sure!" he answers gamely. "We know."
Shiv's brother Roman (Kieran Culkin) is in charge of the celebration but was too lazy to arrange for a trip, or even any drugs. He has instead taken Tom and other male family members to a debauched party in a cavernous space under the subway tunnels of Sunset Park, Brooklyn. Which is where Tom — determined to have a "wild" time — makes good on his hall pass. He excitedly reports his exploits to Greg (Nicholas Braun), a Roy cousin who is Tom's underling at Waystar Royco, and whom he ritually abuses. "She goes down on me. And then I splooge in her mouth," an elated Tom tells Greg. "I know, I know! Get this: She kisses me, and puts it back in my mouth. And I swallow!" Greg's face is a rictus of horror and disgust: "Which, the cum?" Tom's face falls a bit, but he keeps trying: "I know! So hot!"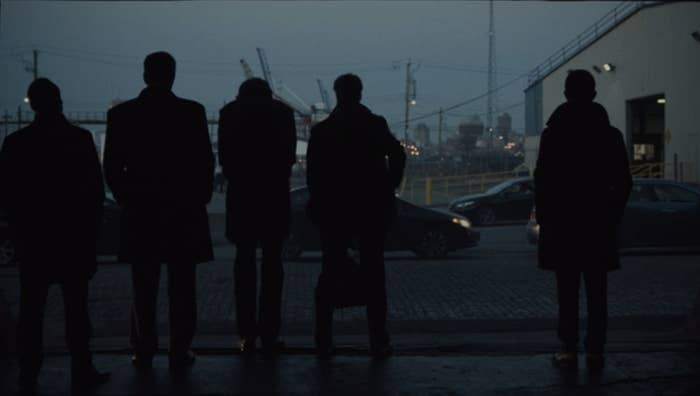 By the time they're all leaving the party at dawn, Greg has told everyone what happened. "Greg tells me you swallowed your own load," says Connor (Alan Ruck), one of Shiv's brothers. "Congratulations. I hear you swallowed your own load," Roman says soon after. "Yeah, I did," says a now utterly deflated Tom.
During a recent trip to Los Angeles, Macfadyen spoke to BuzzFeed News with delight about Succession — both about the show itself, which was created by Jesse Armstrong (Peep Show), and about the experience he had making it. He would occasionally slip into Tom's American accent for emphasis. "Those writers are so funny," Macfadyen said about that bachelor party scene. "They get to the nubbins. They get right to the crux of what's excruciating. Which is: He's desperate for himself and for his friend Greg to think it's sexy and OK and —" Tom voice! — "wild."
"And then there's that awful dawning realization that it isn't any of those things," he continued. "It all happens in that moment — that light dying in his eyes."
Macfadyen, 44, has worked steadily onscreen since 1998, when he costarred in an ITV television adaptation of Wuthering Heights. Throughout his career, he has alternated between plays, TV shows, and movies, and he's best known for costume dramas, including his role as Mr. Darcy in the 2005 remake of Pride & Prejudice, and Henry Wilcox in the recent adaptation of Howards End, among many others.
As such, his turn as Tom — who is in charge of the recreation side of the Waystar Royco conglomerate — is a departure for him. Not only is Macfadyen playing an American for the first time, and not only is the story contemporary, but Armstrong's dialogue is frequently — well, filthy. In an ensemble show filled with quotable — and GIFable — performances, Macfadyen has emerged as Succession's scene-stealer. In the Hollywood Reporter, Daniel Fienberg wrote that Macfadyen delivers an "Emmy-worthy performance blending obliviousness, insecurity, darkness and optimism in a potent brew."
The object of Tom's vulgarities is generally Greg. "You lump of fucking turducken," Tom spits at the bumbling Greg during one argument. "Did you squeal? Did you bitch me out, pigman?" And when Tom comes upon Greg doing coke at the bachelor party, he exclaims, "Greg, you total coke whore!" — and later says, "Buckle up, fucklehead!"
Macfadyen was jet-lagged during our interview, having flown from London the day before — "I feel slightly like I'm underwater," he said — and had every reason to be tired or grumpy, but his most frequently used words were "fine" (7 times), "good" (16 times), and "lovely" (18 times).
While he was shooting the pilot for Succession in November 2016, he found out he had been cast in Howards End, a coproduction of BBC One and Starz. It was a four-hour miniseries based on the E.M. Forster novel, adapted by Kenneth Lonergan and directed by Hettie Macdonald. Macfadyen especially liked how Lonergan's dialogue had the actors overlapping. "It was like broken conversation, which we'd learn to the letter — like a dance," he said. "And we'd be doing these scenes, and they would tumble over each other. Like people really speak. It was lovely to do."
He called Macdonald "superb" and "brilliant" as a director, and said, "She's really intelligent and funny and sort of forensically detailed about what she wanted and what she believed." He noted that he's rarely worked for a woman director during his 20-year career. "It's nuts," he said."It's nuts!"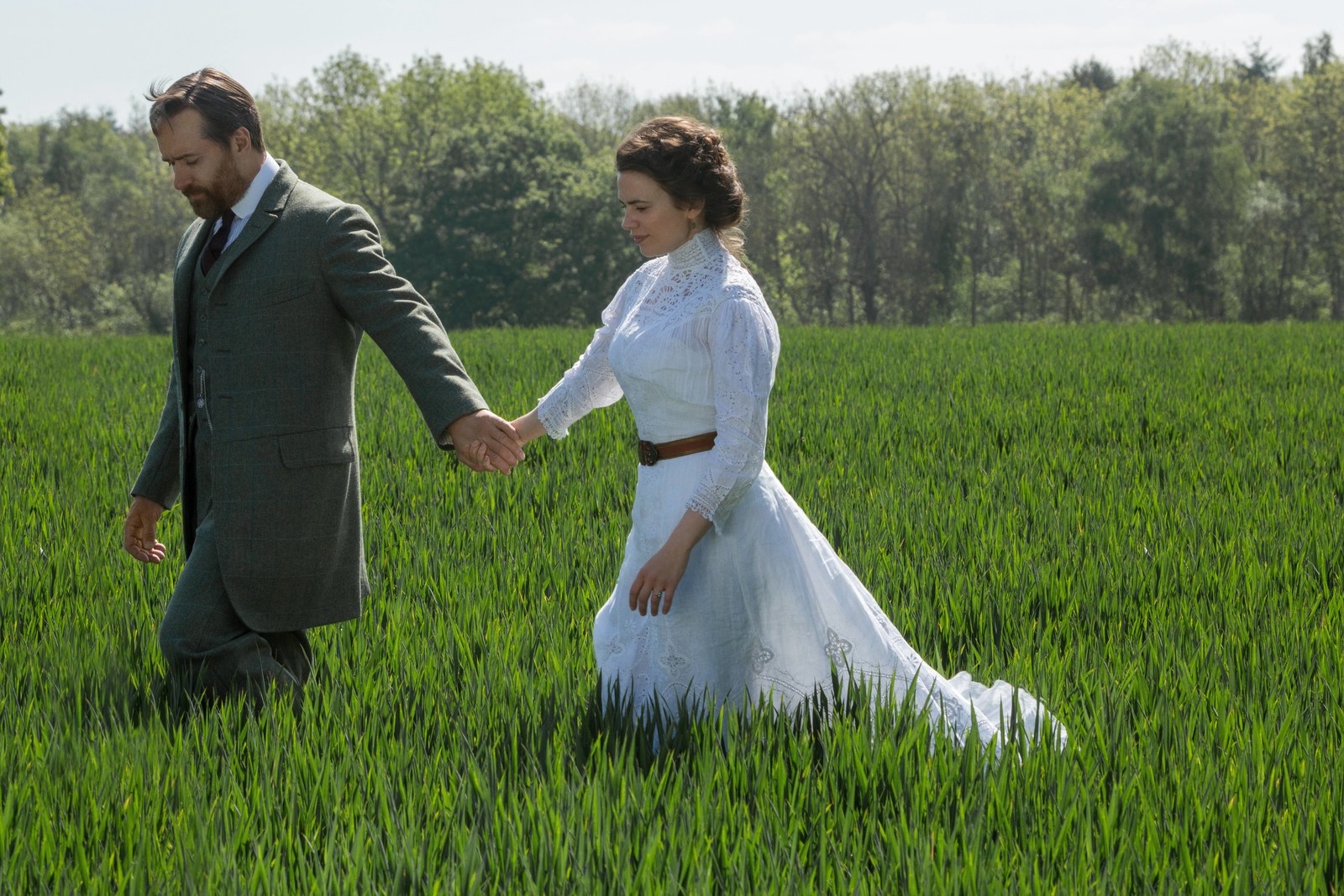 At the beginning of Howards End, Henry Wilcox is rich and aggressive, always wheeling and dealing — a Master of the Universe for the Edwardian era. He is then widowed and soon becomes engaged to the free-thinking Margaret Schlegel (Hayley Atwell). By the end of the story, after a scandal — his son accidentally kills someone — his new family is stuck at Howards End, the family country home. It's a bucolic exile, but exile nonetheless.
"Hayley and Hettie and I kept saying, 'We must remember that this would be, like, the worst tabloid thing imaginable,'" Macfadyen said. "The shame — the social shame of what happened to Henry Wilcox. He wouldn't have gone to London again. It sounds silly, but it would have been a big deal for a man like that."
Macfadyen was stepping into the shoes of Anthony Hopkins from James Ivory and Ismail Merchant's much-lauded 1992 film, which received nine Oscar nominations (and won three, including Emma Thompson's Best Actress win). "He's my Henry in my head," Macfadyen said of Hopkins. "But if you start thinking I'm really going to try to eclipse another performance, you become unstuck. It doesn't work. You're not serving the story."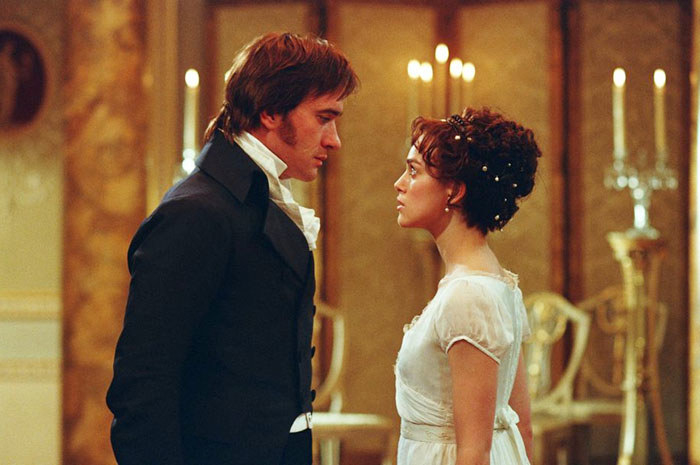 He did feel pressure during his most famous film role, Mr. Darcy in Pride & Prejudice, in which he played opposite Keira Knightley. "Oh, Mr. Darcy — don't fuck it up!" Macfadyen said. "It just felt like a job," he said. "It was OK."
When pressed on the topic, Macfadyen continued. "I wish I'd enjoyed it more. I was uncomfortable doing it. I think I felt the pressure about it," he said. "Because it was sort of difficult not to. It took me a long time to get the job. It took me so long that I was like, Cast somebody else, please." It took so long, he said, because "someone didn't want me." Eventually, he didn't care, thinking to himself, "I'm doing very well, thanks very much."
But then he did get the part: the iconic Mr. Darcy. "And then when I got it, I..." he paused for several beats. "I don't know. I just wish I'd enjoyed it a bit more. Maybe I worried too much."
Macfadyen said the purpose of storytelling is to make people "feel better about being alive" — that's why he acts. So even after he expressed his discomfort with and regrets about Pride & Prejudice, he checked himself. "It's a beautiful, beautiful, special story," he said. "And it's lovely when people talk to me about it, and people find it very comforting — which is the point of storytelling."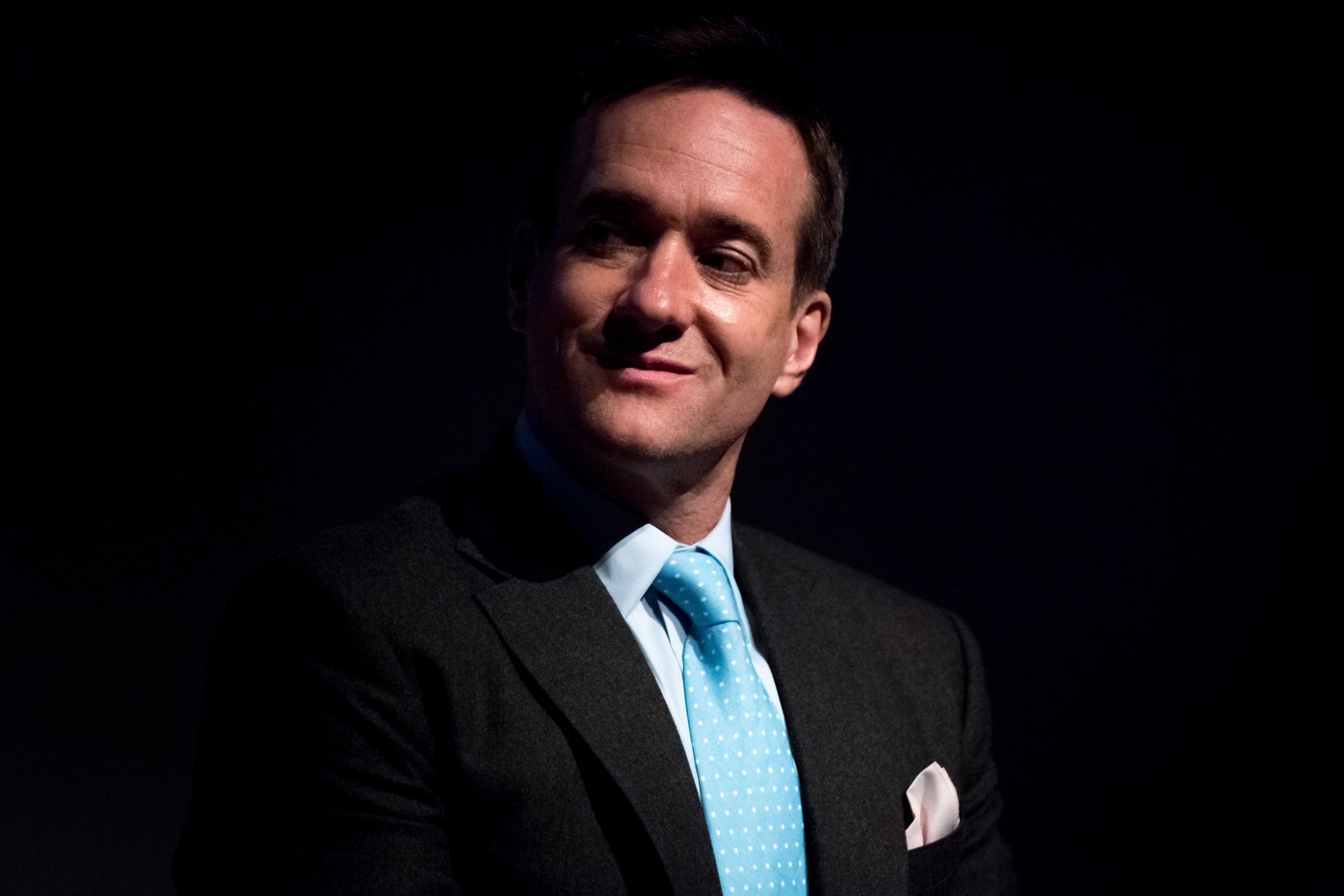 Macfadyen lives in London ("West London — it's lovely") with his wife, Keeley Hawes, and their three children. He and Hawes — also a prolific actor — met on the BBC series Spooks (it aired as MI-5 in the United States), on which he, Hawes, and David Oyelowo led the spy thriller's first smash-hit season in 2002. Over the summer, he took the kids to France for a month, but when they went back to school, "I was like, what do I do?" Macfadyen said. "I can't just wash their pants all day long." He's been taking guitar lessons instead. "I've been playing guitar, I go running, I read. I turn my iPad off and lock it away," he said.
Succession will begin filming again in January, and Macfadyen can't wait. "As an actor, the writing is just such a safety net and a magic path," he said. "It was so much fun — we're really desperate to start again." I mentioned that most acclaimed HBO shows run for five seasons at least, and he lit up. "Do you think? I don't know! I hope so," Macfadyen said. "It's quite an undertaking to go and do a show somewhere else. That's part of the actor's condition — you have to go where the work is. To be doing something as lovely as this, and if it stays as lovely as it was — as fun, then..." he paused to think again. "Hurrah!"