Joanna Angel Reveals Her Allegedly Abusive Relationship With James Deen
The porn actor said during a radio interview Wednesday that Deen abused her physically and verbally.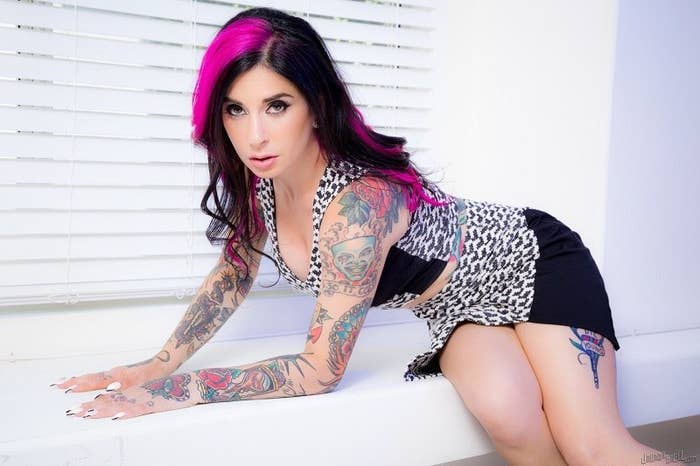 Joanna Angel went on The Jason Ellis Show on Sirius XM on Wednesday to describe her yearslong relationship with James Deen, the porn star who has been accused by multiple women of sexual assault. She and Deen were together from 2005 through 2011.
Angel met Deen in her early days in pornography — she is an actor, director, and producer — when she lived in New York and he lived in Los Angeles. She was drawn to him in part because of his work in BDSM, about which she was curious. "I liked the aggressive way that he had sex," Angel said. She described herself as "shy, awkward, nervous" and "sexually inexperienced."
When she moved in with him in Los Angeles, Angel said their relationship took a turn: "I started seeing red flags." He was, she said, "extremely controlling" of who she worked with and what she was doing. Though Deen was having sex with other women, both at work and not, when it came to Angel, "he considered almost anything cheating, even masturbating." He would verbally abuse her, she said, telling her she looked like a "fucking whore" and berating her for wearing what he considered too much makeup. Though she was living with him, she said he would not give her a key to the house.
Angel said that at the beginning of their relationship, they had a lot of rough, consensual sex. "I was interested in being kinky in bed with him," she said. But she did not want to be a "full-time submissive" to Deen, and that was what he seemed to want. When she tried to talk to him about it, she said, Deen would say, "I'm good in bed, you're really bad in bed. When it comes to sex, I call all the shots."
Soon, even within the first year of their relationship, their sex life changed for the worse. It became, she said, "more painful, and less pleasurable." She described one particularly harrowing instance when he dragged her by her hair into the bathroom. He filled the sink with water, and, she said, "He started dunking my head in the water while he was fucking me." She was OK with it at first. But then he allegedly held her underwater and wouldn't let her up even though she was tapping him. "It started to feel like forever," she said. "I thought, I'm going to die here."
When he let her up, Angel said she was "crying — I was a mess." She continued: "He threw me on the floor. He said, 'You're a horrible submissive. I'm bored. I'm going to go fuck someone else.'"
Their relationship devolved from there, and went on for years. Angel began to experience what she called "complications in my vagina." She said: "I started to get disgusted by sex. I wasn't horny anymore."
She alleged that she woke up multiple times at night to find Deen on top of her, choking her in his sleep. She said she would be screaming, and he would not wake up: "It was like a ghost was on top of me." The next day, she said, he wouldn't remember doing it.
At one point during the interview, Ellis said, "He sounds like a sick man to me." Angel said, "He's not well."
Eventually, Angel went into therapy and tried to establish her life outside of her relationship, she said. They broke up after six years together.
Deen's publicist told BuzzFeed News he did not have a comment at this time about Angel's allegations.
The multiple accusations against Deen — whose real name is Bryan Sevilla — began on Saturday, when his ex-girlfriend the porn actor Stoya accused him in a tweet of rape. She wrote: "James Deen held me down and fucked me while I said no, stop, used my safeword." In a separate tweet, she wrote, "That thing where you log in to the internet for a second and see people idolizing the guy who raped you as a feminist. That thing sucks."
Within a few hours of Stoya's allegation, Angel tweeted her support: "You have my support, @stoya. I am here for you." BuzzFeed News contacted Angel after seeing her tweet Saturday, but she did not speak publicly until Wednesday.
After Stoya's tweets, Deen tweeted his denial of her accusation on Sunday: "There have been some egregious claims made against me on social media. I want to assure my friends, fans and colleagues that these allegations are both false and defamatory."
Neither he nor his publicist has issued a statement after more women have come forward, telling stories of Deen allegedly assaulting them both while filming and off set.
Deen is a rare straight male porn star who has crossed over into the mainstream. In 2012, Good examined his appeal to young women, and called him "what women want"; later that year, GQ called him "The Well-Hung Boy Next Door." He has been written about in the New York Times, Jezebel, and BuzzFeed, and has appeared in several BuzzFeed videos. He also co-starred with Lindsay Lohan in the 2013 film The Canyons, directed by Paul Schrader and written by Bret Easton Ellis. Despite his protestations to the contrary, he has been categorized as a feminist.
Angel said she could not understand the pro-women mythology surrounding him. "It made me so angry," she said. "I didn't understand: Where were they getting this from?"
She said, "This is a person who literally said to me, 'Girls in porn are holes for me to put my dick in.'"
Angel has been in the adult industry since she was a Rutgers University student in 2002, when she launched burningangel.com.