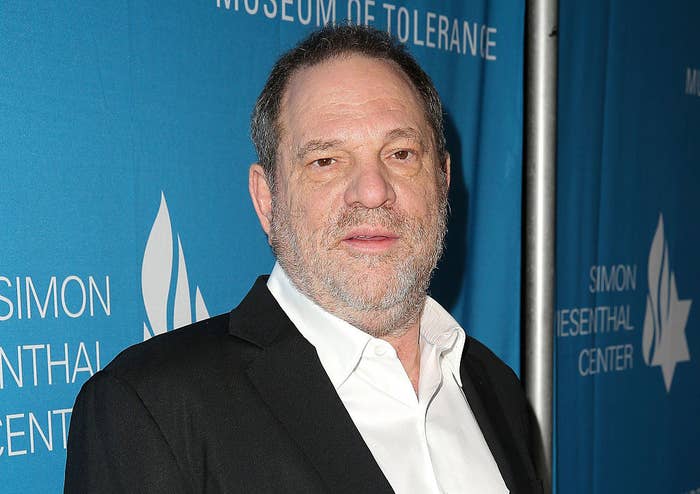 Harvey Weinstein has always been a larger-than-life figure, a quintessentially New York character whose dealmaking in film, Broadway, television, and Democratic politics has brought him accolades and criticism. And now he's been decimated by a New York Times story chronicling his alleged sexual harassment over a generation, much of which he denies as "patently false."
In a statement to the Times also obtained by BuzzFeed News, Weinstein said he came from a culture in the '60s and '70s when "rules about behavior and workplaces were different." He wrote that this was "not an excuse," and said, "I appreciate the way I've behaved with colleagues in the past has caused a lot of pain, and I sincerely apologize for it." Weinstein said he is going on leave from the Weinstein Company to "deal with this issue head on." He then used a made-up quote from his producing partner Jay-Z, and directed his anger toward the NRA. (You can read Weinstein's full statement below.)
An hour after BuzzFeed News got Weinstein's remorseful statement through Lisa Bloom, one of his lawyers, Charles Harder, another Weinstein attorney, sent BuzzFeed News a statement saying they're preparing to sue the Times:

The New York Times published today a story that is saturated with false and defamatory statements about Harvey Weinstein. It relies on mostly hearsay accounts and a faulty report, apparently stolen from an employee personnel file, which has been debunked by 9 different eyewitnesses. We sent the Times the facts and evidence, but they ignored it and rushed to publish. We are preparing the lawsuit now. All proceeds will be donated to women's organizations.
In response, a Times spokesperson stated: "We are confident in the accuracy of our reporting. Mr. Weinstein was aware and able to respond to specific allegations in our story before publication. In fact, we published his response in full."
In an interview published Thursday evening with the New York Post's Page Six, Weinstein explained his apologetic statement and seemingly simultaneous decision to sue. "What I am saying is that I bear responsibility for my actions, but the reason I am suing is because of the Times' inability to be honest with me, and their reckless reporting," he said.

Weinstein claims the Times was worried about another publication running the story and therefore, did not check with Weinstein and his team for responses. "They spent six months researching this article then they gave us just 24 hours to answer it," he told Page Six. Weinstein also said that he believes the Times has a "vendetta" against him, noting "they focus on trying to bring me down."
The Times story — written by Jodi Kantor and Megan Twohey — details decades of Weinstein's sexual malfeasance, during which he has allegedly leveraged his power in exchange for sex. In one instance, he is reported to have lured Ashley Judd to his hotel room (she told Variety about this incident in 2015 without naming Weinstein); in another, he allegedly did the same to an employee; in a third, Weinstein is alleged to have "badgered" a female assistant into "giving him a massage while he was naked."
Weinstein later told Page Six that Judd "changed her story" between what she told Variety in 2015 and what she told the Times this year. "I know Ashley Judd is going through a tough time right now, I read [her memoir All That Is Bitter and Sweet], in which she talks about being the victim of sexual abuse and depression as a child. Her life story was brutal, and I have to respect her," Weinstein said. He added: "I took her to an Academy Award party where we were photographed smiling." When asked about Weinstein's comments in the Page Six interview, Judd's publicist, Annett Wolf, said, "The New York Times article speaks for itself."
According to the Times, Weinstein has reached at least eight financial settlements with women designed to cover up "sexual harassment and unwanted physical contact." Weinstein told Page Six that that number "is pure conjecture." A 2015 memo by a former employee, Lauren O'Connor, quoted repeatedly by the Times, depicts the atmosphere at the Weinstein Company as a "toxic environment for women." O'Connor, who wrote the memo that reportedly caused concern in the company's executive ranks, also seems to have settled, according to the Times: "Mr. Weinstein had reached a settlement with Ms. O'Connor, she had withdrawn her complaint and there was no longer anything to investigate." The Times also reports that Weinstein paid $100,000 to Rose McGowan after an "episode in a hotel room" at the Sundance Film Festival in 1997. It was, according to the Times, "not to be construed as an admission" but intended to "avoid litigation and buy peace."
The Times writes: "Dozens of Mr. Weinstein's former and current employees, from assistants to top executives, said they knew of inappropriate conduct while they worked for him." They interviewed eight women who alleged he had appeared "nearly or fully naked in front of them, requiring them to be present while he bathed or repeatedly asking for a massage or initiating one himself." Time after time, according to the story, when women would complain or speak up, they appear to have reached settlements. In a 2015 incident, for example, Ambra Battilana, an Italian model, publicly accused Weinstein of grabbing her breasts in his office. The story was widely reported, especially in the New York tabloids. Weinstein did not face criminal charges, and Battilana never spoke of what happened afterward. According to the Times, "Mr. Weinstein made a payment to Ms. Battilana, according to people familiar with the settlement, speaking on the condition of anonymity about the confidential agreement."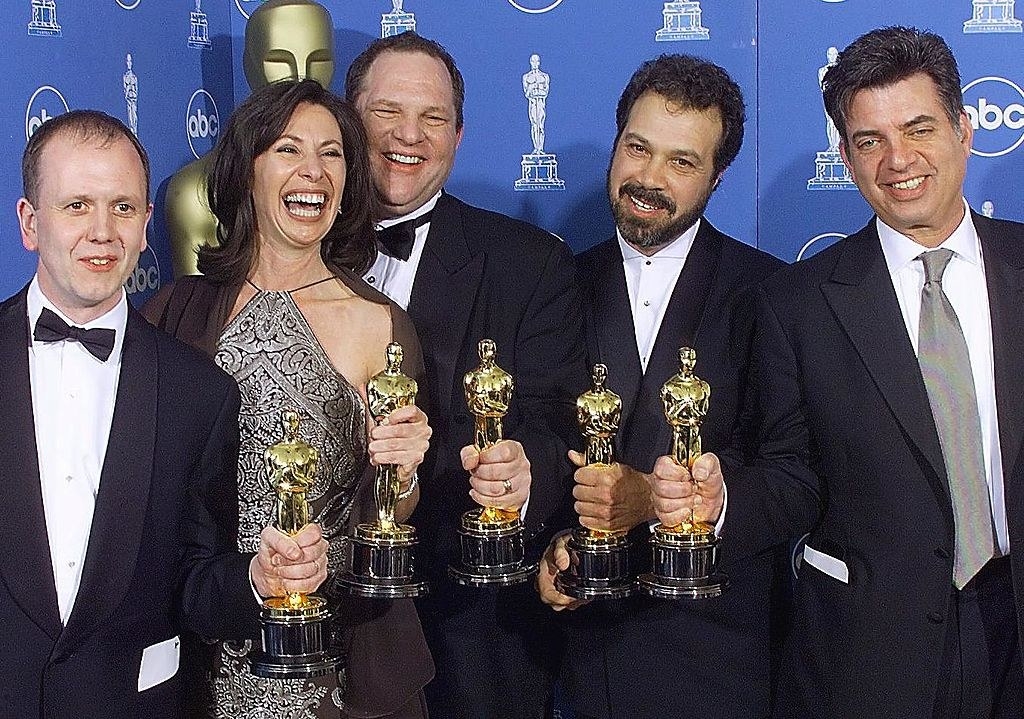 Weinstein and his brother Bob founded Miramax in 1979, and eventually changed the film business, turning high-minded movies such as Sex, Lies, and Videotape, My Left Foot, The Crying Game, Pulp Fiction, and countless others into mainstream hits in the late '80s and '90s. Pulp Fiction was the first independent movie to make more than $100 million. Along the way, Harvey Weinstein gained a reputation as an aggressive negotiator, an expert marketer, an intrusive editor of other people's work, and a combative Oscars campaigner. He was known to be bellicose with employees, competitors, and journalists. In Down and Dirty Pictures, Peter Biskind's definitive book about the rise of independent film in the United States, Biskind wrote: "He tore phones out of walls and hurled them. He slammed doors and overturned tables. Almost anything within reach could become a weapon — ashtrays, books, and tapes, the framed family photographs sitting on his desk." In his interview with Page Six, Weinstein recognized he has "the worst temper known to mankind."
In 1993, the Weinsteins sold Miramax to Disney for $60 million, but still operated somewhat independently. And in 2005, they split with Disney and founded the Weinstein Company, which, though it continues to have a decent track record at the Oscars, has had an increasingly spotty record with movies and is now focusing more on television. That's a pivot the company will now have to do without Weinstein.
As for Weinstein, he told Page Six: "In the past I used to compliment people, and some took it as me being sexual, I won't do that again. I admit to a whole way of behavior that is not good." He also said his wife, Marchesa designer Georgina Chapman, "stands 100% behind [him]" and will be "kicking my ass to be a better human being and to apologize to people for my bad behavior, to say I'm sorry, and to absolutely mean it."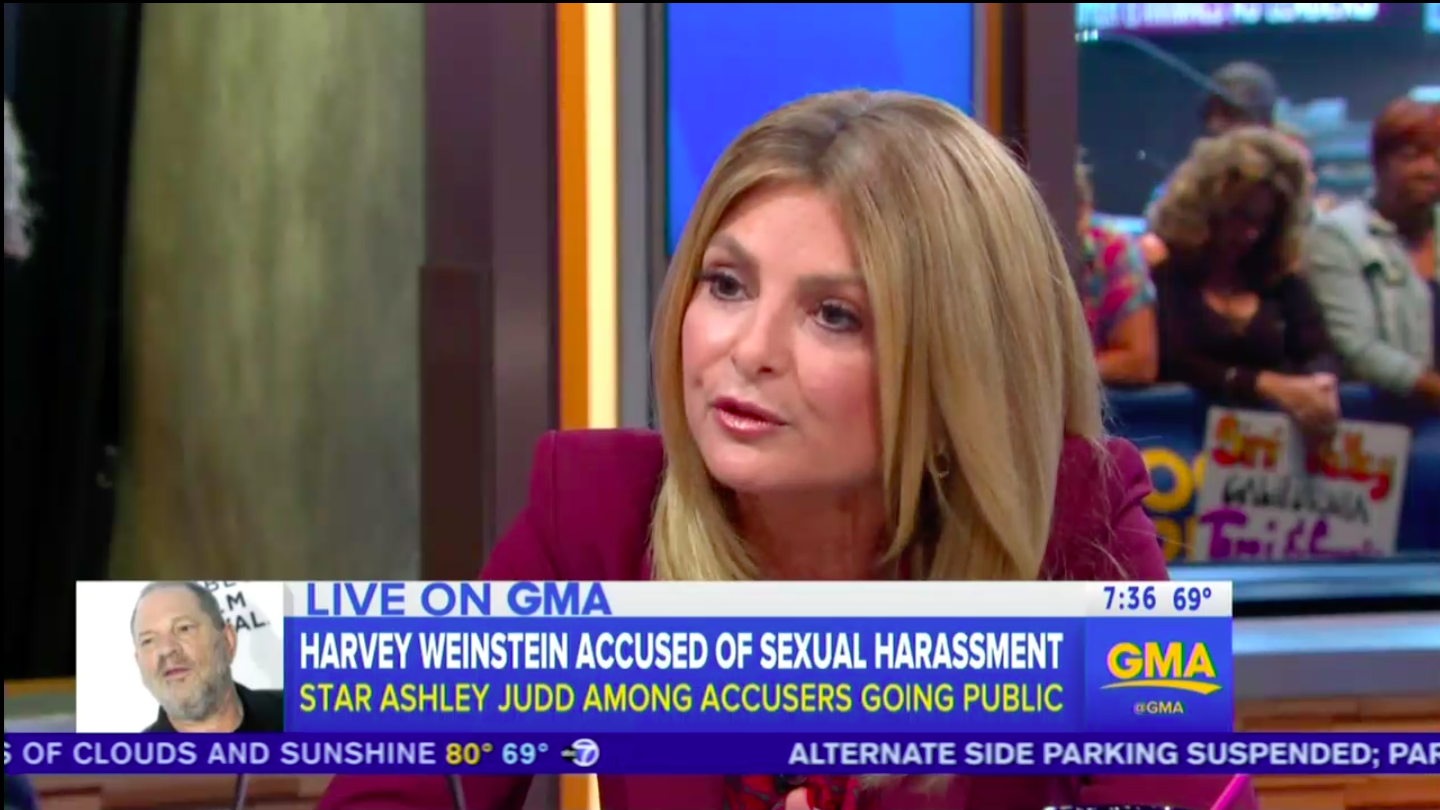 Bloom, who is advising Harvey Weinstein, not representing him, did an interview on Friday morning with George Stephanopoulos on Good Morning America. Though Bloom took issue with Stephanopoulos characterizing Weinstein's behavior as sexual harassment, a legal term, she did eventually agree. After she described Weinstein's 30 years of behavior as "gross," Stephanopoulos said, "It's illegal." "Yes," Bloom said. "You know, I agree."

Bloom — who represented women who brought sexual harassment claims against Fox News's Bill O'Reilly — came to know Weinstein about a year ago when he optioned her book, Suspicion Nature, for a film. "I said to him, 'Look, there is a lot of rumors about you. Can we talk about it?' I was very surprised. He said, 'Yeah, I've been stupid. I'm embarrassed, Lisa. Tell me what to do now,'" she told Stephanopoulos. "I've done a lot of cases on behalf of women and often thought, Gee, I wish I could get on the other side and smack that guy around a little bit, verbally. Here was an opportunity of a guy saying, 'Lisa, what should I do? I have behaved badly.' I'm like, 'Good, I'll tell you what to do. Be honest, be real.'"

Gloria Allred, Bloom's mother, a longtime women's rights attorney, said on Thursday in a statement to The Wrap: "Had I been asked by Mr. Weinstein to represent him, I would have declined, because I do not represent individuals accused of sex harassment. I only represent those who allege that they are victims of sexual harassment."
Bloom also told GMA she does not believe it is "inconsistent" for Weinstein to have acknowledged his behavior while also planning to sue the Times for what he calls "reckless" reporting. "A lot of allegations... there are witnesses who said those things did not happen and the Times did not take that into account," Bloom said, noting she is not representing Weinstein in that pending suit. "This was a very long article with a lot of allegations where they refused to take into account witnesses who said, 'Some of this stuff is untrue.'"
When Stephanopoulos asked Bloom if she thought Judd was lying, she said: "I have great respect for Ashley Judd and so does Harvey. While they have a little different perspective on what happened 20 years ago... this is not about attacking any of the women. I'm glad they come forward. I encourage them to come forward. Harvey has authorized me to say that. I mean, this is a very different day. What do you do if you have behaved badly for 30 years? Are you going to continue? Or are you going to start, you know, a different approach? That's what he's doing."
In an updated statement on Friday, a spokeswoman for the Times said: "Mr. Weinstein had two days to respond to specific allegations, which dealt with events that he had first-hand knowledge of, before our story published. We included all relevant comments from Mr. Weinstein in our story and published his entire response. Mr. Weinstein and his lawyer have confirmed the essential points of the story. They have not pointed to any errors or challenged any facts in our story. Also, Mr. Weinstein should publicly waive the NDAs in the women's agreements so they can tell their stories. As a supporter of women, he must support their right to speak openly about these issues of gender and power."
UPDATE
This post has been updated to include portions of Bloom's Good Morning America interview, as well as an additional statement from the New York Times.
UPDATE
This post has been updated to include a statement from Judd's publicist.