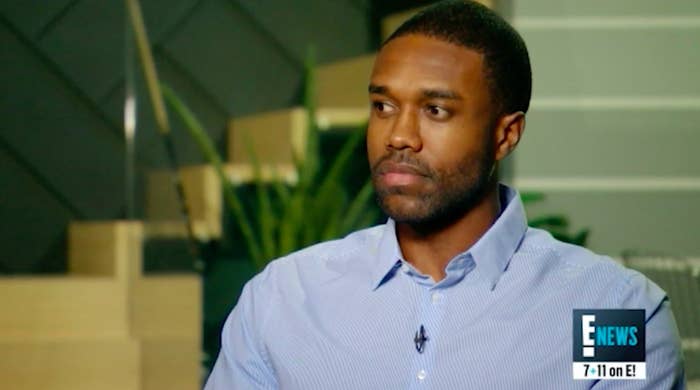 DeMario Jackson gave his first interview to E! News on Monday, two weeks after he made headlines for an alleged incident that shut down production on Bachelor in Paradise Season 4.

Jackson and Corinne Olympios were the two Bachelor in Paradise cast members at the center of alleged sexual misconduct that caused the ABC reality show to suspend production on June 11. For the first time since, Jackson told his side of his sexual encounter with Olympios.
Last week, Warner Bros., the studio that produces the Bachelor franchise for ABC, said its investigation into the incident turned up no improprieties, and that the show would resume filming. Jackson will not be returning. And what was filmed between Jackson and Olympios will never be released, according to Warner Bros.
In his interview with E!, Jackson said he met Olympios on the first day of production, and, having both been branded as "villains" during their respective seasons of The Bachelorette and The Bachelor, they bonded over drinks at the bar at the resort where the show was filming. "I was like, 'Look, I've accepted this role,'" Jackson said. "We were laughing, like, 'We're going to dominate Paradise.'" (A representative for Olympios told BuzzFeed News "we are not [making] any statements or issuing any comments" in response to Jackson's account of the incident.)

According to Jackson, they soon began kissing, and Olympios suggested that they go to the pool. Jackson said he made sure they were being filmed at that point. "Because when you're a man, mostly an African-American man, no matter where you're at, you always look for things that can help you out," he said. "And at that moment, I made sure the cameras followed us."

E!'s Melanie Bromley asked several times whether Olympios seemed drunk, and Jackson said she didn't. He called her the "aggressor," and said that they were naked in the pool. Jackson said things progressed between them: "I get out of the pool, and I have my legs in the pool, and I'm kind of just hanging out. This is when she gets up out of the pool and puts her lady parts, like, right on my face. I don't know if I can say that."

Bromley again asked whether Olympios appeared to be drunk, or whether she was slurring. "No, I mean, I don't even know sober girls who can do what she did. She, like, straddled me," Jackson said. But, he said, "Don't get me wrong. That night, we went for it. That night was probably the wildest night of my entire life. Like, we went for it."
As Jackson spoke, E! News showed pictures of Olympios in still photos, including in revealing clothes, as well as footage of her during the recent season of The Bachelor.
When asked about reports that Olympios kissed three other men on that first day, Jackson said he saw her with Derek Peth, and heard about two others, but "didn't personally see the other two."

Jackson said the next day, the cast woke up "hungover, dying." He said: "One of the first people I see was Corinne. We were, like, talking, I gave her a hug. We all went up and got breakfast together."
Bromley mentioned the allegations that Olympios had blacked out the night before. Did she seem at all angry at him? "She wasn't mad," Jackson said. "We, like, were hanging out. Actually, I offered her a shot, but she said that production had cut her off from drinking for the day."
The Bachelor franchise is known for the contestants' largely unfettered drinking. In Warner Bros.' statement last week announcing the results of its investigation, the studio did add, "[W]e plan to implement certain changes to the show's policies and procedures to enhance and further ensure the safety and security of all participants," without specifying what those changes might be.
Jackson said it wasn't until three days after the incident in question that a producer pulled him aside and pressured him to quit the show. "He goes, 'Here's what I'm going to need you to do. I'm going to need you to bow out," Jackson recalled. "Tell Chris [Harrison, the show's host] and the crew that you love them, you're thankful, however you're not here for the right reasons.' I'm, like, 'What the [fuck].' He goes, 'I can't tell you what I know, but it's gonna be bad if you don't leave tonight.'"
A spokesperson for Warner Bros. had no comment when BuzzFeed News asked about Jackson's version of events.
Complaints from two crew members prompted the investigation that led to the suspension of production. The studio's statement on June 20 about its findings read in part: "Out of respect for the privacy interests of those involved, we do not intend to release the videotape of the incident. We can say, however, that the tape does not support any charge of misconduct by a cast member. Nor does the tape show, contrary to many press reports, that the safety of any cast member was ever in jeopardy."

In the wake of the shutdown, Olympios released a statement, saying: "I am a victim and have spent the last week trying to make sense of what happened on June 4. Although I have little memory of that night, something bad obviously took place, which I understand is why production on the show has now been suspended and a producer on the show has filed a complaint against the production. As a woman, this is my worst nightmare and it has now become my reality."
After Warner Bros. revealed the results of its investigation, Olympios's lawyer, Martin Singer, cast doubt on the studio's findings, and stated that "our own investigation will continue based on multiple new witnesses coming forward revealing what they saw and heard."
Part 2 of Jackson's E! interview aired Tuesday night, and — perhaps oddly — he didn't say whether he had submitted to the producer's pressure to quit the show, though it appears he may have. He said he'd gotten sent home "on Thursday" (June 8), and the news broke Sunday (which is when the story of the shutdown leaked out).
"I got a call by a producer that was, like, 'Hey, [shit's] about to get real, real fast," Jackson said. As the story exploded, Jackson said he told his father, "I think I need a lawyer."
Jackson spoke of the racial overtones of the incident, and the abuse he and Olympios were subjected to on social media. "The minute you release this black man's face and this white girl's face, before either of us commented on it, I was, like, a rapist. And, excuse my French a [E! bleeped out the word 'nigger'] and a 'monkey.' And she's a 'whore' and she's a 'slut.' They were slut-shaming her because of what she did last season with Nick. For me, it was, like, the human race: like, we failed."
He spoke about a "conspiracy," without pointing any fingers at who the conspirators might be. Jackson dismissed the validity of the complaint filed by one producer in particular (without naming her), saying she "was not present to watch the tape — she overheard." He said that during the night, Olympios indeed got drunk, which may have led to the complaint: "She heard over a walkie talkie, later on in the night, when Corinne was drunk, that Corinne and DeMario hooked up," Jackson said.
Adding to the muddle and confusion surrounding this story, Jackson does not blame Olympios, despite saying, "I got played in general. Like, I'm not sure by who. But I got played." He said that were he to talk to Olympios, "I would like to really ask her what happened. You know, because there's so many different angles."
He said that being labeled a rapist is "every man's biggest fear."
"When I have children one day, they're going to google their dad's name, and this is going to pop up," Jackson said.
UPDATE
This story has been updated with information from the second part of the interview with Jackson.