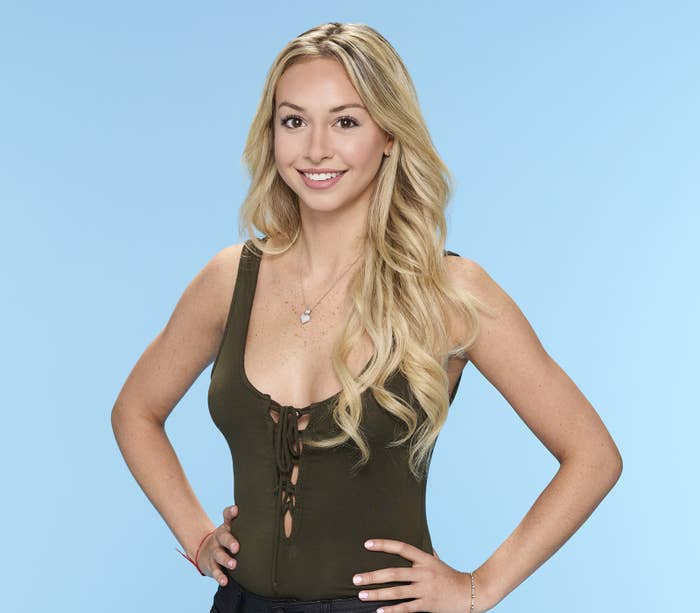 Corinne Olympios, the former Bachelor in Paradise contestant at the center of an incident of alleged sexual misconduct that caused the show's production to be suspended, has released a new statement saying the situation has been resolved.
Here is Olympios's full statement:

In light of the overwhelming amount of misinformation that has been spread in the media, I want to clarify a few things. My intent over the past few weeks has been to learn and understand what happened on June 4. While I never filed complaints or accusations against anyone associated with Bachelor in Paradise, my team and I felt it was very important to be thorough in getting to the bottom of what had occurred. I felt victimized by the fact that others were judging me through conflicting and unsubstantiated reports, while I myself had no recollection of the events that transpired.




My team's investigation into this matter has now been completed to my satisfaction. I am also happy about the changes that have been made to the production of Bachelor in Paradise. While I am extremely grateful for the opportunity to have been a participant on The Bachelor, and while I was invited to return to Bachelor in Paradise when production resumed, I respectfully made the decision not to return.




I understand the media's interest in this story, and I greatly appreciate my fans' concerns for my well-being, but I think it is best if I keep any further thoughts private for now.
In her statement, Olympios makes clear that she was never the complainant against fellow castmate DeMario Jackson, with whom she had a sexual encounter that two of the show's producers thought Olympios was too drunk to consent to. They filed a complaint, causing the show to shut down on June 11. Subsequently, Warner Bros., which produces the Bachelor franchise for ABC, launched an investigation into the incident, and on June 20 concluded that no impropriety had occurred.
Production on Season 4 of Bachelor in Paradise resumed in Mexico without Olympios or Jackson.
After Warner Bros. finished its investigation, Martin Singer, Olympios's attorney, said her side was not satisfied, and that they would continue to look into it, citing witnesses that corroborated the accusations of wrongdoing. That has ended today. "My team's investigation into this matter has now been completed to my satisfaction," the statement reads in part.
When asked whether there had been a monetary settlement for Olympios, a spokesperson from Warner Bros. declined to comment. Olympios's publicist also declined to comment.
In its statement clearing Jackson of sexual misconduct, Warner Bros. was clear that going forward, production would "implement certain changes to the show's policies and procedures to enhance and further ensure the safety and security of all participants." Earlier this week, TMZ reported that from now on, contestants will need to give producers their explicit consent before having sex, and producers can overrule them if they think they're too drunk. Producers can also interrupt sexual activity if the cast members don't go to them beforehand. According to TMZ, the show is also enforcing drinking limits.
Repeated attempts by BuzzFeed News to confirm these rules with Warner Bros. went unanswered. In Olympios's statement, however, she seems happy with whatever the new guidelines are: "I am also happy about the changes that have been made to the production of Bachelor in Paradise." (Her publicist would not reveal the nature of the changes to BuzzFeed News either.)
Earlier this week, Jackson gave his first interview to E! News, providing graphic details of his sexual encounter with Olympios and denying any wrongdoing. He said Olympios had not been too drunk to consent, though in the full interview released on YouTube, he said he had been too drunk to get an erection, and that as the evening progressed, it was "probably the wildest night of my entire life." He also said that producers pressured him to quit the show after the complaint was filed, and he was sent home against his wishes.
Olympios has not given any interviews.
Bachelor in Paradise Season 4 will air on ABC later this summer.