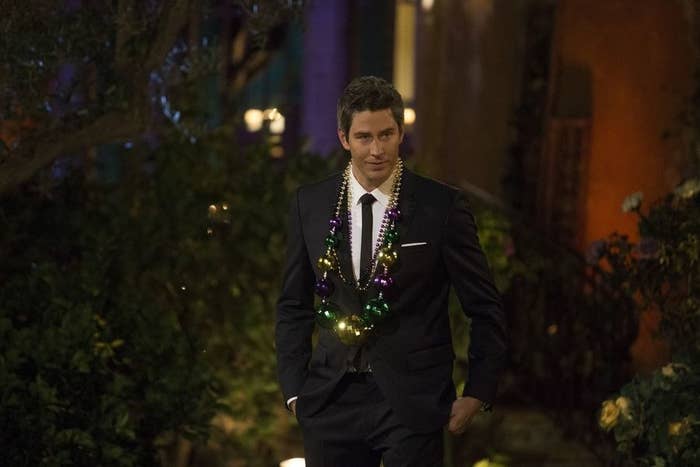 A year ago, when Nick Viall was The Bachelor, the show was an all-star for ABC. It was, in fact, the only show on network television that grew in the key 18-to-49 demographic when compared to its previous season, and was the fourth-highest-rated network show for the season in the demo.
But the ratings for this season of The Bachelor tell a different story. At this point last year (through eight episodes), the show was drawing an average audience of 7.2 million viewers with a 2.3 rating among 18- to 49 year-olds. Now, in the same live-plus-same-day ratings — viewers who watch a show live, or almost live — it's averaging 6.2 million viewers, with a 1.7 in 18 to 49. If my math is right — AND IT IS, PEOPLE — that's a decrease of nearly 14% in viewers and a dizzying 26% in the demo. And that's not even counting this Sunday night's Women Tell All episode, which aired outside of the show's usual timeslot, drawing only 4.2 million viewers and a 1.1 among 18- to 49-year-olds.
Are we, as a nation, not in the mood to watch The Bachelor during the #MeToo era? Or did last summer's Bachelor in Paradise disaster sour viewers on the show? Or is it possible that the veteran franchise — which first premiered in 2002, and has run for a stunning 22 seasons, plus 13 more of The Bachelorette — finally run its course? Or is Arie Luyendyk Jr. — the race car driver turned realtor, whom Bachelorette Emily Maynard ditched in 2012 — a dud? Remember, Peter Kraus, with whom Bachelorette Rachel Lindsay had a genuinely painful goodbye after it became clear he was not ready to propose, was the show's top choice to be the Bachelor — and when he turned the offer down, producers had to scramble to unearth Arie.
We won't know whether the damage is permanent until next season's ratings, a year from now. Though Arie's lack of charisma, and this season's total absence of drama, has not helped. So far, the show's most exciting development occurred off camera, when it turned out that Bekah Martinez, whose mother reported her missing during the fall, turned up safe and sound...on The Bachelor. (ABC's senior vice president for reality television, Robert Mills, did an interview last week with ET to answer the "This is so boring" criticisms about this season. "We've had, for lack of a better term, growing pains," he said.)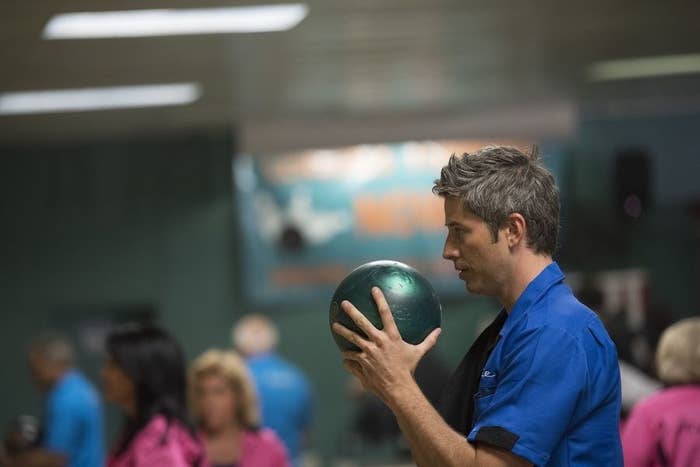 The Bachelor's ratings erosion has larger repercussions for network television. Because if this summer's Bachelorette is chosen from among the final few contestants whom Arie rejects — as is the custom — viewers might care even less, leading the franchise to sink further. (The Bachelorette's ratings are always lower than The Bachelor's, and last season's were particularly low.)
More important, though, a sinking Bachelor underscores network television's disintegration. Last season, which, again, was pretty much a disaster, seven network shows (excluding sports) drew more than a 2.0 rating in the 18-to-49 demographic: CBS's The Big Bang Theory, Fox's Empire, NBC's This Is Us and The Voice, and ABC's Grey's Anatomy, Modern Family, and The Bachelor. This season, three of those are gone from the above-a-2.0 club: Empire is averaging a 1.9; Modern Family is drawing a 1.7 — and then there's the wounded Bachelor. The only new bright spots amid all this wreckage is Young Sheldon on CBS (a 2.3) and, in an unexpected surprise, Ellen's Game of Games on NBC, which has averaged a 2.1 for its first season. This season's other purported hit, ABC's The Good Doctor, is averaging a 1.9 in the demo, but it racks up a lot more viewers in Nielsen's delayed viewing measurements, live-plus-three (it's averaging a 3.3 season-to-date) and live-plus-seven (3.8).
Oh, and The Bachelor Winter Games — ABC's Tuesday and Thursday filler during the Olympics — pretty much flopped, as cannon fodder against the Olympics is likely to do (though CBS's Big Brother: Celebrity Edition did fine). The Bachelor Winter Games' four-episode run drew a 0.8 in 18 to 49 and 3 million viewers, and yielded an engagement between two people who'd known each other for about five minutes.
One possible bit of hope for the franchise: Peter Kraus has clearly not tired of the spotlight, as any Google search will show you — he's in regular touch with Us Weekly, he weighed in on the fact that people on the internet were calling Arie "Not Peter," and he made headlines in December when he confessed on Instagram that he'd had an eating disorder at age 20. So let's imagine the door is not permanently closed, and say, behold, the once and possible future of The Bachelor!