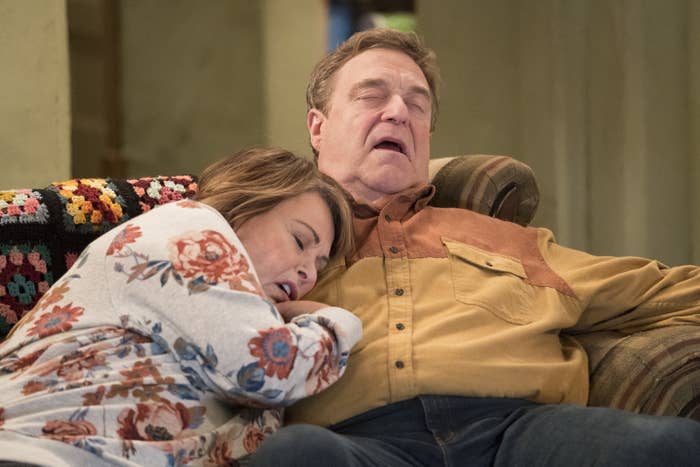 Roseanne has been renewed for an 11th season after the huge ratings for the Tuesday premiere — 18.4 million viewers in Nielsen's live-plus-same-day tally, a number that will climb with delayed viewing — surpassed ABC's internal estimates and stunned television pundits. Roseanne's premiere ratings were the highest for any comedy on any network since September 2014, and have since achieved mythological status, with President Trump calling Roseanne Barr to congratulate her, and a New York Times story recounting how ABC executives met the morning after Trump's election to strategize about how to appeal to his voters.
Without saying Trump's or Hillary Clinton's name, the Roseanne premiere illustrated how the election has divided families, with Roseanne having voted for Trump and her sister, Jackie (Laurie Metcalf), being a supporter of Clinton (though she actually voted for Jill Stein in a panic). Barr has been a vocal Trump supporter, and a promoter of far-right opinions and conspiracies on Twitter. It's the show's symbolism in the Trump era that has launched a thousand thinkpieces and tweetstorms, with Roxane Gay pointing out in the New York Times that the show promotes the myth that the working class voted for Trump. (She cites the statistic that "41 percent of voters earning less than $50,000 voted for Mr. Trump while 53 percent voted for Hillary Clinton.") And as Mark Harris noted on Twitter, "the only confirmed Trump voter is crazy old white grandma. It can almost be read as a demographic insult."
Apart from its own success and renewal, the show has inspired some great writing and analysis. Whether it changes television programming going forward remains to be seen.
The current season of the revived Roseanne will include nine episodes; Season 11 will have 13 episodes.