Venezuelan President Confronts Obama At Summit Of The Americas
Venezuelan President Nicolás Maduro says he will hand U.S. President Barack Obama a petition with more than 11 million signatures asking him to repeal sanctions. Karla Zabludovsky reports from Panama City, Panama.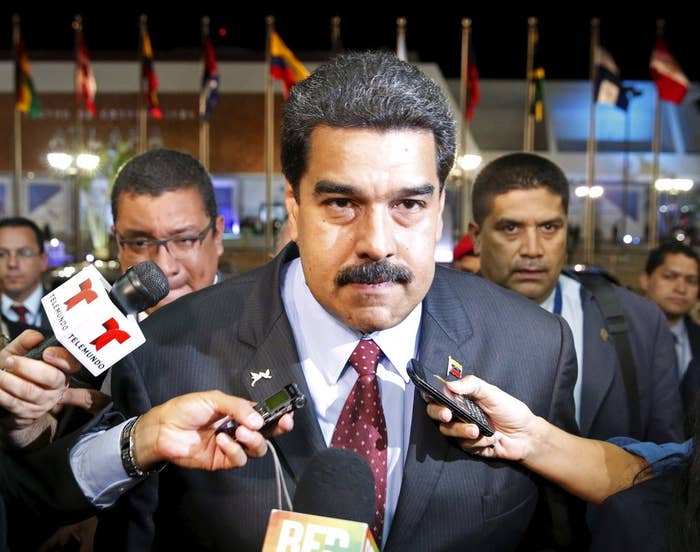 PANAMA CITY, Panama — It was Cuba's moment, with the island being invited to participate in a regional summit for the first time in its 21-year history and its president, Raúl Castro, expected to meet his American counterpart for the first significant face-to-face since 1956.
But on Friday, Venezuela briefly stole the spotlight.
"I come in the name of 30 million Venezuelans to demand of President Obama to repeal the decree," said Venezuelan President Nicolás Maduro during the summit, speaking of a recent executive decree calling Venezuela a national security threat, issued by the U.S. government in March. "It's a tragedy," said Maduro.
Maduro added that he would deliver, through diplomatic channels, more than 11 million signatures supporting his demand to Obama. For weeks, Maduro had focused the bulk of his administrations' efforts, and the entire attention of his citizenry, on gathering these signatures.
It was not nearly as smooth as his predecessor's encounter with Obama at the 2009 summit in Trinidad and Tobago, when Hugo Chavez interrupted a sit-down meeting to present Obama with the book Open Veins of Latin America: Five Centuries of the Pillage of the Continent — a favorite of leftist leaders — before shaking the baffled U.S. president's hand and patting him on the shoulder. The book shot to number two on Amazon's best seller's list shortly after.
But between Maduro and Obama, tension has grown unabated for months.
Last month, Obama issued an executive order declaring Venezuela an "unusual and extraordinary threat to the national security" of the United States. The order imposed sanctions on seven individuals, including a prosecutor and six members of the military suspected of violating human rights during anti-government protests in the country on or since February 2014.
Maduro responded quickly. "You have no right to pick on the people of Venezuela, nor on this country of peace. You have made a mistake, President Obama," he said during a televised two-hour speech. "When the people of Venezuela remember who Barack Obama was in the future, you will be remembered as is Richard Nixon and George W. Bush: nefarious for Latin America and the Caribbean."
Shortly after, Maduro asked the Venezuelan Congress for emergency decree powers, announced an "anti-imperialist" national day, and launched a house-by-house signature campaign. For the first time in months, the anti-U.S. measures temporarily shifted attention away from the mass shortages of basic products, double-digit inflation and widespread criminal violence affecting the country.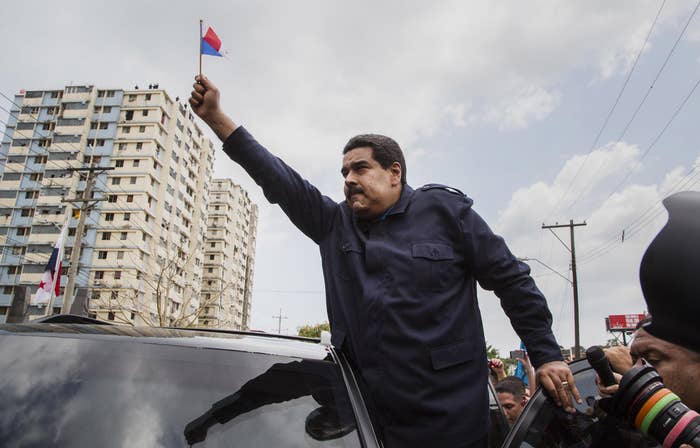 The sanctions and Maduro's vociferous campaign against them dampened the acclaim Obama had garnered from leaders across the region, including Maduro, for easing the embargo with Cuba in December, his changing of U.S. immigration policy, and the $1 billion budget request for Central American nations plagued by slow economies and battered by drug gang violence.
A number of presidents, including Evo Morales of Bolivia and Daniel Ortega of Nicaragua, came out to support Maduro after the U.S. government declared Venezuela a national security threat. Juan Manuel Santos of Colombia said in interviews with local press that he rejected the sanctions. And the governing Castro, during his speech at the summit, said Obama should repeal the executive action.
When former Cuban President Fidel Castro, 88, appeared in public for the first time in over a year last month, it was to greet a group of Venezuelan visitors in the island.
"The Venezuelan government is taking advantage of something the U.S. did that was stupid to distract the discussion," said Joy Olson, executive director of the Washington Office on Latin America.
Obama's administration moved to assuage the tension as the summit approached. On Tuesday, Benjamin Rhodes, National Security Advisor for Strategic Communications, told reporters that the wording was procedural and clarified that the executive order was "not of a scale that in any way was aimed at targeting the Venezuelan government broadly or bringing about some type of dramatic change in terms of the government of Venezuela."
The following day, a close advisor to Secretary of State John Kerry, Thomas A. Shannon Jr., met with Venezuelan Foreign Minister Delcy Rodríguez. The ministry said through a release that Rodríguez demanded that the decree be repealed and that Shannon Jr. was "disappointed" with the ample solidarity in Latin America against Obama's actions toward Venezuela.
It did not seem to work. "Despite the brutal lie campaign of the imperial right the people of our America support us with Love. Viva Bolivar and Chavez!" said Maduro via Twitter shortly after arriving in Panama.
He visited Chorrillo, a neighborhood devastated by a U.S. invasion in 1989. During his speech on Friday, Maduro asked that the U.S. recognize the socialist revolution in Venezuela, that it revoke the decree, that it halt the psychological and military offensive in the American embassy in the country, and that the Miami and New York-based conspiracy to kill him be addressed legally.
Speaking to Obama, Maduro said: "I respect you but I don't trust you. If you want, we will talk. Now, if you don't want to talk, that's all right. It will be your legacy in Venezuela."