CÚCUTA, Colombia — Caro Rivero was 265 miles from home when her contractions began.
Rivero, a freckle-faced 18-year-old, shut her eyes and gripped her seat in a waiting room at the Hospital Universitario Erasmo Meoz in the Colombian city of Cúcuta. Resigned to the pain and the uncertainty of the coming hours, she breathed deeply, the Mickey Mouse stitched on her dress rising and falling.
Rivero was alone, carrying only a thin yellow folder with her, containing the handful of prenatal exams she had managed to get done. The 22 women sitting or standing around her in the brightly lit hallway — all at different stages of pregnancy or labor — were strangers in a strange new place.
The women occasionally chatted among themselves, and soon learned that 12 of them had one other thing in common: Like Rivero, they had recently fled neighboring Venezuela, a country in economic and social freefall.
Inflation there is projected to top 1,000,000% this year, a homicide epidemic claims three victims every hour, and food shortages saw the average person lose 24 pounds in weight last year. As malnutrition has risen, medicine shortages have emptied hospital shelves, turning minor health issues, such as colds and small cuts, into major complications.
Most worrisome to Rivero, infant and maternal mortality rates in Venezuela increased 30% and 65% respectively between 2015 and 2016, according to the most recent government figures available.
Venezuela "is a horrible place right now," said President Donald Trump this week during the United Nations General Assembly, shortly after slapping new sanctions on Venezuelan President Nicolás Maduro's inner circle. "People are dying, people are being killed. They're also dying of hunger."
Having her baby back home "would have been fatal," said Rivero, whose mother had died the previous week in Venezuela after she couldn't find the medications needed to keep her body from rejecting her recently transplanted kidney.
Rivero considered going back to Venezuela to attend her mother's funeral but her partner, Eduardo Hernández, talked her out of it. "It's either returning or the baby's wellbeing," she recalled him saying. Hernández moved to Cúcuta five months ago, intending to work and send money home to Rivero, but when they discovered she was pregnant, they decided that she would join him in Colombia.
In June, more than 60% of the babies delivered at the Erasmo Meoz public hospital, just 2.8 miles from the border, were Venezuelan, underscoring the unprecedented number of fleeing migrants. With more than 2.3 million Venezuelans in exile since 2014 and the number rising dramatically in recent months, the exodus from the South American socialist country is approaching levels reminiscent of the European migrant crisis that began in 2015.
They are walking — at times barefoot — along simmering highways in Colombia and Brazil, biking across high mountain passes into Peru and Ecuador, boarding small boats in the middle of the night to nearby Caribbean islands, taking buses up through Mexico and arriving in the US, where they've now become the top asylum-seekers.
Latin American countries initially greeted Venezuelans with open arms as they have other neighbors fleeing social and political unrest, offering them work permits and access to schools in some cases. But the goodwill is beginning to peter out, replaced by tighter immigration controls and rising xenophobia.
While the entire region is struggling to confront the logistical challenges, Colombia is bearing the brunt of the crisis. More than 935,000 Venezuelans are now living in the country of 48.6 million, which is struggling with problems of its own: Unemployment has been steadily rising and the public health care system is heavily indebted.
Despite the challenges they face, Colombian public hospitals are an oasis for many Venezuelans.
In a sharp contrast to the public hospitals back home, Rivero got several balanced meals after giving birth.
Sitting on the edge of bed #532, where she spent a day and a half recovering, Rivero made a circle the size of a salad plate with her hands to show how big the steak she had just had for lunch had been. She held her hands there for a few seconds, staring down in awe.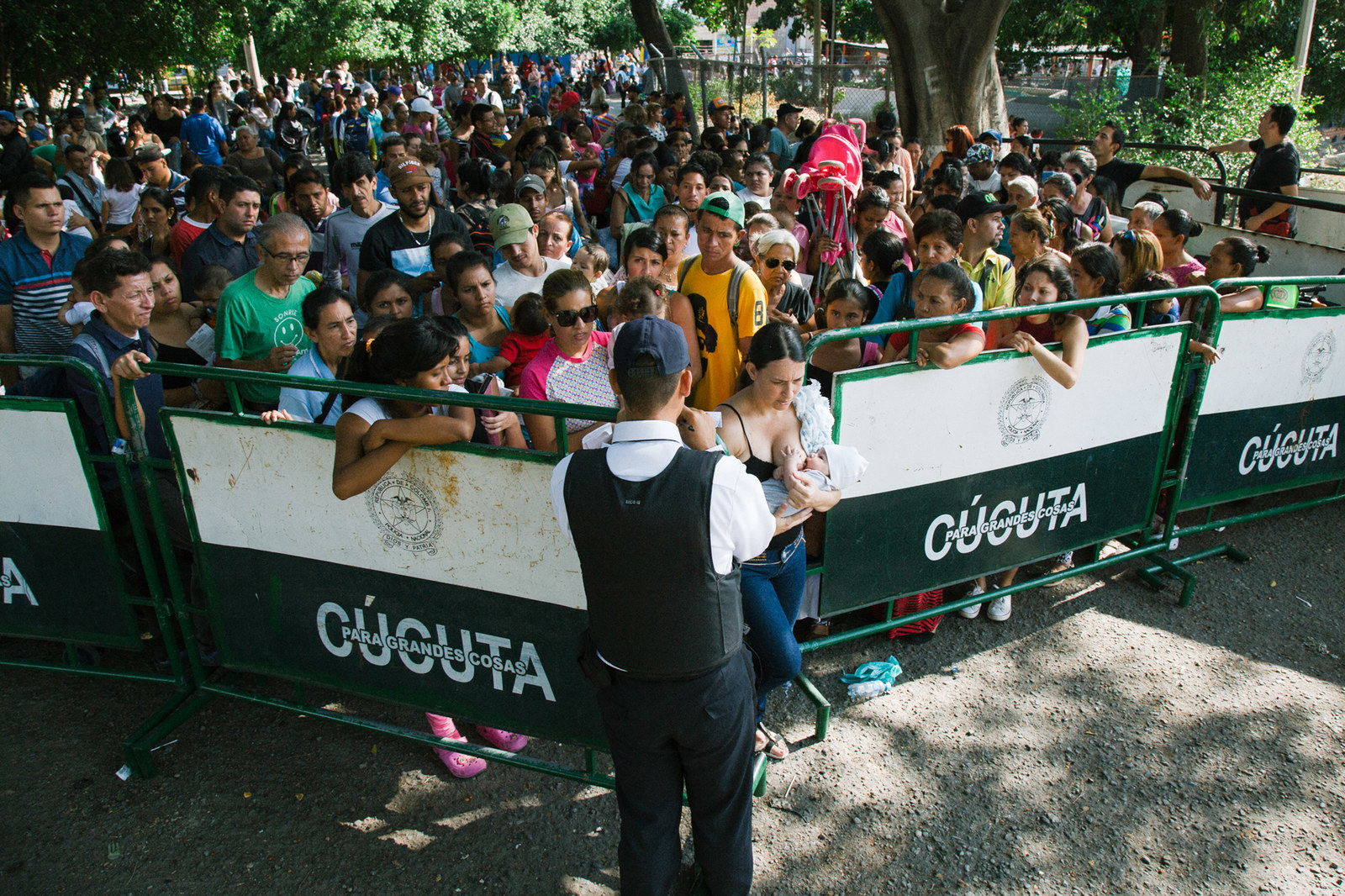 The Simón Bolívar International Bridge — named after South America's liberation hero, a man considered the father of many of the region's countries — connects La Parada, a tiny neighborhood in northeastern Colombia, to San Antonio del Táchira, a small town across the border in Venezuela. At 1,000 feet long, it's almost a mini city unto itself.
On it, street vendors yell out the prices of their products — cigarettes, water bottles, avocados — while men call out to women offering to buy their hair, a burgeoning market in a region where women have little else left to sell. Girls push carts filled with sweetened coffee through pockets of the area that smell like a landfill. Flashes of the tri-colored Venezuelan flag appear intermittently through the stream of fast-moving people in the form of backpacks given out in recent years to children at public schools attended mostly by supporters of Maduro's government.
Pushing strollers and carrying suitcases on their shoulders, Venezuelans hold up their IDs for inspection as they cross the bridge into Cúcuta, where as many as 30,000 people arrive every day, either to stay, make their way to the capital city of Bogotá, or return home after buying basic food items. Colombian authorities barely glance at their documents.
A banner announcing medical attention, including rehydration, vaccinations and psychological support, greets visitors arriving on the Colombian side of the bridge. A series of tents further down the road house volunteers from the Colombian Red Cross, Argentine White Helmets, and other international aid organizations. People start forming a line outside the tents at 5 a.m., with dozens of pregnant women at the front.
Cristian Uribe made his way across the bridge into Cúcuta earlier this month, past the tents and on toward the government office where national IDs are processed. Uribe's parents were born in Colombia, and he was hoping to get residency — he urgently needs an operation to remove the metal rods that were inserted into his legs after an accident three years ago, but which are now causing him serious pain.
To get his operation done in Venezuela, Uribe would need to use his own money to buy the medicines and tools his doctors would use — including gloves, disinfectant, and anesthesia — since hospitals are out of them. To afford that, he said he would "have to pawn my house and sell my nephews." Uribe, 29, rolled up his jeans to show the infected wounds. If he isn't able to get Colombian papers and access to health care here, he said, "my leg will just have to rot."
Uribe leaned against a thin, rolled-up mat he had laid on the sidewalk as he entered his third day in line outside the government building. By then, the "#568" drawn on his hand — his number in the queue — was fading.
Cúcuta, a city of around 670,000 people, is struggling to cope with so many new arrivals.
"We have a humanitarian crisis," Cúcuta Mayor César Rojas told BuzzFeed News. It's not just pressure on the public health system and a sluggish economy — the city has one of the highest unemployment rates in Colombia — but many believe crime has increased with the wave of immigrants.
Rojas cited homicides perpetrated by Venezuelans in Cúcuta as evidence, saying they have been particularly "macabre." According to official government figures, however, homicides there fell from 138 between January and July 2017 to 105 during the same time this year.
Still, it's a sentiment echoed on the streets of Cúcuta. "Prostitutes, murders, homosexuals. Nothing good has arrived here from Venezuela," Eduardo, who did not want to reveal his last name, a 72-year-old man sitting in the main town square in Cúcuta, told BuzzFeed News.
Local news media coverage is largely to blame for that belief, said Rocío Castañeda, director of the anti-xenophobia campaign #SomosPanasColombia, or "We are friends in Colombia," at the UN High Commission for Refugees. "They focus on isolated incidents and turn them into generalities."
In February, Attorney General Néstor Humberto Martínez sent a letter to Colombia's Minister of Foreign Relations warning about a rise in the number of Venezuelans detained by police. He noted that in the previous month, 256 Venezuelans had been captured, up from 120 in August 2017 — a 228% increase.
But those raw numbers are hard to parse given how freely Venezuelans move back and forth across the border or on into a third country, making it nearly impossible to tell whether they're proportionate to the number who have permanently settled. And Colombia had public safety issues long before Venezuelans began seeking refuge there.
"It's incredibly complex," said Johan Domínguez, a Venezuelan criminologist living in Colombia. "Criminality here involves so many factors," including acts carried out by active guerrilla groups who have intensified fighting during the peace process and by newly-internally displaced people with few alternatives.
According to a July study conducted by The Fundación Ideas Para la Paz, a research center in Colombia, Venezuelan migration has not had a direct impact on crime. "Venezuelans have inserted themselves into Colombian dynamics and are behaving like the majority of the local population," the report concluded.
What is undeniable is that the arrival of the Venezuelans has given rise to widespread anti-immigrant sentiments. In January, Carlos Andrés Roa, a Colombian lawyer, founded the Association in Favor of Protecting Local Work, an informal group of about 200 members that denounces employers hiring what it calls underqualified or undocumented Venezuelans.
Roa teaches at the Universidad Simón Bolívar in Cúcuta, where, he says, seven Colombian professors have been fired in the last year and a half. During this time, he added, at least 25 Venezuelan researchers have been hired.
The university denied Roa's allegation, telling BuzzFeed News that no professors have been fired and only four Venezuelan citizens have been hired during the last three years.
"We don't want to generate xenophobia, it's just that opportunities here are already so scarce," said Roa. "The most adequate solution is to close the border but that is not the humanitarian thing to do."
For many Colombians, the Venezuelan exodus raises complicated feelings. They remember the 1970s, when thousands fled to Venezuela, seeking safety from the terror unleashed by fighting between guerrilla and right-wing paramilitary groups which led to the forced internal displacement of more than 6.8 million Colombians during the more than 50-year-long armed conflict. They also went east looking to take advantage of the oil boom which had turned Venezuela into one of the richest countries in Latin America.
The tables have turned at a difficult time for Colombia, which is struggling with a tepid economy under newly inaugurated President Iván Duque, a high unemployment rate, a stalled peace process with left-wing FARC guerrillas, conflict being waged by deserters who have not ascribed to the agreement with the government, and rampant corruption.
With tens of thousands of Venezuelans crossing the border each day, many in Colombia are looking for a scapegoat for existing problems.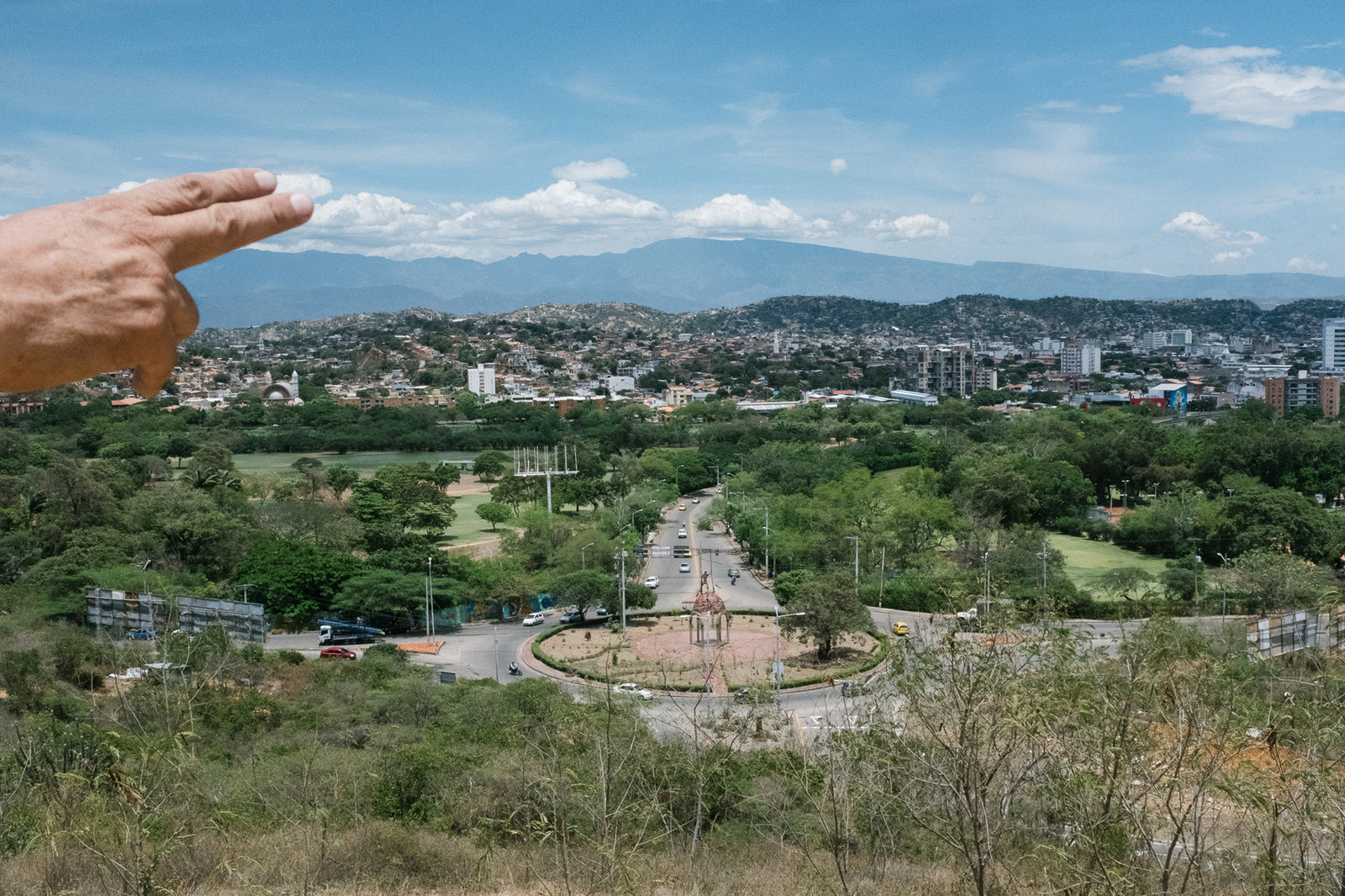 There are around 547,000 Venezuelans in Ecuador. More than 353,000 in Peru. In Argentina, 135,000. At least 40,000 in tiny Trinidad and Tobago.
Venezuelans have trekked across most borders in the Americas and across the Caribbean in extraordinary numbers in recent months, creating a logistical challenge and triggering a wave of xenophobia across the continent.
"We are living in the most appalling migratory and humanitarian crisis in the recent history of the region," said Duque during a speech at the UN General Assembly this week. Peru's President Martín Vizcarra called the exodus "unprecedented" during the gathering in New York.
In Brazil, the government had to deploy troops after residents of a border town torched a Venezuelan squatter camp, forcing people to run back across the border.
In Ecuador, people marched in the streets to protest Venezuelan migrants who they claimed were taking jobs and increasing crime.
In Peru, people hung signs saying #PeruWithoutVenezuelans from bridges across the capital city, Lima, where a candidate for mayor proposed asking Venezuelans for certificates of good behavior.
Ecuador and Peru tightened immigration controls in August.
Colombians now find themselves torn and the issue has become a political landmine. Last year, former vice president Germán Vargas promised that the most recent houses offered to poor Colombians by the government would not go to venecos, a derogatory term used to refer to Venezuelans.
Then-president Juan Manuel Santos tried to temper growing xenophobia several months later. "We can't blame others and point fingers at them because it's not right," he said during a public appearance. "It's time to show our values."
It has become clear that the crisis is likely to deepen. According to the United Nations Refugee Agency, about 117,000 Venezuelans claimed asylum across the world between January and August this year — more than the whole of 2017.
This month, representatives from 11 countries met in Quito, Ecuador, to discuss a coordinated response, including easing migratory requirements and fighting discrimination against Venezuelan refugees and asylum-seekers.
The US has given more than $46 million in humanitarian assistance for Venezuelan refugees, particularly to Colombia. Last month, the European Union announced it would give $41 million to Latin America to deal with the migrant crisis.
Still, residents of Cúcuta feel like they are facing this challenge alone.
"The international community has been aloof," said Jaime Marthey, the head of the city's council. "They only give tents and come for the photos." The Colombian government has yet to send any additional funds to the local government to deal with the crisis, according to Rojas.
"Cúcuta has collapsed," added Marthey.
It was more than a day before Hernández met his baby. By then, Rivero was getting ready to leave the hospital.
Hernández, 20, works at a local supermarket ferrying boxes up and down, and was afraid to ask for a day off and risk getting fired. But he was anxious to get down to the hospital and make sure Rivero was well. Her pregnancy, like those of all Venezuelan patients, had been considered high risk, since most have not gotten basic prenatal care and many often come in with some level of malnutrition.
This has made it more costly for the hospital, which staffers say hasn't received $9.5 million owed to it by the state, leaving them dependent on donations from international organizations. With an ever-increasing number of Venezuelan patients, they are in dire need of funds.
Though the building, which opened in 1987, appears outdated, the hospital is clean, tidy, and well lit, a contrast to Venezuela's public hospitals, which often don't have power, soap, and everything in between. Young nurses make regular rounds to the communal rooms on the fifth floor, checking patients' temperatures and vaccinating newborns being breastfed by their mothers.
Rivero and Hernández changed the baby's diaper one last time before getting discharge papers from the doctors and walking out of the room where she had been staying — three of the four women there were Venezuelan.
They went over to the office where newborns are registered and spent nearly an hour waiting in line behind four other couples. Finally, they sat before a hospital employee, handing over their IDs and answering questions about how they had entered the country.
When they walked out they looked dejected. Their baby would not be getting Colombian citizenship — because neither of them was living in the country legally, they were told.
They huddled with Hernández's sister-in-law by the elevator bank trying to process the news, the baby sleeping soundly in Hernández's arms.
"He's neither Colombian nor Venezuelan for now," said Rivero, her voice filled with frustration. "He's nothing."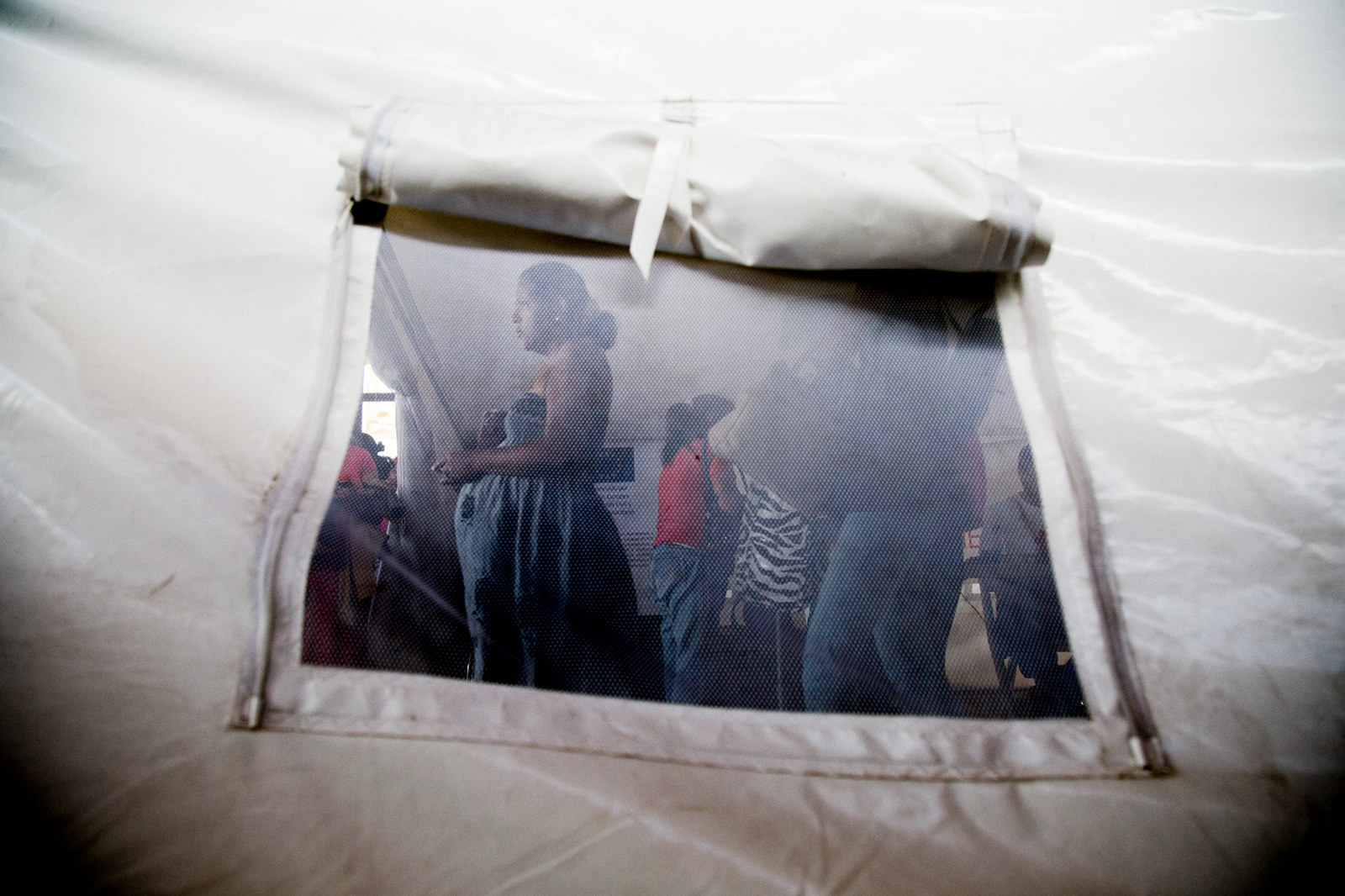 Andrea Hernández contributed reporting from Cúcuta.