With bags of dog and cat food piled in the back of her van and her petite body cloaked in an oversize bulletproof vest, Valentina Stoyanov was ready to feed hundreds of animals. Or to be shot at.
"A very difficult day for us," Valentina says in a video posted to the Instagram account she shares with her husband, Leonid, also a Ukrainian veterinarian.
The two had spent the last 41 days saving hundreds of animals: Casper, a blind Husky whose owner had gone to the front lines of Russia's invasion; flocks of birds who survived a bombing at the market where they were kept; turtles, snakes, geckos, rats, chinchillas, rabbits, and hedgehogs.
They had collected some of the animals from locked apartments they visited with the police, left behind by owners who hadn't had time to get the paperwork needed for the pets to enter neighboring countries. They found others roaming the streets. A few, Valentina said, were "thrown under the doors of our clinic" in Odesa, a port city on the Black Sea.
Russia's invasion of Ukraine has shattered everything in its path, not only killing some 1,417 civilians and forcing more than 4.2 million people out of the country, but also wreaking havoc on beloved pets and other animals who do not understand why the night sky is now punctured by bright explosions, loud booms are followed by the thunderous sound of crumbling buildings, and human companions have vanished.
As the war has intensified, so have efforts to save animals. The Stoyanovs are part of a growing network that delivers food to shelters under fire and carries out complex transfers of animals within and outside of the country. Groups of volunteers across Ukraine stay in touch regularly, often using social media to ask for, or offer, help. In many cases, the answers have come from as far as Spain.
But the work comes at a heavy cost: Some of the earliest victims of the war were Anastasiia Yalanskaya and two other volunteers en route to deliver food to an animal shelter. At Feldman Ecopark, a zoo in Kharkiv, in northeast Ukraine, three employees have been killed, one was injured, and two have disappeared.
In Valentina's videos, the highway they are driving on appears empty. Mustering a half-smile, Valentina looks into the camera. "Wish us luck!" she writes in the clip.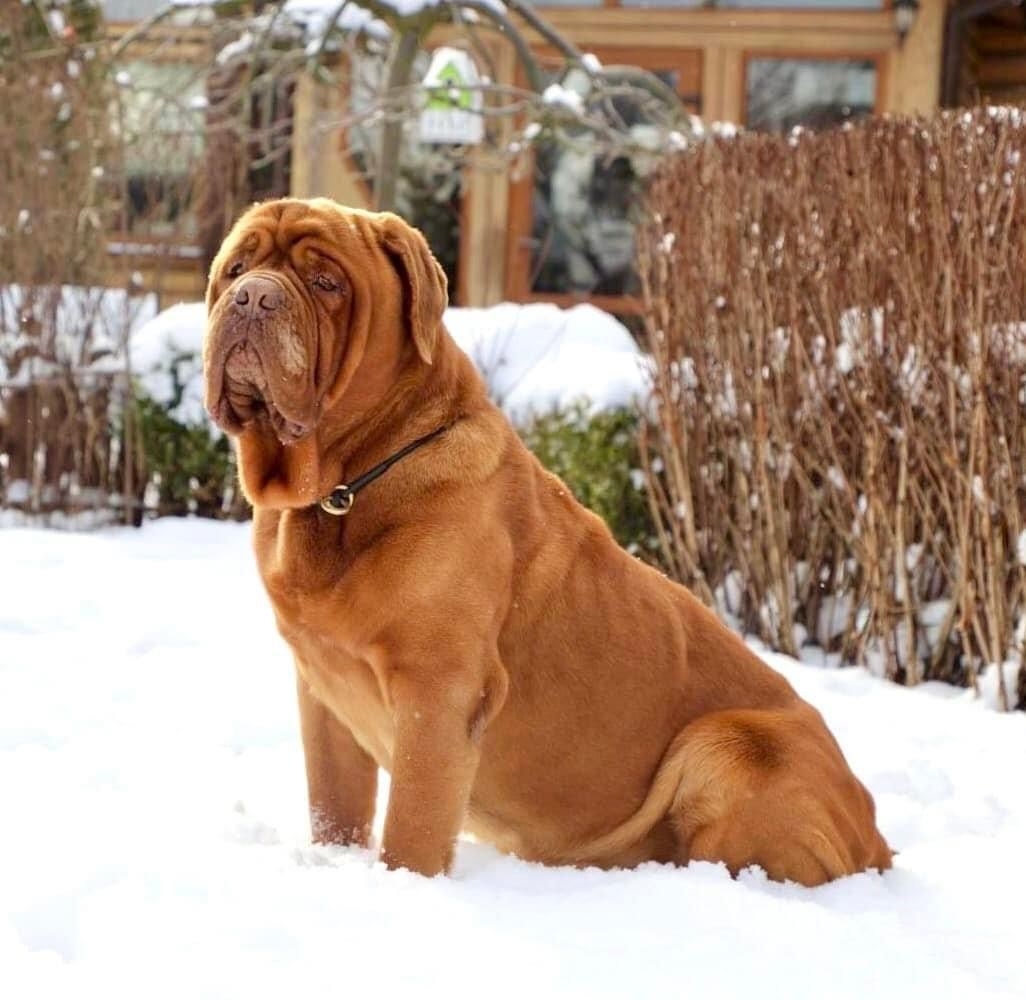 Last month, when Russian tanks entered Stoyanka-2, a small settlement outside of the capital city of Kyiv, Iryna Lapatina had to flee her home in a rush, leaving behind her three dogs. Some of her neighbors had decided to stay in the village and promised her they would stop by with food whenever possible.

Shortly before the invasion, Bike, her 9-year-old Bordeaux Mastiff, had been diagnosed with cancer. The vet had prescribed him a treatment that was likely to keep him alive for several months and that included painkillers.
Anastasiia Lapatina, Iryna's daughter, anxiously waited in Lviv, a city in western Ukraine, growing concerned over reports of ongoing heavy fighting in her hometown. By the time the Russian forces were repelled and someone was able to go check on the dogs, some 20 days later, Bike was so weak he couldn't stand up. The other two were healthy.
The neighbor immediately told Iryna the good news. But the elation lasted only a few hours: Bike died before she could return home.
"Rest in peace, my beautiful angel," wrote Anastasiia, a reporter for the Kyiv Independent, on Twitter. "They will pay for making your last few weeks hell."
Like many other Ukrainians who have lost their pets, Anastasiia will have to move on without the support of an animal, which experts say often helps emotional recoveries.
"Across cultures, companion animals are an integral part of our lives, in good times, and, perhaps even more so, in bad times," José Arce, president of the American Veterinary Medical Association, told BuzzFeed News in an email.
Anastasiia said Bike would have been buried with the family's late dogs in the forest near their home, but the Russians had placed mines throughout it. Instead, she said, he was buried in a black body bag, far from his family "in the middle of nowhere."
The evacuations were stealth: First, there were the eight kangaroos, whose enclosures had been repeatedly shelled. Then, the three tapirs — Dalma, Pinto, and Dolly — who swayed in the back of a van as they were rushed away. Days later, it was the lions, thrashing in their cages as they were ushered into wooden boxes aboard a cargo truck.

But the rescue efforts have come too late for many of Feldman Ecopark's 5,000 animals. More than 100 have been confirmed dead, including an adult chimpanzee, two young female orangutans, a male mandrill, a couple of bison, deer, alpacas, ostriches, and several kangaroos, according to Alexander Feldman, the park's founder.
Some died from ammunition explosions, but others have been killed by stress. Primates have suffered deadly heart attacks, reptiles have frozen to death following electricity disruptions, and, gripped by panic, several animals have crashed into the fences of their enclosures, Feldman said.
The park, which provided "social psychological assistance to children with special needs," according to its website, has been at the forefront of the war since it began on Feb. 24. "Bullets, mines, shells, bombs, and rockets — anything came," Feldman told BuzzFeed News in an email.
And yet, volunteers have visited the park almost daily to feed, warm, and evacuate the animals. At least six employees have been killed or injured or have disappeared.
The park, Feldman said, has been effectively destroyed. And the animals that remain trapped need food. Time is of the essence.
"We need a green corridor for animals," he wrote.
There aren't many moments of quiet at Vet Crew, the Stoyanovs' clinic.

Chirps, croaks, barks, and meows fill its seven rooms during daylight. Explosions pierce it at night.
This wasn't how Valentina and Leonid, 28 and 34, respectively, thought 2022 would sound like. Before the invasion, they were in the midst of creating the "Wild Area," a project where animals rescued from petting zoos and circuses would be housed in enclosures as similar to wild conditions as possible.
Now, they spend their days feeding their 250 rescues, cleaning out the dozens of cages, and helping more than 20 private shelters for cats and dogs, according to Valentina, who spoke to BuzzFeed via WhatsApp.
Several weeks ago, Tosya, a baby magot who has become an Instagram celebrity thanks to videos of him and Valentina nibbling on fruits together, developed severe diarrhea. His chronic illnesses — gastritis, pancreatitis, and problems with his liver — were being exacerbated by the stress of the explosions heard nearby, Valentina said. He stopped eating and started sleeping whenever bombs weren't going off.
"Tosya, or rather, his body, is very tired of this," she wrote on Instagram, "in fact, like us."
Almost every night, the Stoyanovs post a story on their social media letting their worried followers know they are safe: "We are here and everything is fine with us!" But exhaustion has become visible on their faces. "When such a war has been going on for more than a month and then you have to continue to do your job nonstop, 24/7, that's when it becomes hard," Valentina said.
Despite the efforts to protect animals, shelling in some regions has made it impossible to get to them in time. This week, the carcasses of more than 300 dogs were discovered at the Borodyanka shelter outside Kyiv this week — huddled together, some with visibly protruding ribs, others covered in hay. According to UAnimals, an animal charity, they had died of hunger and thirst.
But the network is pressing on.
During their mission to deliver food to the battle-ridden region, the Stoyanovs stopped to give two dogs on the side of the road food and water, describing the landscape as "apocalyptic." At one point, a projectile exploded near their car, leaving a hole in one of the doors and destroying the houses around them.
Back at home later that night, Valentina lay down to snuggle Tosya. The tiny ape stroked her neck softly as he fiddled with her necklace. Silence, at last.
"Do not worry," Valentina writes in the final video of the day. "Tosya is the best antidepressant. Ever."