Two Syrian Families Detained At U.S.-Mexico Border
The detentions come amid a growing debate over accepting refugees to the United States, but Mexican authorities say the number of Syrians entering the U.S. from Mexico has been on the decline since 2013.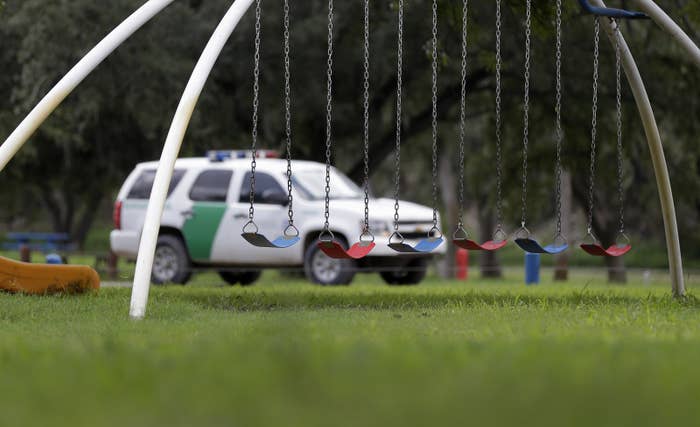 MEXICO CITY — Eight members of two Syrian families, including four children, were taken into custody by border agents in Laredo, TX, on Tuesday, the Department of Homeland Security said. The families "presented themselves" to U.S. authorities, who said that "due to privacy issues, no additional information" would be provided at this time.
The women and children were taken to a family residential center while the men were transferred to a detention center, DHS said.
Some experts in Mexico cautioned against assuming that this incident, along with the detention of five Syrians said to be traveling on forged passports in Honduras earlier this week, constituted a pattern.
"It is not a reason to be alarmed," Guillermo Alonso Meneses, a migration expert at the College of the Northern Border, a research institute in Tijuana, told BuzzFeed News, adding that "terrorist cells do not travel with children." Still, said Meneses, "we can interpret that [the group] jumped all the controls and presented themselves on the border between Mexico and the United States."
Several conservative media outlets in the U.S. have framed reports of the detention as a call to increase vigilance on the border with Mexico, echoing a debate in the country and across the ocean in Europe over whether to welcome Syrian refugees and more broadly, over border enforcement and immigration policy.
Some of those outlets have previously warned about ISIS training camps operating in Mexico to infiltrate the United States — reports that the U.S. government and others have debunked.
Hundreds of thousands of people fleeing civil war in Syria and other troubled nations have attempted to enter Europe in recent months, prompting heads of state in Britain, France and Germany, among others, to announce plans to accept thousands of refugees in the coming years. Others, like Hungary, have clamped down on migrants.

The debate intensified after a series of terrorist attacks in Paris last week killed 129 people and injured more than 350. The Islamic State, or ISIS, claimed responsibility for the attacks.
Despite concern among some groups in the U.S., the number of times Syrians have been handed over to immigration authorities has steadily declined since 2013, according to figures from Mexico's interior ministry. So far in 2015, the government has registered nine times where Syrians entered Mexico and were brought to immigration authorities, down from 12 last year. In 2013, the number stood at 14.
Mexico received its first Syrian refugee, Essa Hassan, in September, with help from the Habesha Project, a non-profit that helps Syrian refugees finish their studies here. The Habesha Project said its goal is to bring 29 more students to the country.
Other Latin American countries, like Venezuela, Brazil, Uruguay and Argentina, have either taken Syrian refugees in or promised to do so.
The number of Syrians who have been granted asylum in the U.S. increased from 60 in 2011 to 763 in 2013, according to the Department of Homeland Security. The number of Syrian refugees arriving in the U.S. has also risen since 2007, from 17 to 36 in 2013 — a relatively low number compared to other countries, at least partially due to the rigorous security checks individuals have to go through before entering the country.
Correction: An earlier version of this article stated that there were two children among the detainees due to a reporting error. There were four.