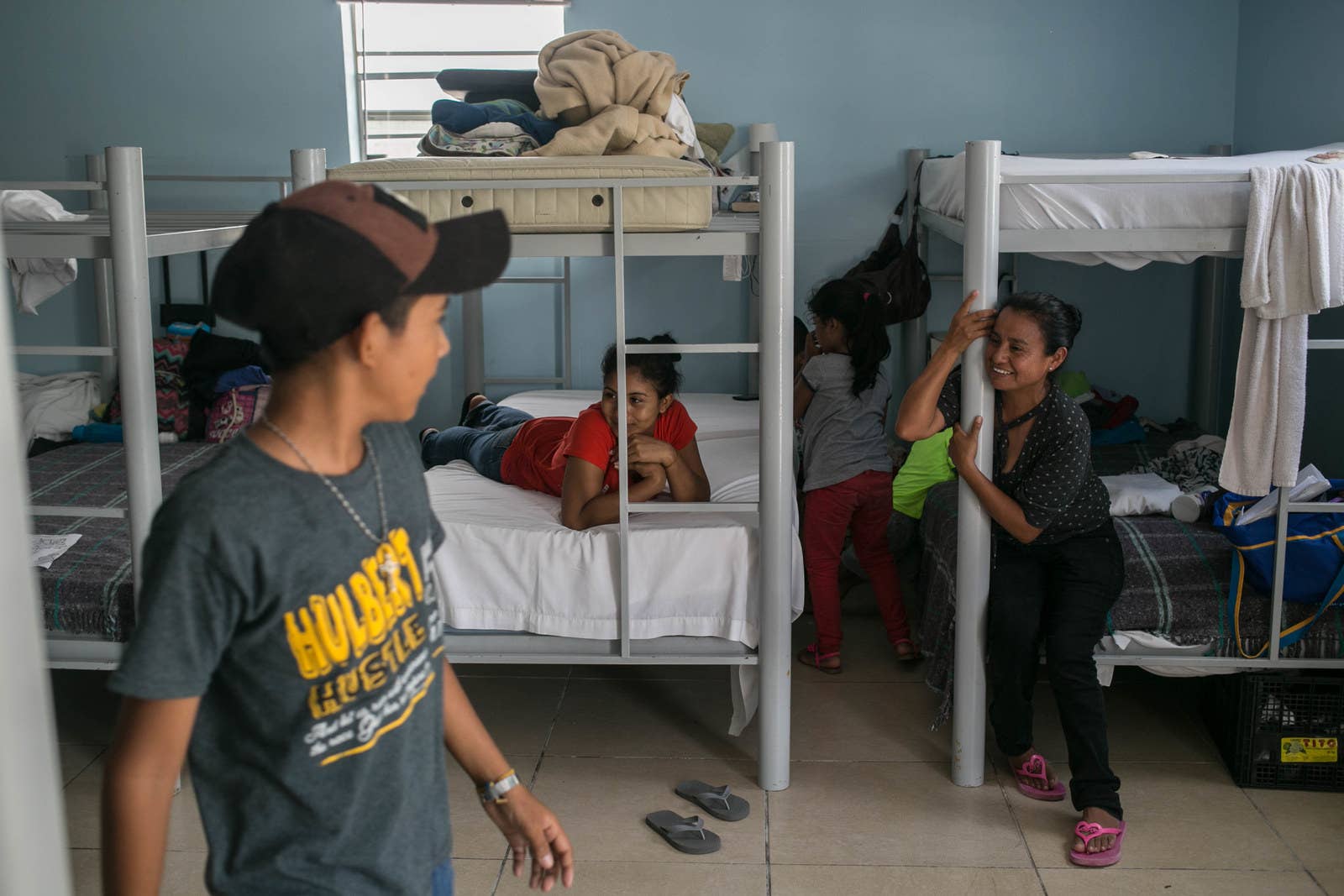 REYNOSA, Mexico — Families waiting inside Mexico to cross into the US are increasingly nervous as reports of the child separations enforced under the Trump administration's "zero tolerance policy" sow fear and anger on the other side of the border.
At a migrant shelter in Reynosa, one of the country's most dangerous cities, BuzzFeed News spoke with four families who are weighing whether to make another attempt at the border or come up with a plan B — unfathomable for those who fled their countries afraid for their lives.
As Claudia walked past Mexican immigration agents at the bridge connecting Reynosa and Hidalgo, Texas, ready to show their US counterparts proof of her brother's murder and the risk it presented to the rest of the family, they advised her to turn around because "your kids will be taken from you."

Patricia tried to cross the bridge with her 7-year-old son to ask for asylum two weeks ago, but US authorities turned them around. They never gave her a reason.
Piedad, who witnessed two of her husband's cousins get killed, had it worse: US agents turned her and her three children over to Mexican authorities, who in turn put them in detention for a week.
They are all now in a kind of purgatory, within walking distance from the Rio Grande but 1,500 long miles from their homes in El Salvador and Honduras, hoping to hear that the Trump administration has backtracked on its "zero tolerance" policy against immigrants, which has led to 2,342 children being separated from their families since May.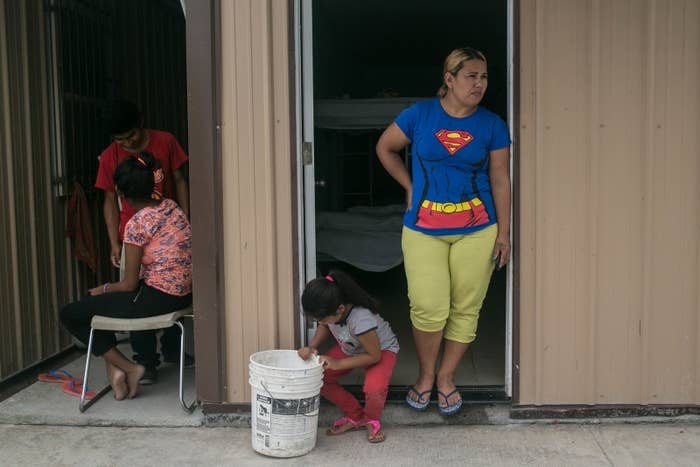 Most of the families affected by Trump's policy are, like them, from Central America, where gangs frequently extort small businesses, forcibly recruit preteen kids, and burn houses down as a form of punishment for those who don't comply with their orders. US Attorney General Jeff Sessions earlier this month issued a ruling making it harder for people fleeing domestic violence and gang violence to claim asylum.
Already traumatized from the violence at home and the dangers along the way up through Mexico, children are suffering from separation anxiety as they're held in US government-run warehouses and tents near the border.
"I would go insane if they take them from me," said Piedad, sitting under a tree in the shelter's main courtyard. Her surname and those of others BuzzFeed News spoke with in this story are being withheld for fear for their safety. "What meaning is there for a mother without her children?"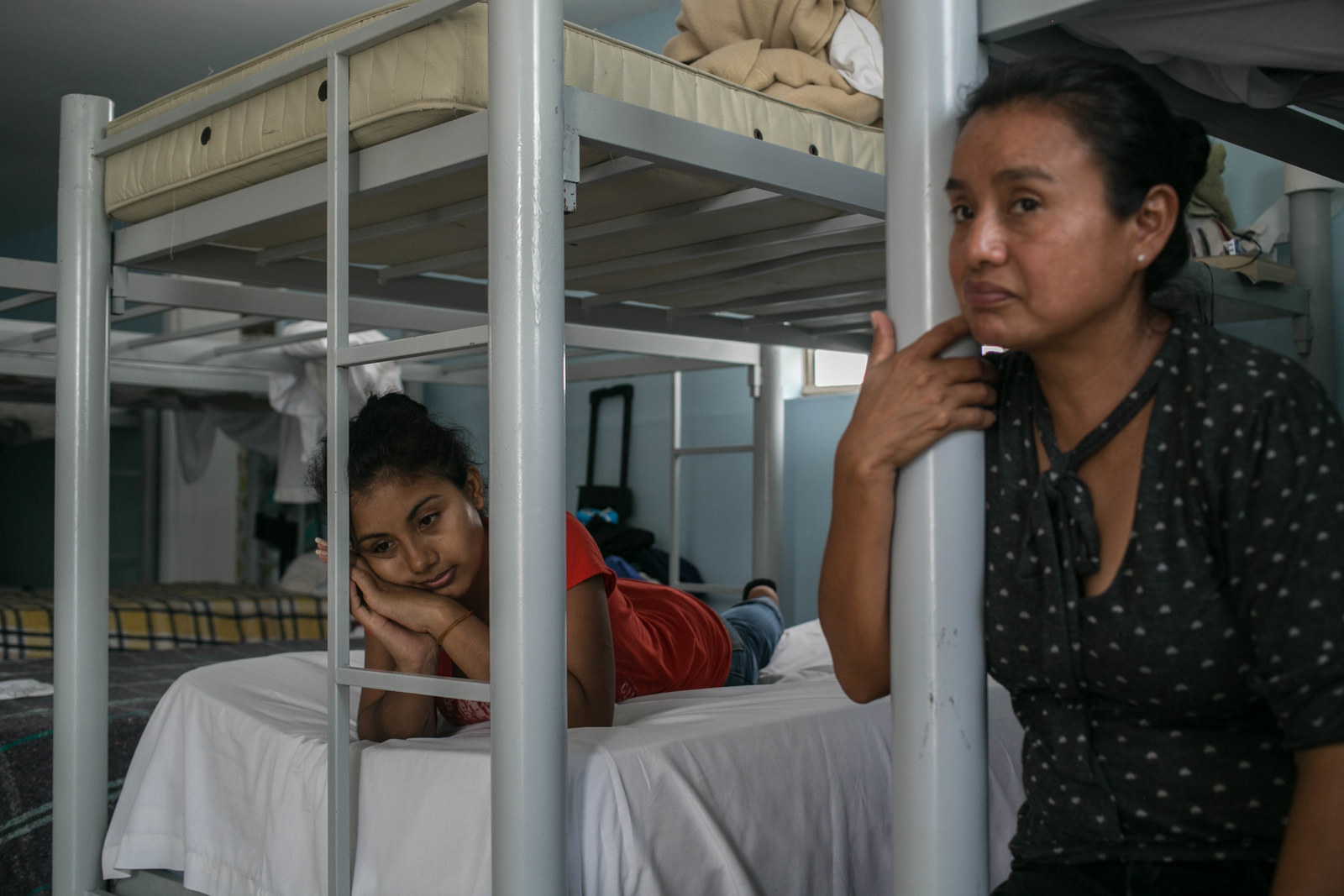 A fourth family from Veracruz, on the Gulf of Mexico, was recently separated at the border after taking a raft across the Rio Grande in the middle of the night. Maria and her 14-year-old son, who has epilepsy, were caught and detained separately; she says immigration agents threw out her son's medication. After four days, the two were deported to Reynosa; his father is still in detention. She is certain she will make another try for the US in the coming days (repeat illegal entries are considered a felony as of April 2017).
"This is what keeps me going," Maria said, looking down at her son's medical records. The medicine he has received at home has been ineffective, she said. Her claim may not be far-fetched, given that a former governor of Veracruz was accused of buying fake medicines for state-run hospitals.
The other families are staying put for now.
"If they take my son from me, I would die," said Patricia, 27. After a woman she met on a bus paid for her and her son's $10 peso fee to cross the bridge (less than 50 cents for both of them), they walked over to a couple of US immigration agents and told them they wanted to request asylum. The agents told them to sit by their side while they called their Mexican counterparts. There was no point in fighting any of them, Patricia said. The two of them walked back across the bridge, Patricia feeling intimidated and dejected.
Her son quietly begged Patricia for a toy car to play with while she sat outside the shelter's dorms. She didn't have one, and in an effort to distract him, Patricia stroked his back. He reached up and planted butterfly kisses on her cheek.
Patricia's eyes welled up. "I'd rather live under a bridge with my son" than be separated from him, she said.
The families dare not go outside, where criminal gangs are on the lookout for new faces and often engage rivals in shootouts at all hours of the day. Instead, they spend their days looking for shade amid the 96-degree weather near the dorms, dining hall, and small church.
The price for staying within the shelter's walls is a near-total information blackout. Most have run out of credit on their cellphones and cannot access Facebook, where they used to get most of their news. There are no TVs either. The trickle of news comes from their relatives through phone calls or from the shelter's pastor and his wife.
"Thank God you still have your children with you," she told some of the women Tuesday morning, according to Piedad.
Rumors are spreading among the families and others in this border city. The taxi driver who took Claudia to the border bridge warned her that US authorities were giving the children they took from newly arrived immigrants up for adoption. A pro bono lawyer advising her told her children are not being taken away for good but simply put in a day care.
"There are so many things being said that I just don't know who to believe," said Claudia, who worked at a textile factory in Honduras.
Piedad was optimistic as she walked to the bridge about two weeks ago. A neighbor from Honduras who had traveled up through parts of Mexico with her had called to say she made it to Houston with her children.
But Piedad wasn't so lucky. US authorities handed her over to their Mexican counterparts, and she and her eldest son, 15, were placed in different detention centers for a week, she said. Piedad learned about the forced family separations in the US from the women she shared a cell with during that time.
The Trump administration has been tying itself in knots in recent days trying to say whether the family separation policy is meant to act as a deterrent or not — or whether it even exists. President Donald Trump himself, meanwhile, tweeted on Tuesday that immigrants were poised to "infest our country." But as terrifying as it is for some of those who face it, the threat isn't stopping all of them.
Maria says that as soon as her husband is released from detention in the US, the three will head back across the Rio Grande.
"If we try again and if Border Patrol doesn't catch us, and we make it to our destination, then it will all be worth it."