Mexico's Richest Man Slammed Trump's Policies As "Not The Way"
Carlos Slim, the Mexican billionaire who Trump feuded with during the campaign, did at least recommend Trump's latest book as a way to figure out the US president's policies.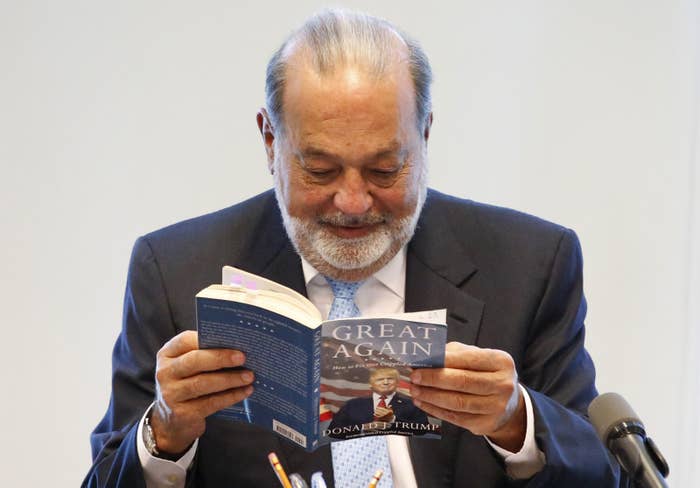 MEXICO CITY, Mexico — Mexico's richest man, entrepreneur Carlos Slim, used a rare press conference to criticize US President Donald Trump's proposed border wall, urge national unity amid increasing uncertainty, and call for a renewed push on infrastructure and public housing investments in Mexico.
"The best wall is investments, economic activity and work opportunities in Mexico," said Slim, who owns one of the largest construction companies in Mexico and once topped the list of richest people on earth. He also said that Trump had ushered in a "new civilization" that marked a return to the industrial past. "That's not the way," he lamented.
Slim spoke to a group of nearly 200 reporters at the headquarters of Inbursa, Slim's bank, a day after tensions between the US and Mexico reached a vertiginous low point, with President Enrique Peña Nieto opting to cancel a meeting planned with Trump for next week. (The two heads of state had a phone call on Friday in which they attempted to downplay the feud in a joint statement.)
During the conference, Slim argued that the first priority for the Mexican government should be ensuring the wellbeing of Mexicans in the US. Trump has said he plans to deport all undocumented people from the US, the majority of whom are Mexican.
The relationship between the two neighbors, which had strengthened during recent decades of growing trade and security collaboration, appeared irreparably damaged Thursday, after Trump signed an executive order to make the building of his promised border wall a reality. For months, Peña Nieto and Trump had argued on Twitter over who would pay for the controversial project, which many had believed was an empty campaign promise.
In the meantime, the peso continued hitting one historic low after another against the dollar. Analysts attribute part of the currency's fall to uncertainty over Trump's external policy.
Anger had been simmering amongst Mexicans ever since Trump blamed them for sending criminals and "rapists" to the US during his electoral campaign. After Trump accepted a formal invitation to Mexico two months before the election, Peña Nieto's already-hurting popularity plummeted to near single digits.
In the face of Peña Nieto's low approval and Slim's positioning himself as a successful, almost paternal figure, the country seemed ready to look to the businessman for leadership. But he said during a question and answer period that he was not considering running for president himself.

He did, however, take the opportunity to give his advice for the government as it prepares to take on Trump. "He's a great negotiator… this will be an arduous, hard negotiation," admitted Slim, urging Mexico to engage with him without anger and without capitulating. At one point, he read excerpts from Trump's latest book, "Crippled America: How to Make America Great Again," and said he recommended it because it clearly spells out of his policies.
Animosity between the two business giants grew steadily last year. Trump, who has attacked news media repeatedly, took particular aim at Slim, who is the largest individual holder of New York Times Company stock. "It's one big ugly lie, it's one big fix," Trump said in October, referring to what he believed was a conspiracy against his presidential bid by reporters of the mainstream news outlets.
Slim, in turn, strongly criticized Trump's plans to renegotiate the North American Free Trade Agreement (NAFTA), which has facilitated the five-fold increase in trade between Mexico and the US since 1992. In 2015, after Trump hurled insults toward Mexicans, a company controlled by Slim canceled a project with the reality television magnate.
Shortly after the election, however, Slim traveled to Mar-a-Lago, Trump's estate in Florida, where the two had dinner. The contents of their conversation have not been made public but Slim said Thursday that they each brought two companions with them.
Last week, Slim announced plans to launch a television channel for Mexicans in the US.