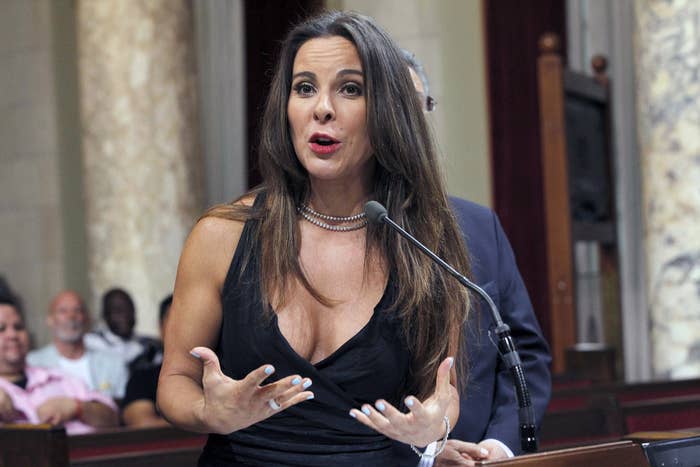 MEXICO CITY, Mexico — For the first time, Kate del Castillo, who brokered and attended a meeting between the Mexican crime lord known as "El Chapo" and Sean Penn, has written in depth about the made-for-Hollywood rendezvous.
The 5,640-word essay is both an explanation and a defense. Since Sean Penn published a story about his brief conversation with El Chapo, real name Joaquin Guzman Loera and the most powerful drug trafficker in Mexico, Del Castillo has kept mostly quiet even as people have mocked her for her naivete in becoming friends with him. The Mexican government has opened an investigation into whether Del Castillo received any illicit funds from Guzman.
In the essay, Del Castillo, a well-known telenovela actress, shares her love of tequila, passion for acting and desire to help Mexico. She admits to having a "mini heart-attack" when Guzman's lawyers contacted her last year. Guzman wanted to give Del Castillo the rights to his life so she make a film about his life.
Why her? "He admires, respects and trusts you completely. He respects you because you speak truthfully," Del Castillo says Guzman's lawyers told her.
Del Castillo had, by then, become widely known for her role as Teresa Mendoza, a powerful drug trafficker in La Reina del Sur, a Spanish-language telenovela based on a novel by Spanish journalist and writer Arturo Perez Reverte. That role caught Guzman's eye enough that he reportedly wanted her to act in his proposed biopic. Del Castillo's independent, unfiltered and risk-taking persona became ever more so while portraying Mendoza. "This character is still in my heart," she writes in her essay, published in the investigative weekly, Proceso, on Sunday.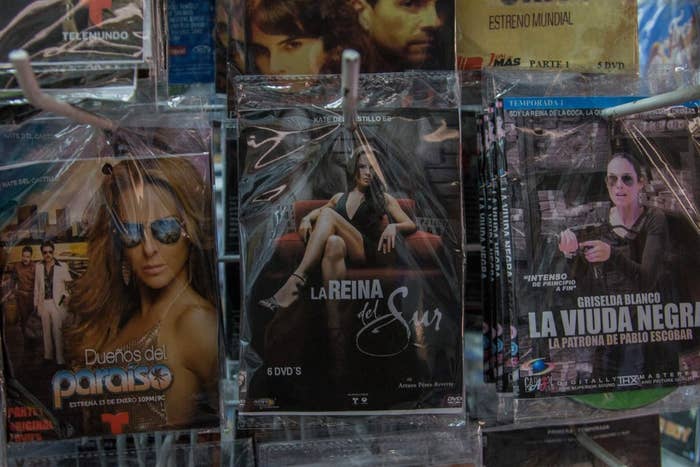 In 2012, Del Castillo asked the drug lord to deal to deal with love rather than people via Twitter. "Come on, Don, you'd be the hero of all heroes," she wrote at the time. The tweet, in which she says she trusts Guzman more than she does opaque governments, caused furor: her manager asked her to delete it but Del Castillo refused.
Three years after Guzman read her tweet, his lawyers asked to meet Del Castillo. She chartered a private plane to take her from Miami, where she was portraying another drug trafficker in a new series, to an airport near Mexico City. "I didn't sleep the night before; if I did it was only for an hour. I showered, drank coffee; that coffee tasted different. I didn't know what awaited me," she wrote in Proceso.
Shortly after the meeting, the kingpin broke out of prison, intensifying his standing as an escape artist — he had already escaped from prison, the legend goes, in a dirty laundry cart, years earlier. The vanishing act also embarrassed president Enrique Pena Nieto's administration, already suffering after the disappearance of 43 students and numerous massacres.
"Narcopolitics… Mexico, my hurting and beaten Mexico. Strong electricity invaded me, it went in through my hands and feet… Frustration, indignation," she wrote of her thoughts at the time.
Despite the intense manhunt for the kingpin, Guzman's lawyers contacted Del Castillo again: the project was still on. Del Castillo assembled a team, including several producers and Penn. "I had a gigantic weight on my shoulders. We would be visiting the most wanted man, thanks to the trust he had deposited in me. What incredible fucking pressure!!!!," wrote Del Castillo.
The texts Del Castillo and Guzman began sending around then have since become public (it is unknown who leaked them), with thousands of memes ridiculing them.
The team traveled to where Guzman was hiding out — a flight from Van Nuys, CA during which they drank from Del Castillo's recently-launched tequila, a one-hour drive to another airport, a two and a half hour flight and finally, a seven hour drive through the jungle. When they met Guzman, Del Castillo could not take her eyes off of him, she says, and didn't look around much. "The less I know, the better," she wrote about what was going through her head.
The meeting was brief — Del Castillo admits she got a little drunk. As Guzman walked her to the room where she would be sleeping, Del Castillo admits that she chose her words carefully, thinking they may be her last.
"Maybe my voice was firm, but everything inside of me trembled, I felt like a nothing. His gaze — which he hadn't taken off of me — dug deeper into mine. Mini-heart attack, I wanted to die," Del Castillo wrote of her last minutes with Guzman. She slept fully clothed, briefly, as the group left in the middle of the night.
Guzman was recaptured a few days later; Mexican authorities said Del Castillo's communication with Guzman was key to locating him. Penn has since admitted that his article, which was mocked for its emphasis on the author's penis and superficial questions, failed. "I have a regret that the entire discussion about this article ignores its purpose, which was to try to contribute to this discussion about the policy in the war on drugs."
But it is Del Castillo, the woman who became an example of strength and independence in a country where gender roles are still decades behind, who has been made fun of for being easily seduced and who has come under investigation.
"The real nightmare," she writes, "I've lived after the trip."