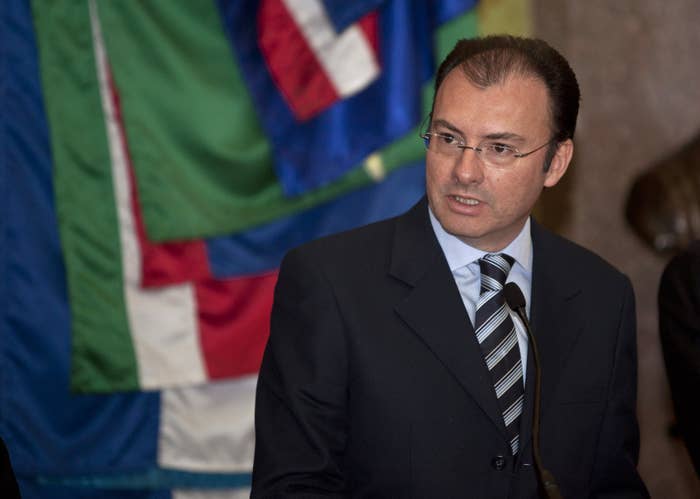 MEXICO CITY — President Enrique Peña Nieto on Wednesday announced the resignation of the rumored architect of Donald Trump's recent visit to Mexico, Finance Minister Luis Videgaray, after a nationwide consensus described the invitation as a humiliating capitulation by the government to the Mexico-bashing Republican presidential candidate.
The minister's departure, analysts said, leaves an embattled Peña Nieto even more vulnerable. Videgaray had been Peña Nieto's closest ally and "intellectual crutch" for over a decade, Alejandro Hope, a security analyst and former Mexican intelligence officer, told BuzzFeed News.
Videgaray's resignation comes as Peña Nieto wrestles with plummeting approval ratings and the Mexican economy suffers from a tumbling peso, which has led ratings firms like Standard & Poor's and Moody's to lower their outlooks for the country in recent months.
It remains unclear just how Videgaray thought Mexico could benefit from a visit by Trump, who has referred to Mexicans as "rapists" during his campaign and made the building of a wall along the border central to his platform.

"He's an intelligent man who was in a position of power that isolated him terribly. Add to that his arrogance. It's a toxic combination," said Hope.
After their meeting, Trump and Peña Nieto engaged in a Twitter tit-for-tat regarding whether the discussed Mexico paying for the wall. Shortly after, reports emerged that it was Videgaray who sent an invitation to both US presidential nominees to meet with the Mexican head of state, violating official protocol by bypassing the Foreign Ministry.

Worsening the government's embarrassment, Hillary Clinton said this week that she would not visit Mexico before the November election.
A day after Videgaray's announcement, Trump's Twitter account posted his condolences, saying that "Mexico has lost a brilliant finance minister." (Both tweets came from an iPhone, a sign that Trump's staff posted the sentiments.)
Peña Nieto's four year-long administration has been marked by security disasters and human rights violations, including the disappearance of 43 impoverished teacher trainees, as well as by a series of corruption scandals.

Videgaray, who attended the Massachusetts Institute of Technology, is not new to controversy. In 2014, the Wall Street Journal revealed that he purchased a house from a government contractor who has won hundreds of millions of dollars from public works projects. It is the same firm that built the presidential mansion in Mexico City, which came under investigation for a possible conflict of interest and for which Peña Nieto eventually offered an apology.
During a press conference, Peña Nieto announced that José Antonio Meade would replace Videgaray. Meade, a former Secretary of Foreign Affairs, served as finance minister during former president Felipe Calderón's administration.