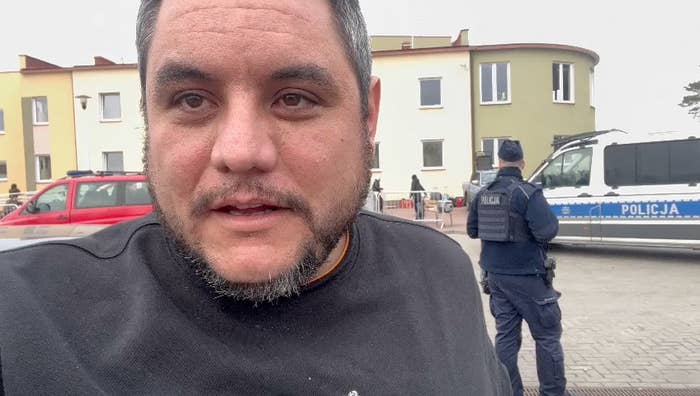 MEXICO CITY — It was the video of a 6-year-old Ukrainian girl who was killed by a Russian shell that did it for Héctor Pérez.
As he watched the doctor who treated the girl stare into the camera and make an urgent request — "Show this to Putin!" — Pérez picked up his phone and mapped the route from his location to the Ukrainian border with Poland: 2,050 miles.
"I don't have a tank, I don't have weapons, but I have a car, and can rescue four people from there," Pérez, who owns a chain of bakeries, recalled thinking during a telephone interview from his hometown of Lugo in northwestern Spain.
Pérez, 36, enlisted a friend, Paulo Ribeiro, to join him on the journey east. He posted a message on Feb. 28 on his town's Facebook page asking if there were any other volunteers. When none emerged by 10 p.m. that night, Pérez got into his BMW 5 Series and, with Ribeiro behind him, started to drive. They just had the clothes on their backs and no plan in place once they reached their destination. They had the impulse to save lives and a combined eight free spots in their two cars.
Russia's invasion of Ukraine has shaken the world and inspired massive solidarity with the nearly 3 million people who have fled: women leaving strollers at a Polish train station for arriving mothers, people standing at key entry points to their countries with cardboard signs offering free accommodations to refugees, children sending handwritten notes of encouragement to traumatized Ukrainian kids.
But the outpouring of support has also raised accusations of hypocrisy, with critics pointing out that refugees from the Middle East, North Africa, and Afghanistan are shown little mercy. In Hungary, some have been caged and starved. In Spain, African migrants face increasingly high border fences, beatings, and, often, immediate repatriation.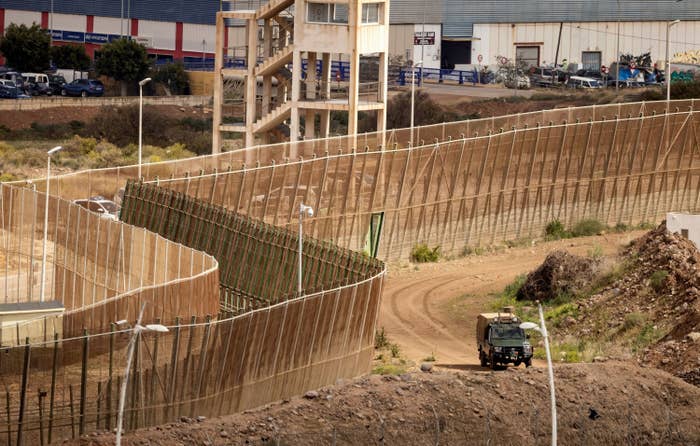 Several people have noted the disparate global treatment of Ukrainians versus that of darker-skinned refugees from other countries. As these accusations of racism have grown, so have efforts to silence voices urging equal treatment for people facing oppression.
Supermodel Gigi Hadid revealed on March 6 she would donate her Vogue fashion month earnings to Ukrainians affected by the invasion as well as Palestinians. Then Vogue magazine reworded her announcement in an Instagram post of its own that day — but didn't mention Palestine initially. Meanwhile, the president of Spain's far-right Vox party, Santiago Abascal, said that the difference between Ukrainians and Muslims is clear and that the latter are attempting "to destabilize and colonize" Europe.
While Pérez drove across France and made his way through Czechia, at least six police officers stationed in Melilla, a city on the Spain–Morocco border, were seen violently beating a migrant with their batons. In a video published by RTVE, the state-owned radio and television network, the man appeared frightened as he made his way down the chain-link fence. Officers handcuffed two other immigrants and took them away, one of them limping.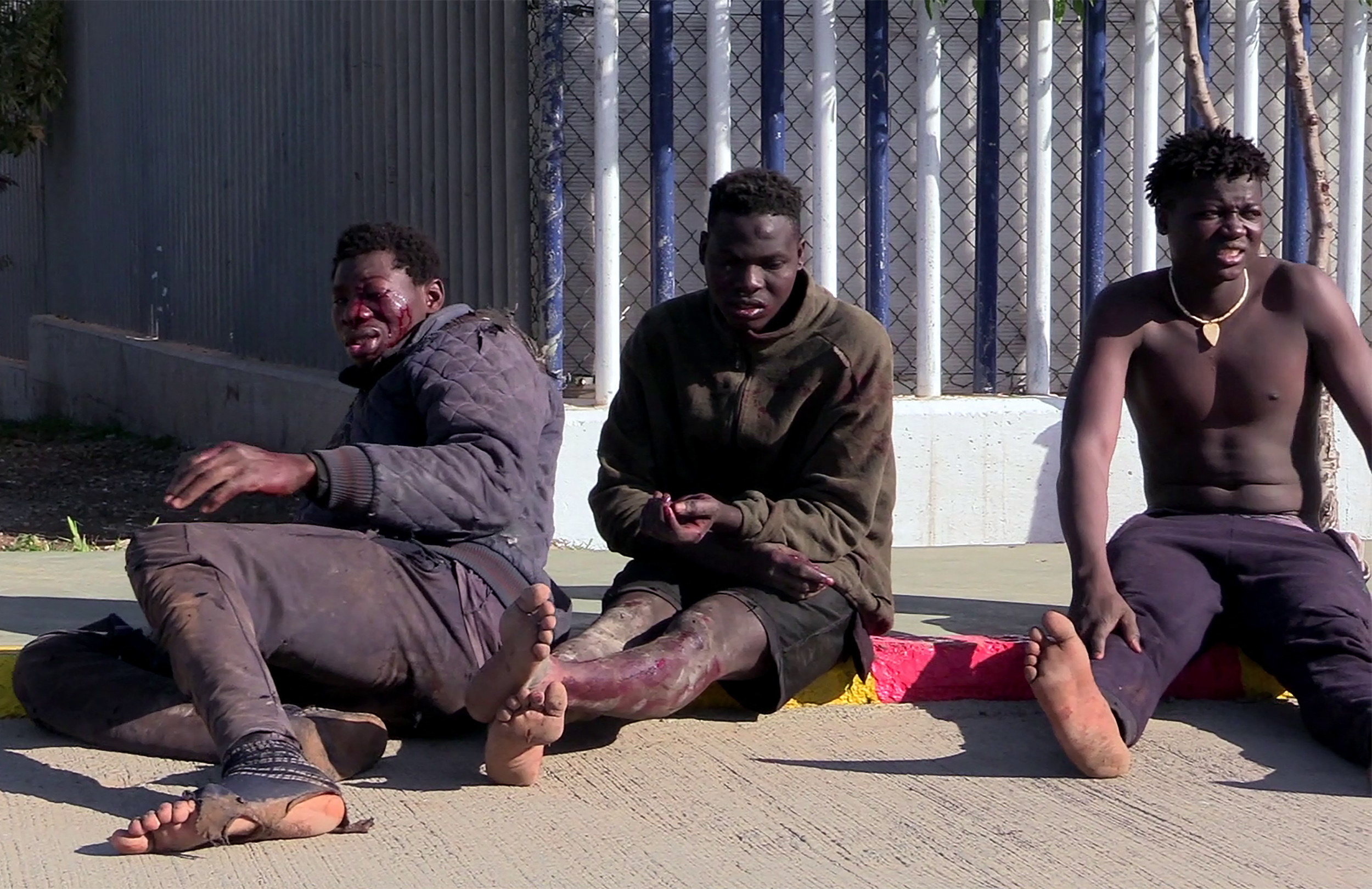 In another video, a man lies immobile, his legs and arms splayed. Nearby, several immigrants sit on a patch of grass, their feet bleeding, the knees of their pants ripped, and their chests heaving intensely. The air is pierced by the sound of volunteers and men in yellow vests shouting out orders.
"It's a message to society," Daniel Martínez of the Jesuit Migrant Service, an organization in Spain, told BuzzFeed News. "When you see 20-foot-high fences being built, you assume bad things are trying to enter through them."
Miguel Requena, a sociologist at the National Distance Education University in Madrid, said it is important to distinguish between the people who enter Spain mainly from African countries and those fleeing Ukraine. The former is largely made up of migrants seeking economic opportunity — though there are sometimes refugees in their midst. The latter is mostly composed of women and children fleeing a war that is, Requena added, "in part, our war," referring to Ukraine's location in Europe and to Ukrainians' desire to be part of the European Union.
Pérez said he had sought to help non-European refugees before the Ukrainian crisis. When the Taliban took control of Afghanistan last year, he mapped out the drive from Spain to the embattled country — some 4,600 miles. In the end, he had neither the time nor the money.
But this time he did. As Pérez exited the highway to enter Medyka, a town on the Poland–Ukraine border, all the hair on his body stood up, and he felt an urge to make a U-turn and return home, he recalled. He was afraid of Russian President Vladimir Putin attacking the border.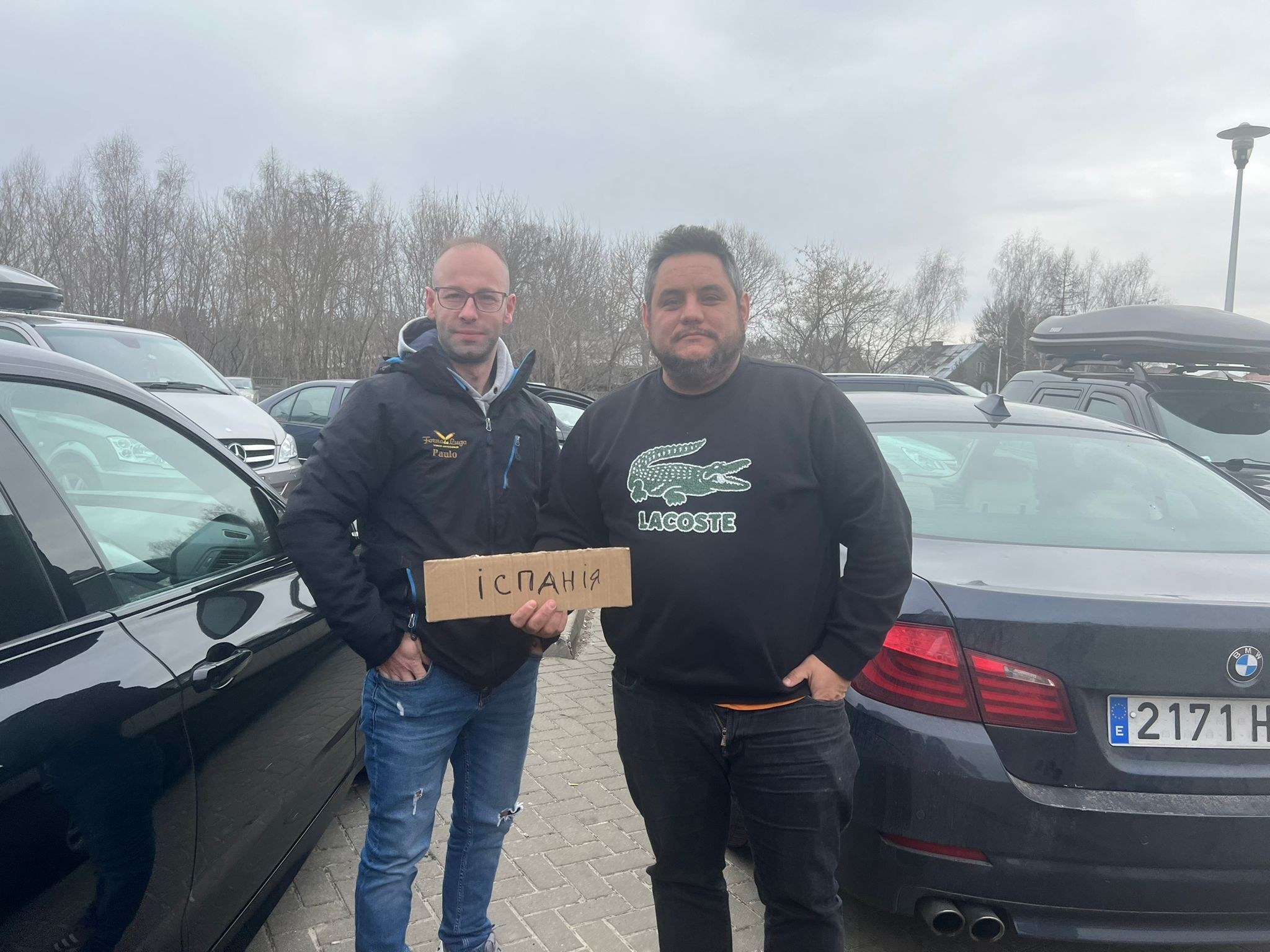 After more than 30 hours, the two friends finally arrived at a shuttered mall, where tens of thousands of Ukrainians were milling around between tents, picking up diapers and food. Pérez got a volunteer to write "Spain" in Ukrainian on a piece of cardboard he picked up. He and Ribeiro stood in the middle of the crowd holding it for a while, but no one approached them. Perhaps, they thought, the Russian invasion would last only a couple of weeks and Spain was too far away to go and return during that time. Night fell, and they went to a hotel to get some rest.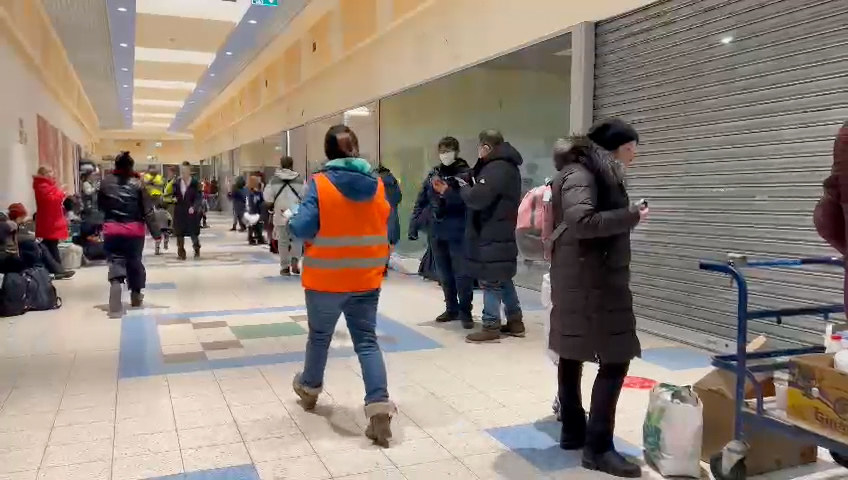 The following morning, after seeing a story in a local newspaper about Pérez's journey and tracking down his phone number, a Ukrainian woman living in Spain called him and asked if he could pick up her family, whose car had broken down as they were fleeing across the border. Pérez and Ribeiro mapped it out and started to drive the 62 miles north. Once the six Ukrainians got in the car, the Spaniards realized they had two seats left, so they drove back to the mall.
As soon as they arrived, Pérez got another message. A Ukrainian in Madrid asked him if he could pick up his sister in Warsaw. And so they went. In all, they picked up nine Ukrainians: three children, one teenager, and five women, including an older person who needed a cane to walk. Their belongings fit in two plastic bags and two duffel bags.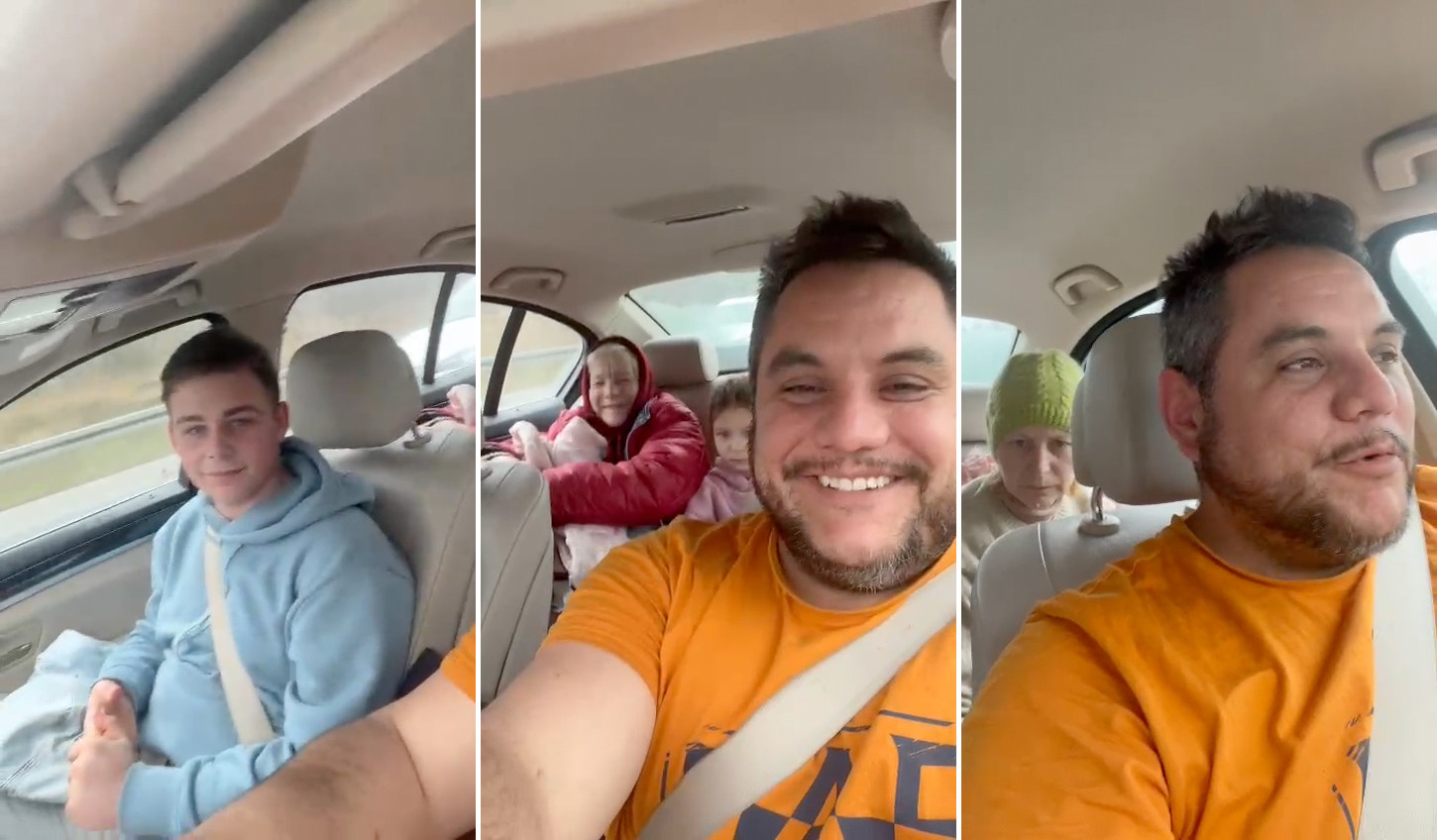 They used a translation app to communicate during the 40-hour drive to Spain but were mostly quiet in the car, with the windows up to keep the bitter cold out. Finally, they got to Lugo. The entire town, Pérez said, welcomed them with open arms, giving the Ukrainians free lodging for the night, a complimentary meal at a local restaurant, and SIM cards for their phones. The following day, Pérez accompanied them to the bus station to catch a ride to Madrid.
The warm reception reflects, in part, a political directive. On March 4, the European Council announced that its member states would grant temporary protection rights to Ukrainians, including housing, medical assistance, and access to the job market. Spain went further, saying that Ukrainians who had been living in the country without permission prior to the invasion would also be eligible to receive these protections, which would be granted within 24 hours from the start of a petition.
"We're not seeing this political will toward others," Martínez said. He mentioned the "forgotten conflicts": those in Syria, Afghanistan, Iraq, and Africa, including in Mali, where some refugees in Spain came from.
During the first two months of 2022, 7,319 immigrants entered Spain through non-official land and sea crossings, up from 4,226 during the same period the previous year, according to official data. The number of people seeking safe haven is on the rise: In 2021, there were 65,404 requests for "international protection," which can be granted to refugees or people who cannot return home because it is too risky; during January and February of this year, more than 17,300 people made that request. The majority of requests came from Venezuelans and Colombians, but there were hundreds from Syria and Afghanistan.
Pérez, like Requena, made a distinction between Ukrainians and the thousands of people from Africa who arrive at Spain's southern borders. The latter, he said, aren't fleeing war and, like Spaniards often do, are simply immigrating in search of a better life. Responding to the chorus of criticism over people who've rallied behind Ukrainians but not others fleeing hardship at home, Pérez said he understands the plight of migrants better than most, as his family has a long history of relatives immigrating to Cuba, Venezuela, and Switzerland.
For now, the network of Spaniards helping Ukrainian refugees is gaining traction. Even as he makes sure his bakeries operate smoothly, Pérez said, he is moderating multiple WhatsApp groups to help connect other Ukrainians in Spain with Spanish citizens planning trips into the war-torn territory to pick up handfuls of people.