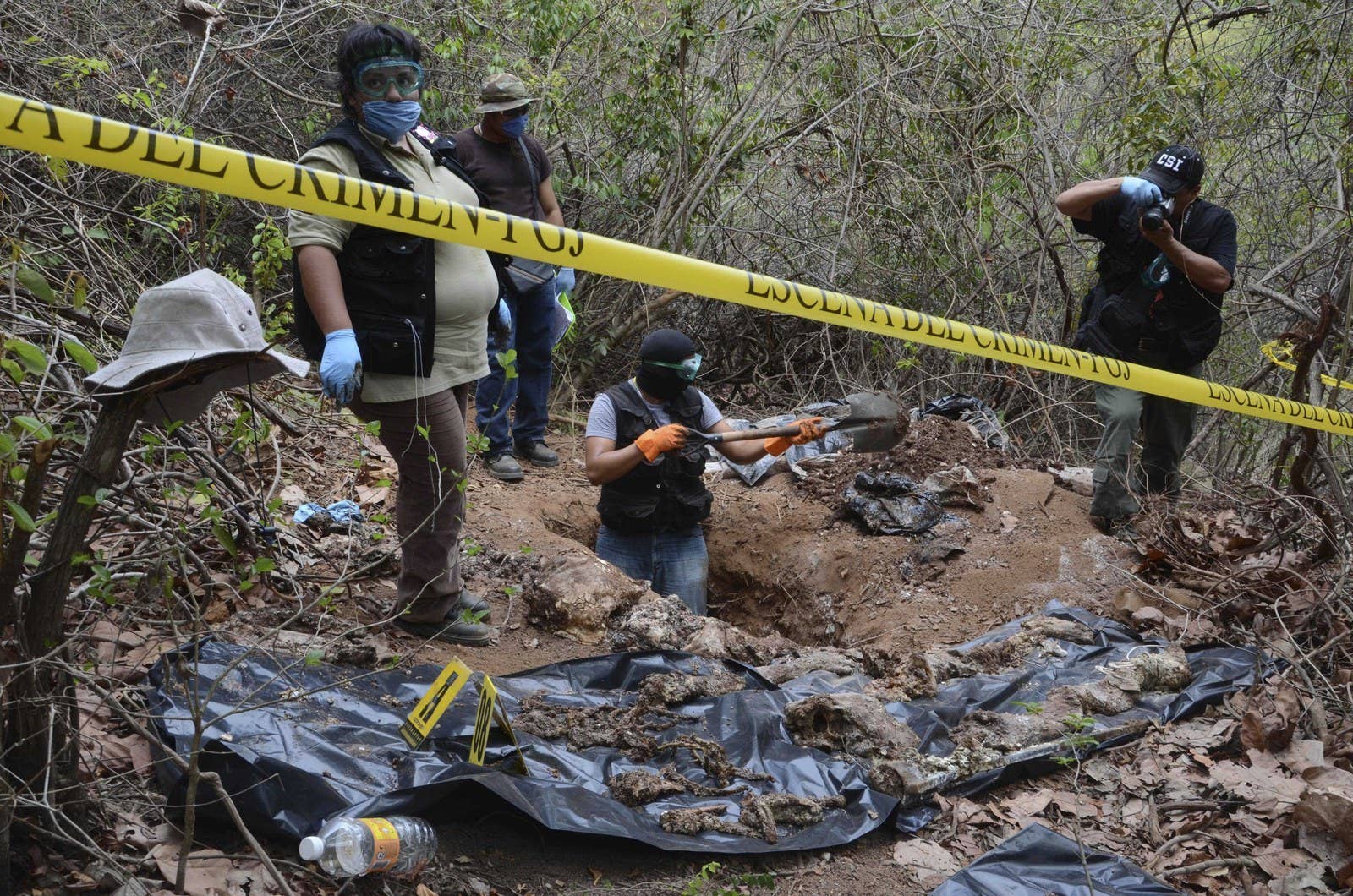 MEXICO CITY — Flies swarmed atop the hills around Iguala, a small city in southwestern Mexico, as investigators and civilians dug up the earth last year, searching for 43 missing students.
They found 30 remains here, 16 there — none belonging to the students. The bodies were strewn in more than half a dozen mass graves that enveloped the searchers in a particular stench. As the grim discoveries emerged, people around the country began to wonder: How many more clandestine gravesites have been discovered and how many more are scattered across Mexico, waiting to be dug up?
The Mexican government does not have an answer to that question; it lacks an accurate, comprehensive tally. BuzzFeed News filed public records requests to all 32 states and the federal government, asking for a list of mass graves discovered since December 2006, when former president Felipe Calderón assumed office and launched his war on organized crime. The request also sought the number of remains found in each mass grave, their gender and state of decomposition, and how many have been identified.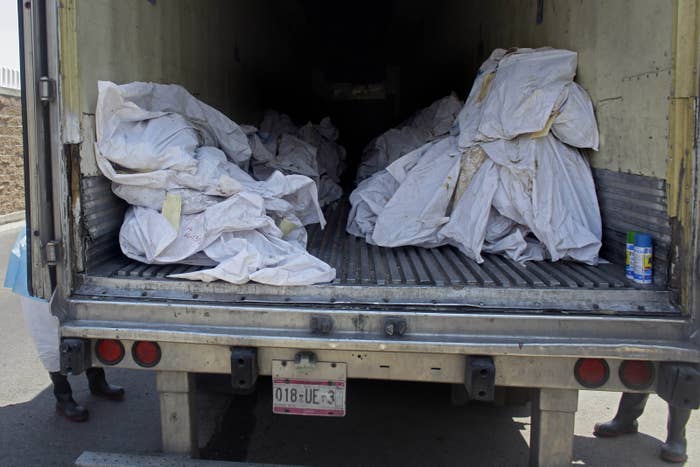 Federal government figures do not add up to match information provided by the states, which is itself inconsistent. Some states withheld the data, saying that releasing such information would do more harm than good, while others simply did not respond to the requests. Several wrote that no mass graves had been discovered, but local reports contradict these assertions.
According to the attorney general's office, 147 clandestine graves containing a total of 564 bodies or remains have been discovered since January 2008. The Federal Police has a record of 55 mass graves containing 736 remains since 2007. Between the 27 states that responded — though several said the information was classified — 228 clandestine gravesites have been unearthed, containing at least 972 bodies or remains, exceeding both federal counts.
Meanwhile, Mexicans are overtaken by the sense that their country now sits atop a giant graveyard.
"Our children are today children of a Mexico that, because of the violence that has been incubating in a delinquent state, has become a huge mass grave," the parents of the 43 missing students said during a news conference held last month by Tlachinollan, a human rights groups in Guerrero.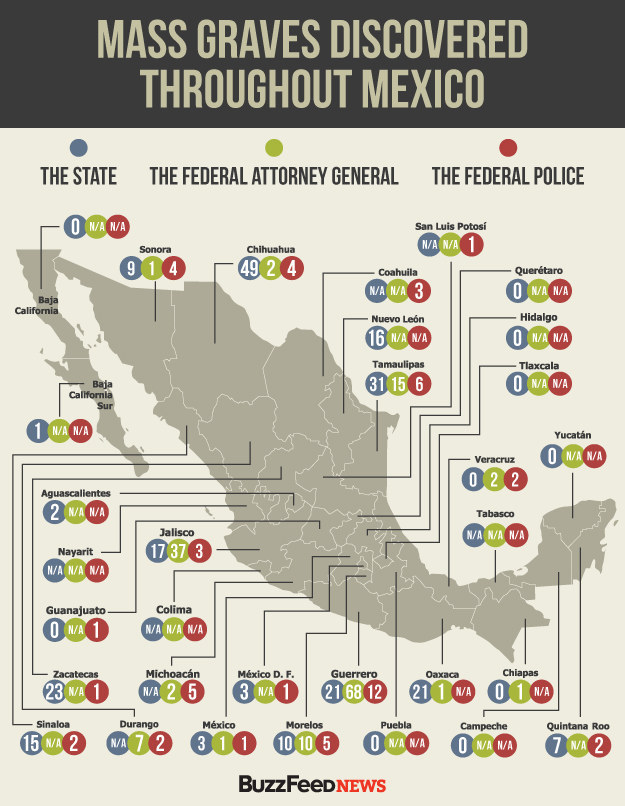 The hodgepodge of information obtained exhibits the lack of a comprehensive, organized, and updated database of mass graves in Mexico, nine years after the start of the drug war. It's not that clandestine graves did not exist before. Mass graves containing dozens of womens' remains in the border city of Ciudad Juárez, across from El Paso, garnered international attention in the the early 2000s. But since Calderón declared war on cartels and drug-related violence skyrocketed, so did discoveries of these sites.
Yet authorities seem to be minimally interested in, or capable of, documenting and investigating them, analysts say.
"For the government, these cases appear to have little importance except for when the scandal involves them or when there is a protest on an international level," said Pedro Isnardo de la Cruz, national security expert at Mexico's National Autonomous University.
When local police stumble upon a mass grave, it gets reported to the state prosecutor's office, which sometimes relays the information to the attorney general's office. But there is no specific office to follow up on clandestine graves, human rights deputy ombudsman Eliana García told BuzzFeed News. "The missing persons unit was created fundamentally with the intention of searching for people who are alive," she added, speaking of a unit that was created in 2013 and aims to give families the opportunity to both get information on their missing loved ones and help them participate in the search for them. García said that the data discrepancies stem from the fact that Mexico operates under a federal system where states have considerable discretionary powers over which matters are kept within their borders.
In other words, states are not required to inform the federal government when mass graves are discovered nor provide it with the results of all related investigations, if and when they are carried out. Often times, when states do bring in the federal government, it is because civilians pressure their local authorities to do so.
"Our children are today children of a Mexico that, because of the violence that has been incubating in a delinquent state, has become a huge mass grave."
García also noted the recently completed Protocol for Forensic Treatment and Identification, approved by the National Conference of Justice Procurement, an annual gathering of state prosecutors. The new document gives detailed instructions about how to log remains found in mass graves, among others, but does not mention a specific database for these findings.
The problem with not having a comprehensive and credible registry of clandestine gravesites is that homicide rates in the country are underreported, affecting policy planning, according to security analysts. They also believe that the federal government's list of disappeared people — currently at more than 23,000 — is underreported, as many whose loved ones have gone missing are afraid to come forward and become targets themselves.
But it's not just policy that suffers. Distrustful of authorities' ability to investigate and certain of their lack of interest, families have taken on the search themselves, sometimes at great personal risk. Activist Norma Angélica Bruno accompanied members of the Citizen Committee of Family Members of Other Disappeared People on searches for loved ones in Guerrero before she was gunned down last month, according to local reports.
Authorities in that state, for example, do not have a tally of how many mass graves have been discovered there since 2006. "Answering your request would imply reviewing an amount of documents or files that would generate a substantial and unreasonable disruption of activities within the information-generating unit," responded Guerrero's prosecutor's office. They suggested limiting the request to a three-year period.
When BuzzFeed News refiled a request under those terms, the Guerrero attorney general's office responded with 21 graves.
According to the Federal Police, eight mass graves were discovered in Guerrero in 2014, including one containing 100 remains. That gravesite was discovered several months before the 43 students went missing and was not reported on by local press at the time.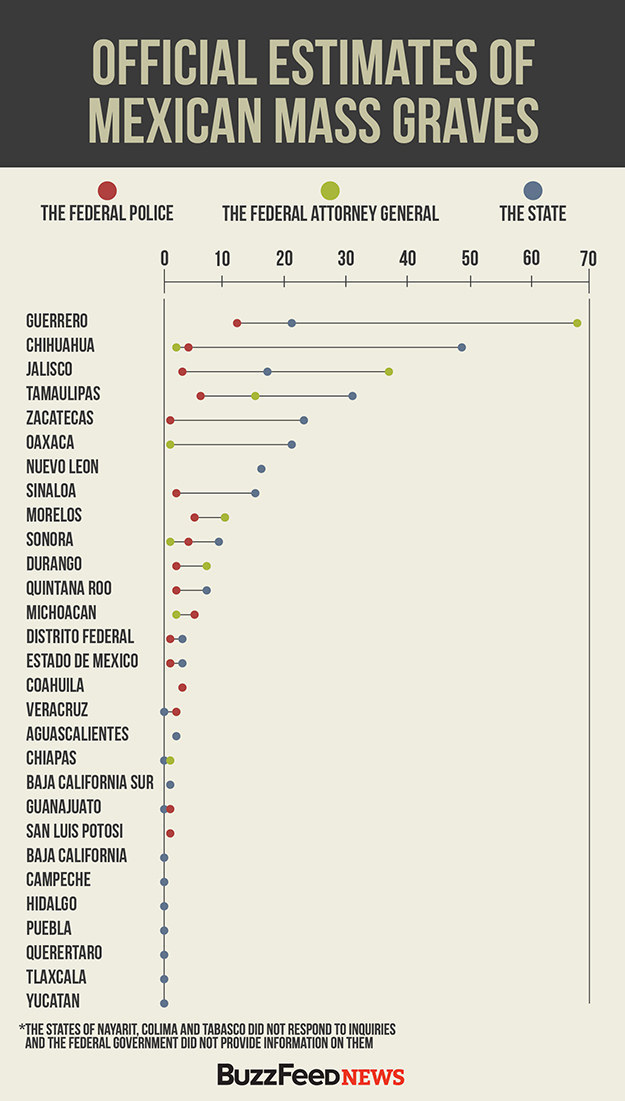 Other states withheld data altogether. Coahuila and Durango, in northern Mexico, which in 2011 were among the top 10 states with the highest murder rates, said the the harm of publicizing such information outweighed all interest in it and that it was "reserved," respectively.
Freedom of information laws differ by state and dictate different but specific response time frames, though all require authorities to provide an answer in under a month or so. In several cases, however, the states acted like the law was merely a suggestion.
Just across the border from southeastern Texas is Tamaulipas State, where a grave containing 72 bodies was found in 2010 and another with close to 200 remains was discovered the following year. The state refused to hand over any information within the time frame established by law, despite a dozen calls during which transparency unit employees refused to give their names and said they were waiting for internal approval to release any data. In the end, they reported 31 graves containing 219 bodies or remains from 2011 onward.
Colima and Nayarit, on the Pacific coast, did not respond to BuzzFeed News' requests.
But even the states that did respond provided wildly different degrees of transparency. Oaxaca and Sinaloa, for example, released the address where each mass grave was found and the gender and age of the bodies in them. Chihuahua, on the other hand, provided only the region of the state where the gravesites were discovered and the number of remains in each.
And then there were the states that reported having found no records of clandestine gravesites in their files, but whose assertions were contradicted by local media and the federal government.
The El Diamante ranch, atop a hill in Veracruz State, on the Gulf of Mexico, is nondescript except for a simple, one-story pink house. According to a number of news reports including a detailed one by e-consulta, an online newspaper, forensic experts descended on the property in June, where they discovered 31 bodies — some of them dismembered — in a mass grave. Yet, Veracruz's prosecutor's office responded that it had no records for clandestine gravesites. The Federal Police, on the other hand, reported at least two cases, one with 12 remains in 2012 and another with 31 remains last year.
Baja California, Campeche, and Tlaxcala also responded that they found no records of mass graves, but local news organizations reported otherwise.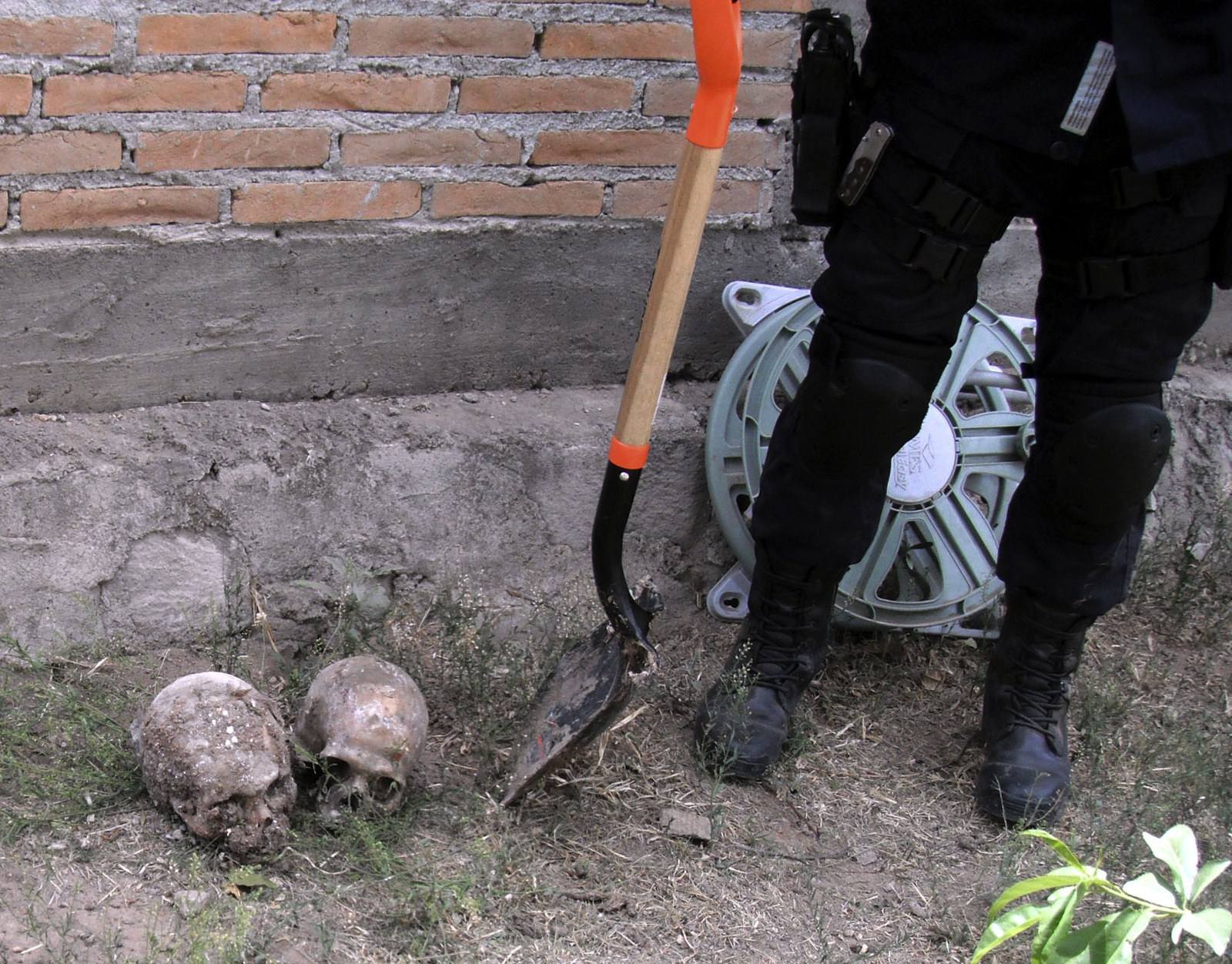 It is unclear how many of the bodies recovered from mass graves across the country have been identified. Of the 120 bodies found at one point in Tamaulipas, only 26 have been identified — 25 migrants from Guatemala and one from El Salvador, according to the attorney general's office. Four states provided information on identifications: In Oaxaca, 28 of 35 bodies found in mass graves have been identified; in Sinaloa, 26 of 55 bodies; in Sonora, 35 out of 41; and in Zacatecas, 12 out of an undisclosed number of bodies.
Why bury victims in unmarked gravesites, especially after years of cartel-sponsored spectacles of death that included dumping tortured corpses on highways, hanging semi-nude bodies from bridges, and rolling heads onto dance floors?
"The functioning strategy is, If I have control over certain territory, then don't call attention, disappear the bodies," said De la Cruz, the national security expert at Mexico's National Autonomous University, adding that by hiding evidence, criminal groups delay justice, which in turn cements their authority and allows them to edit reality in a way that benefits them.
"Graves talk," said Alejandro Hope, a security analyst and former intelligence official. "They say something about motivation. In some cases, there is a desire to make a public affront about brutality, in others there isn't," he added.
Whatever mass graves are saying, the message to their families is of the most macabre caliber.
In contrast to executions and even torture, "clandestine graves are more sinister. We don't know how they died or with what level of brutality," said De la Cruz.
Back in Guerrero, incomplete families continue scavenging the earth, searching for a piece of their loved ones and what has become a luxury in Mexico: the opportunity to grieve and obtain closure.