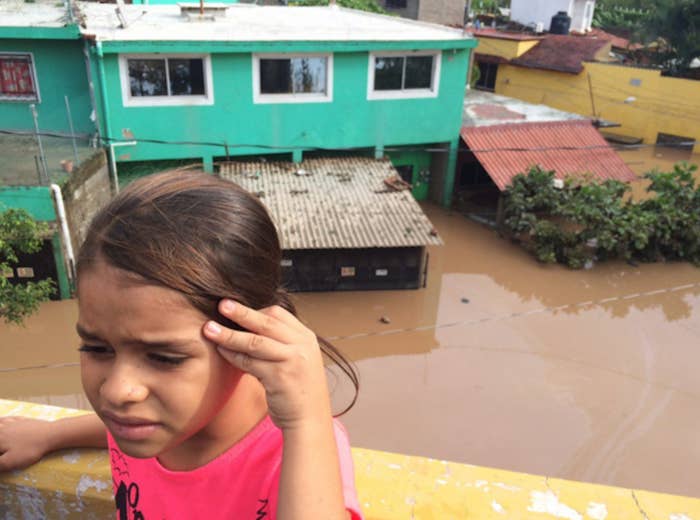 MANZANILLO, Mexico — Maria del Socorro Andrade walked up a small hill behind her one-bedroom house in Manzanillo, a city on Mexico's Pacific coast, in shock. "I took such good care of my things," she told a neighbor, crying. Nearby, Nolberta Barrios Martinez stood in her dirt-floor living room, a rooster roaming near her feet. Tree branches were casting a shadow in one of the bedrooms — where her granddaughter, due in November, was supposed to live — the bed soaping wet and a child's slipper crumbled up by its foot.

There have been no deaths reported as a result of Hurricane Patricia, at one point the largest storm ever recorded in the western hemisphere, but many here along Mexico's Pacific Coast have lost almost everything they had after the storm hit Friday night.
Defying widespread expectations, Patricia degraded from a category 5 hurricane to a tropical storm in a matter of hours.
"#HuracanPatricia is on the Mexican coast. Don't go outside. Protect yourselves and follow Civil Protection instructions," President Enrique Pena Nieto tweeted as the hurricane threatened to cause major damage to Jalisco, Colima and Nayarit states, along the Pacific coast. President Barack Obama offered his support to Pena Nieto while NASA released images of Patricia, a massive white cloud covering nearly one third of Mexico.
By Saturday afternoon, the port city of Manzanillo, 50 miles south of Emiliano Zapata, was tranquil, with almost no visible damage. Residents were walking out to their informal roadside shops to assess their losses and start cleaning up bits of debris. The highway connecting Manzanillo to Puerto Vallarta, a popular seaside resort town, was littered with trees but easily traversable.
Despite the rapid downgrade, people living along this coast have lost most of their belongings. Their houses, which took many years to build, were stripped of their roofs and flooded.
Municipal police held off a small crowd of people trying to walk over a bridge to see a river that was overflowing, flooding several low-lying houses. Police said they were making sure the bridge did not collapse. "We've had zero casualties and want to keep it that way," said one who asked that his name not be used.
At an elementary school serving as a local shelter where 46 people spent Thursday night, a 12-year-old-boy dragged a tree nearly twice his size across the courtyard. Nearby, three women swarmed around a kitchen making lunch for the children there.
The most pressing concern for families here is the lost crops. Most people farm papayas, chilies, bananas and coconuts. From her home, Amelia Campos could see a big swamp, water rushing around sunken trees. "I just hope we don't get fired because production is going to decline," she said. Her house suffered extensive damage but Campos, a single mother of two, worried more about not having a stable income.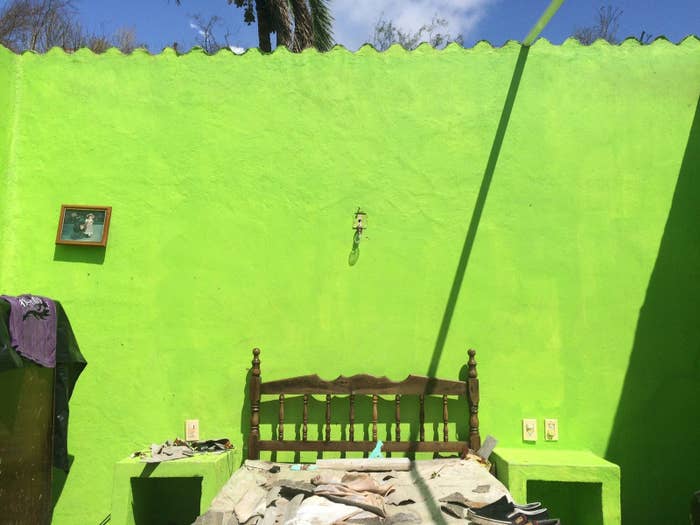 Watching his newly-constructed kitchen, now roofless and wet, Rodrigo Garcia lamented how long it took to built his dream house and how quickly it was destroyed. He was grateful that he and his family survived the storm, especially after seeing its fierceness through the crack in the bathroom door, but was daunted by the task ahead.
"To have even the bare basics again, it will take years," said Garcia.