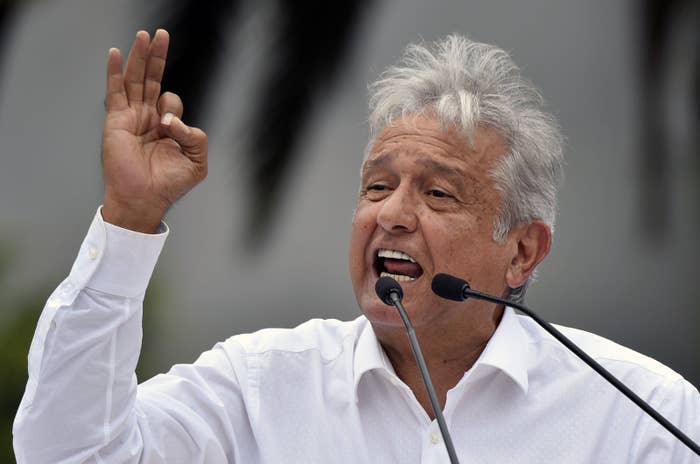 MEXICO CITY — It is the most daring proposal yet from Mexico's leading presidential candidate: amnesty for drug criminals.
Wearing a white shirt and a garland of roses around his neck, Andrés Manuel López Obrador delivered his controversial proposal last month in Guerrero State, one of the regions hardest hit during a drug war that has claimed an estimated 200,000 lives since 2006.
In fact, López Obrador is so sure that he can tackle Mexico's security problem, he announced on Wednesday that if elected he would eradicate violence three years into his mandate.
His comments have elicited criticism across the political spectrum and amongst many in Mexico, which registered its deadliest month in 20 years in October, with 2,371 homicides on record.
One of the most scathing responses has come from Javier Sicilia, a poet whose son was killed by cartel operatives in 2011. Through his organization Movement for Peace with Justice and Dignity, Sicilia has rallied tens of thousands of people across Mexico to protest drug-related violence.
On Saturday, Sicilia released a blistering open letter addressed to López Obrador, asking how the politician can stand by his policy. "Can you ask a country where criminals continue killing, disappearing people, extorting, because official corruption has given them a free pass to impunity, to forget?" he wrote.
"Amnesty, from the Greek word amnestia, means oblivion, from there the word amnesia, loss of memory," Sicilia continued.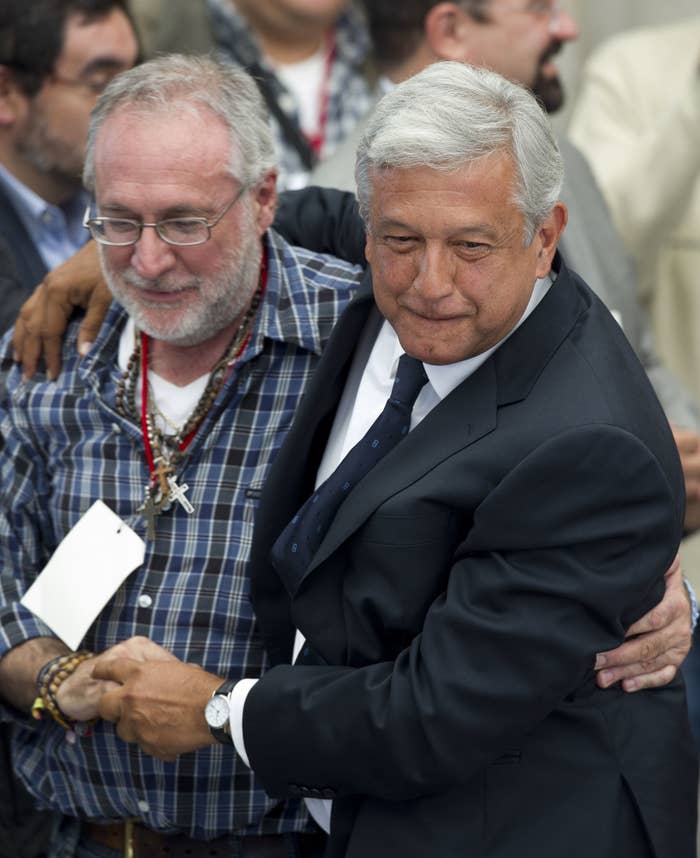 López Obrador's press office declined to comment but noted that the candidate will officially announce his security strategy on Thursday. Sicilia did not immediately respond to BuzzFeed News' request for comment.
López Obrador's proposal comes as Mexico gears up for what will likely be a violent campaign season — six politicians have been killed in the last week across the country.
López Obrador, who narrowly lost to Felipe Calderón in the 2006 presidential race, and then again to President Enrique Peña Nieto in 2012, has an eight percentage point lead over his nearest rival according to a recent poll.
The other presidential hopefuls leapt at the opportunity to come out against the front-runner's proposal.
José Antonio Meade, of the governing Institutional Revolutionary Party, said during a speech that he was "on the side of the victims, not of the victimizers."
Ricardo Anaya, of the newly formed coalition formed by the conservative National Action Party and the the left-leaning Democratic Revolutionary Party, or PRD, called it "madness" in a video message posted on his Facebook page.
And Margarita Zavala, whose husband, former president Calderón, declared war on organized crime while he was in office, tweeted that should she win, she would build a "special prison for corrupt people and criminals." (Zavala is running as an independent.)
López Obrador offered a similar deal to Mexico's corrupt politicians last year. Corruption, which cost Mexican companies $87.2 million in bribes in 2017 according to the National Institute of Statistics and Geography, is entrenched through the country's political class, from small-town leaders to Peña Nieto's inner circle.
"There will be no reprisals or persecution against anybody," he told a crowd of supporters. "We declare this anticipated amnesty because what we need is justice, not revenge."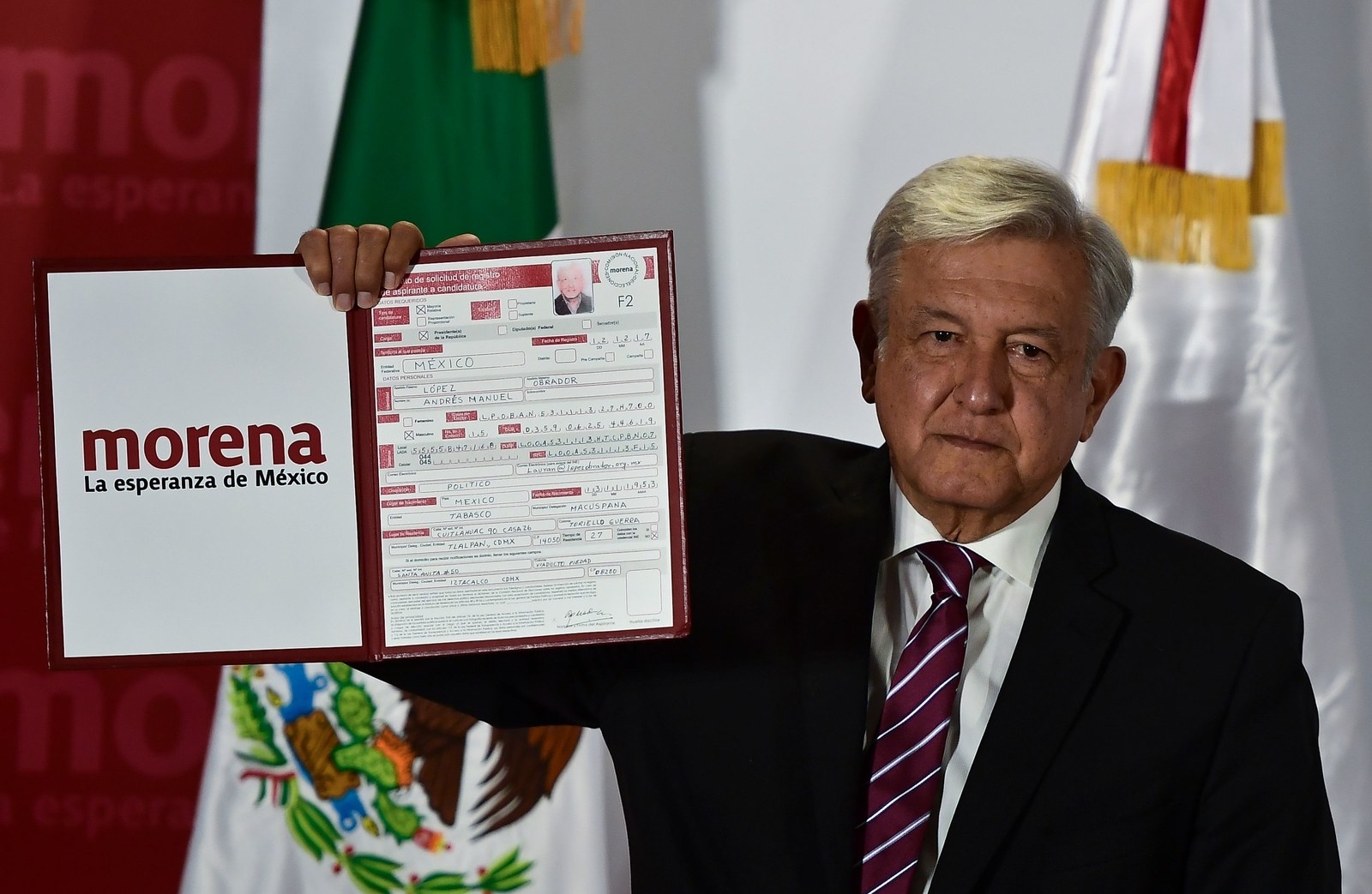 The 64-year-old is known more for his ability to rally thousands of demonstrators to the streets — he shut down Mexico City's main square and parts of the historic thoroughfare leading to it for four months in 2006 while he called for a vote recount — than for his policies for Mexico's future.
A former mayor of Mexico City, López Obrador was for years the face of the PRD. He broke from the party in 2014 to form his own, the National Regeneration Movement. A populist whose support base is largely made up of the country's working class, he has said "no one will steal" if he is elected president.
"We will call on Mexicans to join a pact for honesty," López Obrador said last year during an interview on Imagen Television.
In 2011, as he geared up for his second presidential campaign, López Obrador unveiled his "loving republic" project: the creation of a new political system that would be based on honesty, justice, and love.
After a flurry of confusion, criticism, and mockery, López Obrador wrote a 3,122 word explainer on what he meant by a "loving republic."
"Let's make the compromise to summon to the elaboration of a moral constitution experts in the matter, philosophers, psychologists, sociologists, anthropologists … old people from indigenous communities, teachers, mothers and fathers, the youth, writers, women, businessmen, diversity and human rights defenders, people of all religions, and free thinkers," he wrote.
In "This Is Me," an autobiographical documentary released in December, López Obrador said that if he loses the upcoming election he will never run for office again. Speaking from his country house in Chiapas State named "La Chingada," loosely translated as "Fucking Hell," he said there were only two options left for him.
"To the presidential palace to transform, to make history, or to La Chingada."
Whichever road he takes, for Sicilia, López Obrador's takeaway should be the same: a search for something "which South Africa painfully and exemplarily called, at the end of apartheid, 'Ukubuyisana'," he wrote in his open letter, "which is not oblivion or amnesty but something closer to forgiveness."
CORRECTION
López Obrador called for a "pact for honesty" among Mexicans in a 2017 television interview. An earlier version of this post mistakenly said it took place earlier this year.