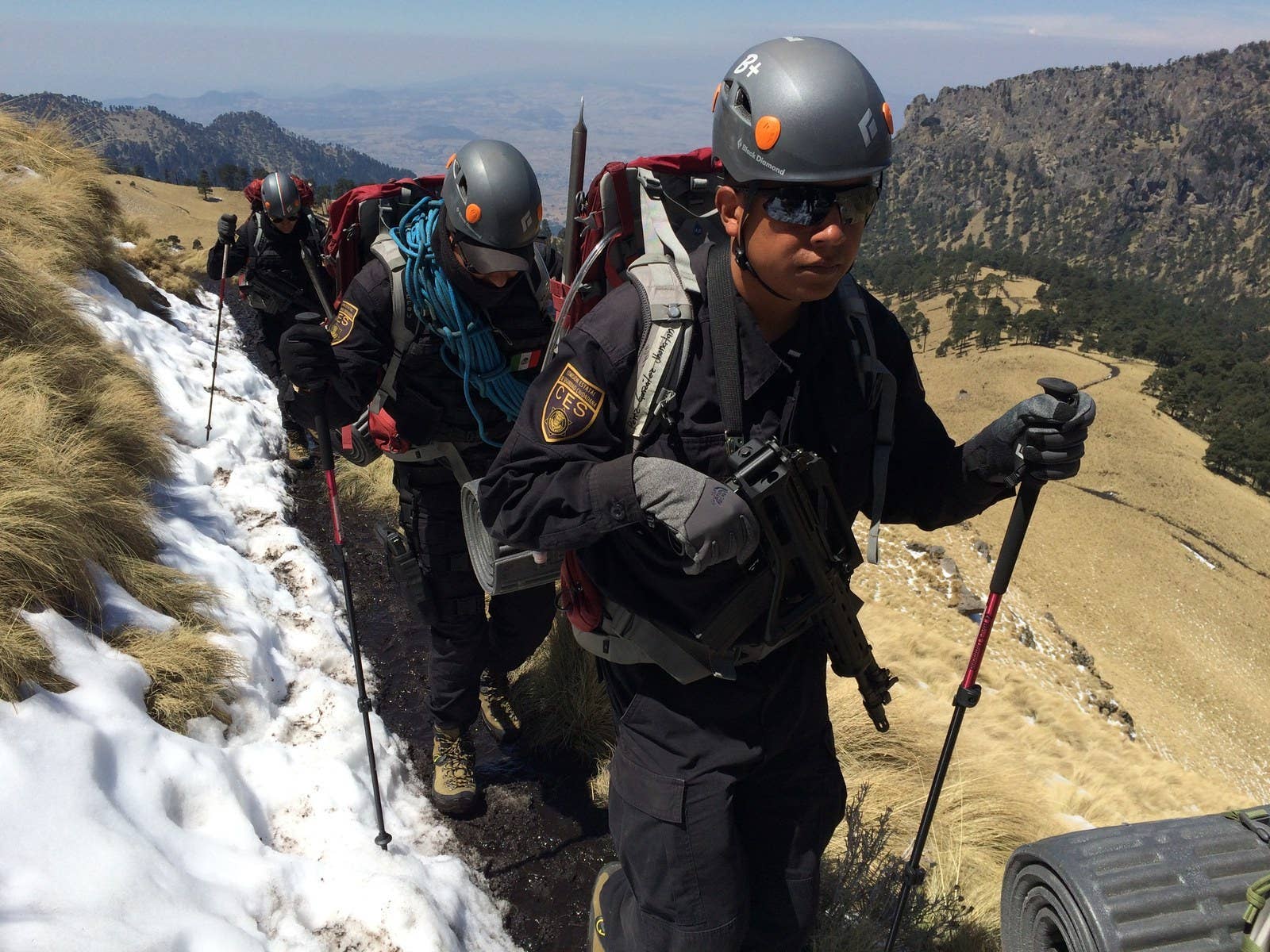 IZTACCIHUATL VOLCANO, Mexico — Carlos Nolasco looked like any other professional mountaineer walking up the volcano's steep curves: His trekking poles were set at the perfect height, his helmet strap fit snugly under his chin, and his hiking boots were laced just tightly enough.
The only thing that stood out was the 9 mm Glock strapped to his thigh.
Despite appearances, Nolasco had never set foot on a mountain until last year, when he joined Mexico's first high-altitude police force. The team was set up in response to a series of attacks on the Iztaccihuatl volcano, about 35 miles southeast of Mexico City, which saw the violence so common on the streets work its way up the mountain. Now Nolasco and his 49 colleagues find themselves operating at 15,600 feet above sea level, armed with handguns, ice picks, and granola bars to keep them going.
"It never crossed my mind that I'd be doing this," said Nolasco, 25, whose male relatives are all police officers. "One goes to the mountain to suffer. … It is not a comfort zone."
During a recent patrol on Iztaccihuatl, known locally as Izta, Nolasco offered advice on how to keep from slipping — you plant the front of your boots hard and fast into the ground and grip the poles tightly, he said — while wheezing his way up the winding foot-wide trail. One wrong step would mean falling more than 200 feet down a precipitous grassy slope. Nearby, the head of the high-altitude unit, Arturo Castro Huerta, asked if everyone was feeling all right and reminded the men to keep close rank.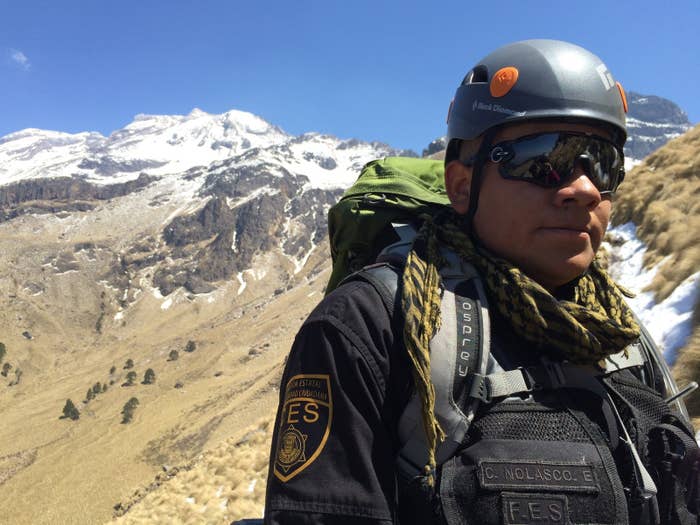 The sounds of sludge squelching underfoot, of assault rifles rubbing on thick cloth, and of heavy breathing trailed Nolasco, whose round cheeks propped up a pair of sunglasses. The terrain alternates between watery mud and hardened snow. "These are dangerous conditions," he said.
But it wasn't just the inclement weather to which Nolasco was referring.
In 2006, more than 20 hikers were exploring a trail on Izta when bandits caught up with them, assaulting several and killing one. Local newspaper reports suggested the attackers were involved with illegal loggers. Months later, then-President Felipe Calderón would declare war on organized crime and instigate a wave of homicides and kidnappings across cities and small towns. Violence above the clouds would grow in tandem.
Then, in 2012, a group of around 50 visitors to the volcano were held up near the San Rafael route, according to local reports. Last July, more than half a dozen armed men stormed a mountain shelter along the Amecameca route, slightly to the south and widely considered to be safer. The muggers, who walked at least five hours to get to the shelter, demanded the hikers' car keys and stripped several of them down to T-shirts and socks.
Appalled, the mountaineering community came together to address the growing threat on Izta. Several female hikers who attended these brainstorming sessions revealed that they had been raped on the volcano in recent years.
"I don't wish [the thieves] ill, much less death, because we have to admit that what happened that day on Izta is a symptom of what happens in Mexico," wrote Orly Cortés, one of the hikers who was mugged, on a mountaineering blog in July.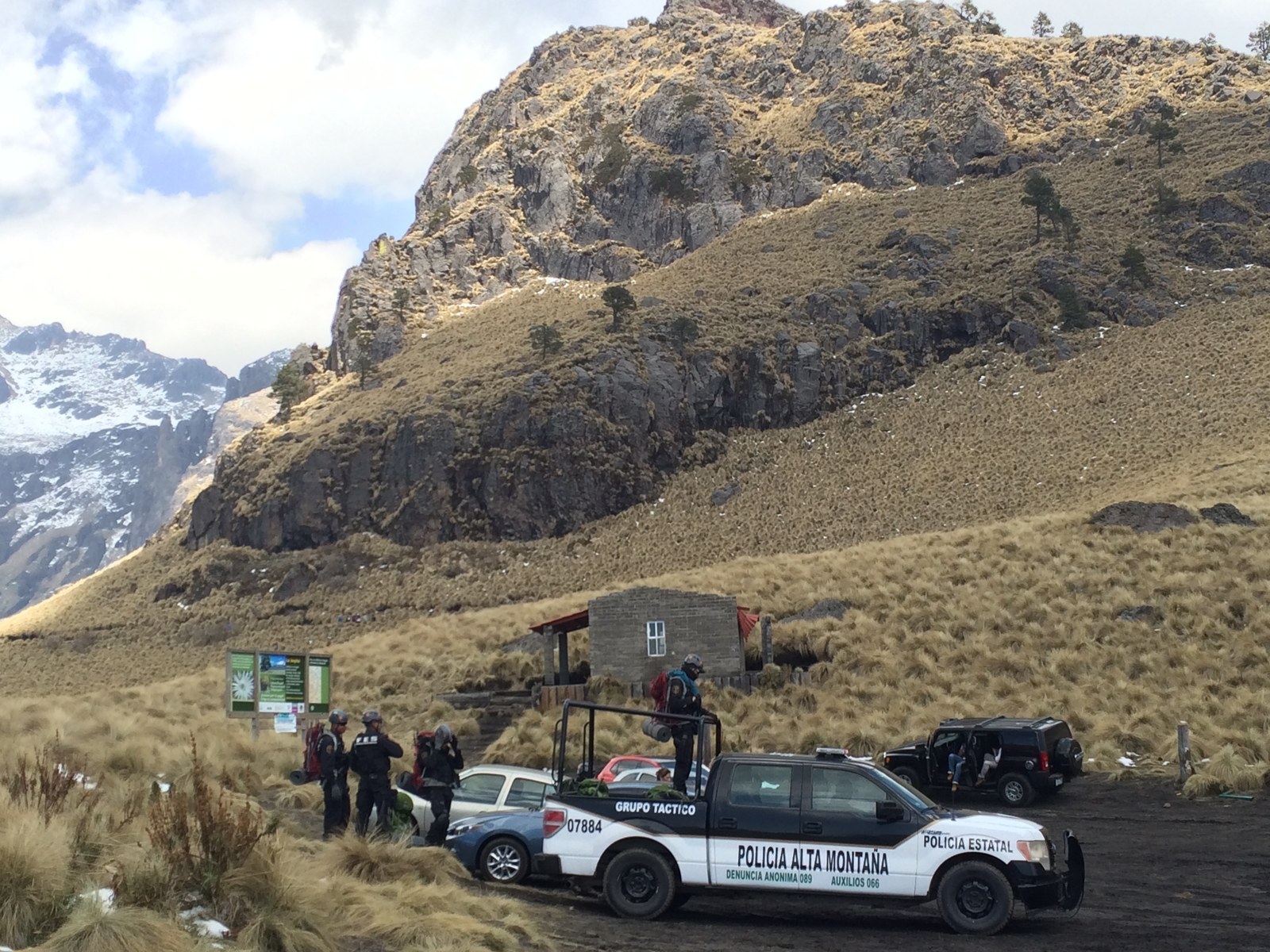 With typical fanfare, the State of Mexico government announced the creation of the high-altitude mountain police in August. Atop a platform covered in fake grass in Paso de Cortés — the mountain pass between the Izta and nearby Popocatépetl volcanoes — state authorities and mountaineers presented the officers who would patrol the volcano.
The proliferation of crime on the volcano remains surprising for those who aren't familiar with the terrain. The Izta, which means "white woman" in Nahuatl, the ancient language spoken by the Aztecs, is both a navigational aid and the comforting image of a beloved sleeping princess that watches over Mexico City — the volcano's numerous peaks give it a voluptuous shape. It is engrained in residents' psyches, the subject of fables and poems, offering a rare opportunity to see the snow. For much of the 20th century it was also prosperous: A huge paper factory had turned San Rafael, the main gateway to Izta, into a booming town. It was, above all, safe.
"We should have the right to a peaceful mountain," said Vicente Azpeitia, a mountain guide who was part of the group that was held up at a shelter last year, during a radio interview. Izta is a place where even religious differences become moot because it "is close to something supreme," he said.
When the paper factory closed in the '90s, the town fell into disrepair and visitors to the 17,160 foot-high volcano, which straddles Puebla, Morelos, and the State of Mexico, became easy targets for criminals.
Over time, the volcano has become a microcosm of Mexico; where violence has spread indiscriminately, de facto authorities — mountain guides, in particular — have established themselves and operate irregularly and without guidelines, while visitors often ignore park rules.
It's not just Izta. In 2012, armed men assaulted a group of underage campers at El Colibri ecological park, in the State of Mexico, raping several of them. Two years later, a number of cyclists were kidnapped in Ajusco, a popular volcano for cyclists and hikers south of the capital city.
"There's a new culture in the city of doing extreme sports, cycling, mountaineering … but there's no structure for it," said Alberto Abad Suarez, a law professor at Mexico's National Autonomous University, speaking of security and rescue mechanisms on the volcanos and campsites around Mexico City.
Frightened and helpless, frequent visitors to Izta began migrating to a route slightly south of San Rafael, through the nearby town of Amecameca, about a decade ago. Tourism exploded along this trail, widely assumed to be secure; as many as 50,000 people visit on days when it snows heavily, according to state authorities. But in July, half a dozen armed men stormed a mountain shelter along this route, which, members of the mountaineering community say, was implicitly understood to be off-limits to criminals.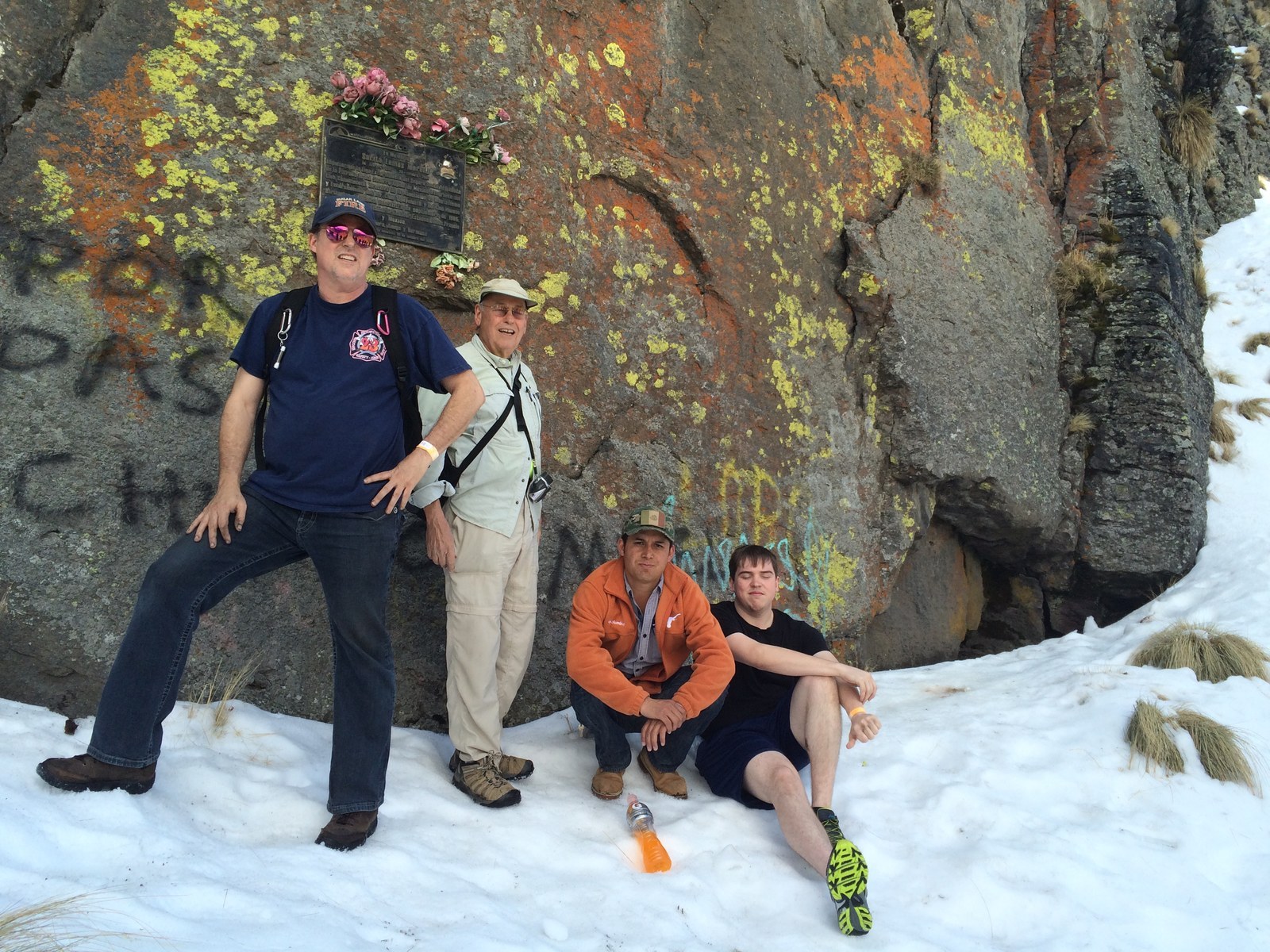 Hikers who used to share their love of the mountain had a new common cause: to keep its peaks safe, as well as to protect their own lucrative tourism enterprises. Mountaineering leaders — several of whom offer guiding services on Izta and the nearby Nevado de Toluca volcano — launched a campaign titled #MontañaSinViolencia, planted a white flag at the Izta summit and organized a protest in Paso de Cortés.
"We're not backing off. We're not losing our freedom," said Francisco Trad, a mountain guide who spearheaded the protest, about the message the group, which christened itself United Mountaineers, wanted to send both authorities and criminals.
The criminals terrorizing Izta visitors, said Fernando Veytia, who owns one of the largest trekking companies in Mexico, "did not understand that the people they tried to intimidate had economic capacity, connections, access to media." The state government paid him, Trad, and other mountaineers to train 50 police officers.
Veytia says the the bandits on Izta are not petty criminals after snow gear, but rather members of a criminal group that make their living from highly lucrative illegal logging along the San Rafael route, which is dominated by a lush forest. An influx of visitors has meant less privacy to cut down the trees. It "was a guerilla unit that wants to intimidate us … [and] run us out of the park," said Veytia. "It's tourism versus organized crime."
Authorities from the State of Mexico admit that illegal logging is a key factor in the growing crime wave on the volcano, and say they are training an additional police force to patrol the lower-altitude trail near San Rafael.
The high-altitude unit, which started patrolling the Iztaccihuatl-Popocatépetl National Park at the beginning of March, is in charge not only of security along the trails on the Izta and Nevado volcanoes above the 12,400-foot mark but also of helping rescue groups. They ensure that visitors follow basic park rules, like signing in and out at checkpoints and not removing native flora.
Argentina, Peru, France, and Pakistan also have high-altitude police units, patrolling the Andes, Alps, and Gilgit-Baltistan mountains, respectively. But the Mexican force did not train with any of these because "the budget matter is complicated," said Pedro Gomez, coordinator of tactical groups at the State of Mexico police force. Gomez admitted that the mountaineers who trained the police unit are part of a universe of mountain guides who are neither professionally certified nor registered by the government.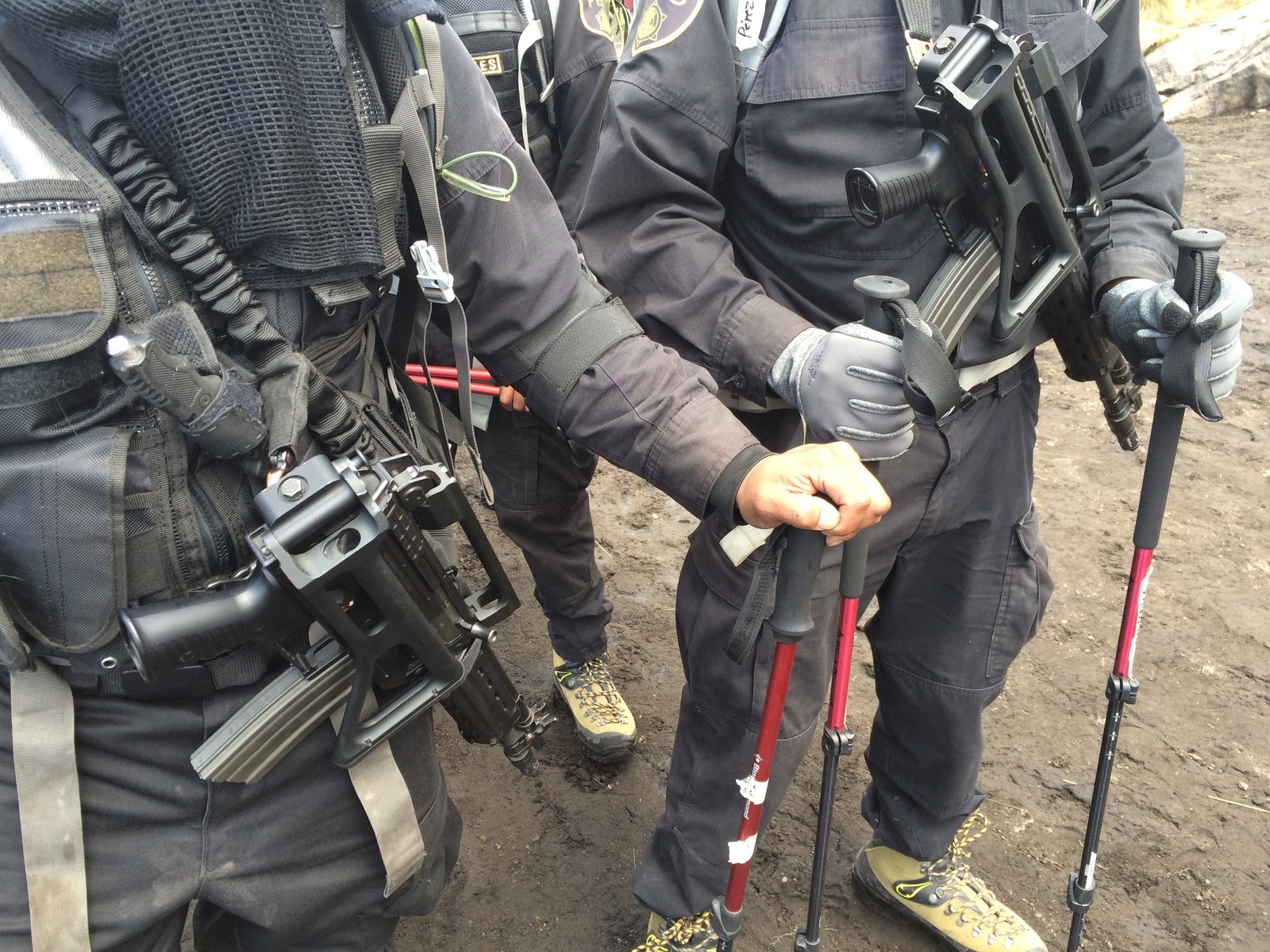 Nolasco's initial experience up the mountain, in August, was overwhelming. First there was the official police launch publicity shoot, standing to attention on Paso de Cortés. Hundreds of people, including high-level state government officials and mountaineers, swarmed around. Then there was the seven-hour trek to and from the Refugio de los Cien, the shelter where several hikers had been mugged the previous month.

"It was too challenging. We didn't know the route, nothing about the mountain," said Nolasco. When they descended, Nolasco's head was pounding and he felt exhausted.
At a training session in November, Elena Amezcua, a well-known Mexican mountaineer, discussed the symptoms of altitude sickness and why saving high-energy snacks for the descent can help ameliorate it. Standing in a classroom before the uniformed officers, Amezcua explained to the students how much water to drink depending on the temperature. They students also learned first aid and basic celestial navigation techniques.
Adapting to life on Izta has been challenging. Since he joined the special police force, Nolasco has given up his usual surrounds of shops, subway lines, and banks, replacing them with muddy trails, frigid nights, and many, many Milky Ways and Gatorades. Now, he doubles up on socks and makes sure his steps are deliberate and confident on the volcano.
"We've had to work a lot on willpower," said Huerta, head of the high-altitude unit, of the numerous challenges he has faced getting the team ready for long stretches at high altitude. Twenty percent is physical, he says, while the rest is mental. And yet, it all depends on the climatic whims around them. "We don't defy the mountain, because if we do, we won't return from it. … We all feel fear, naturally."
Officers participated in a rescue recently, helping get a severely injured man down the narrow, slippery trail in the middle of the night. It took eight hours; the man died several days later.
At other times, Castro has been cautious. When two hikers — one American and the other from France — died on the mountain last month, he did not send his team because he didn't want to put them at risk. Strong winds had knocked trees down along the road leading up to Paso de Cortés and parts of the volcano were covered in knee-deep snow.
On quieter days, officers admit they sometimes stop just to take in the view of the mammoth volcano and the vast trails of pristine snow that drip over its multiple jagged peaks and into its rocky troughs like ice cream on a hot day. Other times, they stop to make sure hikers are wearing the right equipment and answer questions from meandering trekkers.
During a recent visit to Izta, visitors along the trail seemed mostly unaware of the mountain police unit and unconcerned about their safety. Nelson Messinger, a visitor from Texas, was resting against a graffiti-filled rock wall with his son and grandson. He seemed baffled that the towering volcano had ever drawn thieves.
"Why would they come up here if they could just rob someone in the city?" asked Messinger.