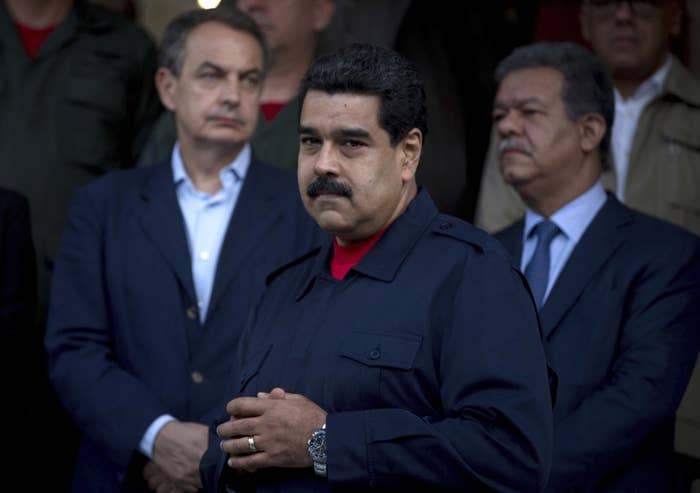 MEXICO CITY — Venezuela's National Assembly will carry out a political trial to determine if President Nicolás Maduro's rule is legitimate, lawmakers said Tuesday in a sign of heightened tensions in the already-volatile country.
"This is a political trial, a moral trial," said opposition congressman Carlos Berrizbeitia. People want "to open the valves of democracy and [the government] is creating challenges," he added.
It was the latest in a back-and-forth between the unpopular government and the opposition-led congress which has brought the country to a virtual standstill for the last year.
After gaining a majority in congress in December, opposition leaders began a nationwide signature drive for a referendum to oust Maduro, in one of the last legal recourses the assembly had to wrest control from the socialist government. If successful, it would have prompted a new presidential election this year. But electoral authorities stalled the process until finally freezing it last week after four criminal courts across the country alleged that voters had used false IDs when signing the petition.
Congress's efforts to subject Maduro to a political trial are unlikely to result in an impeachment trial, as virtually all of the Supreme Court's judges are close allies of the president. Still, on Tuesday, lawmakers said they would analyze whether Maduro has "abandoned his job" by neglecting to protect people's constitutional rights.
The oil-rich country is in a tailspin, with triple digit inflation, a shortage of basic goods including medicine, and a security crisis on the streets.
Many people are going hungry: A family of five needs 18 minimum wages to buy the basic food basket, a government-approved list of goods considered necessary for a healthy life, according to the Center for Documentation and Social Analysis of the Venezuelan Federation of Teachers, a research institute. Nearly half of the 58 items in the basket are scarce, including chicken and sugar.
"It is not a time for silence or inhibitions, but a time to defend democracy and the Constitution before this dictatorial and authoritarian fit," Provea, a Caracas-based human rights group, said in a press release Sunday.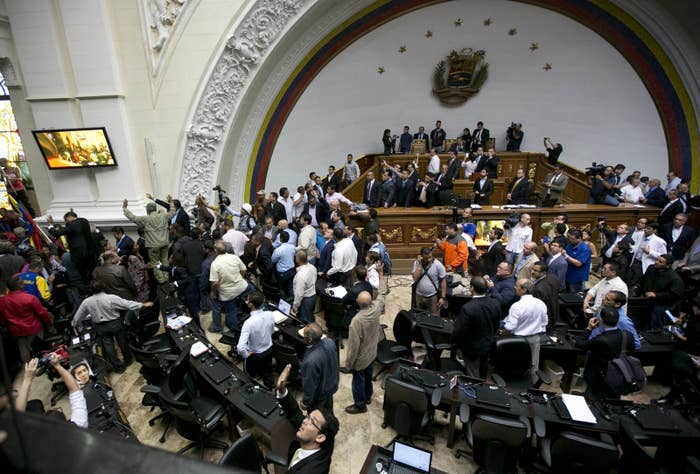 "You chose the shortcut, a coup d'etat, we chose the vote and democracy," Julio Borges, an opposition lawmaker, said during a parliamentary session Sunday. That day, a group of pro-government supporters stormed the building yelling "this assembly will fall" and scuffling with attendees before being removed.
"For those who condemn our country, it just reacted before a parliamentary coup d'etat, and it will do it one thousand times," Diosdado Cabello, the vice president of the ruling party and former head of the National Assembly, tweeted.
The government has thrown a number of opposition politicians in jail in recent years. One of the most outspoken anti-government leaders, Leopoldo Lopez, has been imprisoned since 2014 for inciting protests.
On Monday, the Vatican announced it will mediate a dialogue between the government and the opposition this coming Sunday, shortly after Maduro met with Pope Francis in Rome. Opposition leaders said they found out about the dialogue from television and called for a massive protest on Wednesday.
"We are dealing with the devil. You should know that, Pope Francis,"opposition leader Henrique Capriles said Monday night.