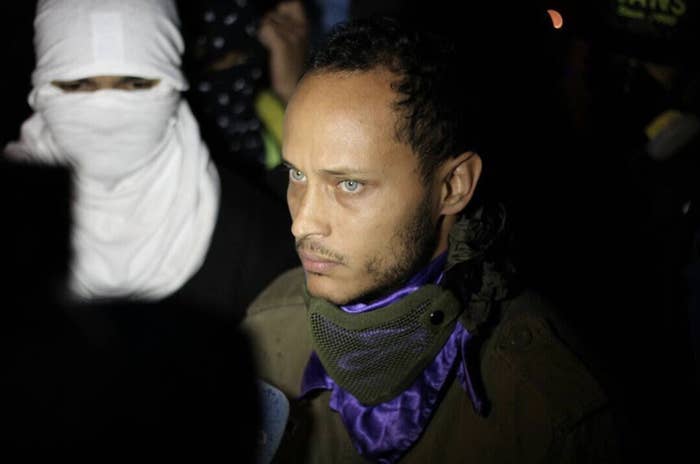 MEXICO CITY — A self-proclaimed pilot who commandeered a helicopter and attacked government buildings in Venezuela last June was killed by authorities during a confrontation, police said on Tuesday.
In a dramatic twist that could be produced only in a country like Venezuela, the pilot, Óscar Pérez, narrated the onslaught in real time, posting 15 videos on Instagram. During the last uploads, Pérez spoke straight into the camera as shots were heard in the background.
"We are your sword, but the real sword is the whole country, united," said Pérez, his face covered in blood. "The people have to take the streets. It's the only way out."
Venezuelan Interior Minister Nestor Reverol on Tuesday told reporters that Pérez was among seven "terrorists" killed in the assault to arrest him. Four men and two women were also arrested in the operation, he said, while eight police were wounded.

"The acts committed by this criminal gang qualify as terrorism, constituting clear and flagrant attacks against democratic institutions," Reverol said, adding that Pérez's followers "opened fire" during surrender negotiations, sparking the firefight.

Pérez, an action film star, became a hyper-dramatic symbol of resistance in the embattled country after lobbing grenades into the Supreme Court and Interior Ministry buildings in the capital city, Caracas, last summer. (Pérez claims that he is a police pilot who went rogue.) He urged a return to democracy as the country, which is battling a deadly shortage of food and medicine, record inflation, and an increasing concentration of power among President Nicolás Maduro's closest allies, continued its free fall.
Maduro condemned Pérez's heist last year as part of a coup attempt while some speculated that the green-eyed rebel with the high cheekbones was the centerpiece of a government plot to divert attention from street protests that claimed more than 120 lives.
Pérez went into hiding shortly after, leaving behind a trail of unanswered questions: How was he able to fool the country's powerful armed forces? And who was supporting him?
Pérez remained in the public eye throughout, using his Instagram account with its 90,000 followers to share photographs of himself at a children's hospital and videos in which he is seen stealing rifles at a military command center and lecturing tied-up soldiers about their duty to fight against corrupt authorities.
During an interview with CNN Español on Friday, Pérez warned that Venezuela was preparing for a social collapse.
The armed confrontation with Pérez occurred as Maduro was preparing to give his State of the Union address on Monday. Inflation in the country is expected to rise beyond 2,300% this year, according to the International Monetary Fund, as Venezuela, increasingly isolated from its Latin American neighbors, grows more dependent on Russia and China.
Maduro and his administration blame Venezuela's business class and the US for the country's downfall.
"The sold-out media of the right, in their desperation, defend terrorist Oscar Pérez, what a shame and lack of ethics," tweeted Diosdado Cabello, Maduro's right-hand man.
The videos that Pérez shot in what turns out to have been his last moments remain on Instagram. "They literally want to kill us. They just told us," said Pérez, crouching in a sparsely furnished room. He winced as shots rang out above his head.

Panning the camera across the room, where a small fire burned in a corner, he made a final plea.

"We need you, Venezuela. We're hurt."