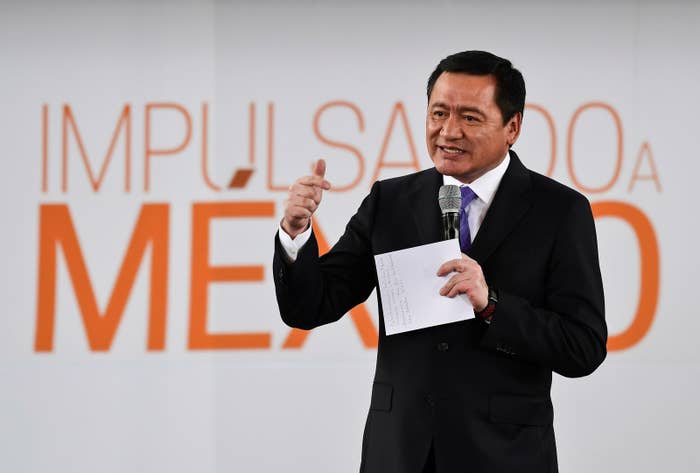 MEXICO CITY — A former state attorney general in Mexico has claimed that former secretary of the interior Miguel Ángel Osorio Chong ordered authorities to report lower homicide rates.
Osorio Chong, who served in his role from 2012 until earlier this year, "gave precise instructions to the areas that manage crime statistics to manipulate information," Juan Miguel Alcántara, former attorney general of Guanajuato State, said during an interview with Zona Franca, a digital news outlet, on Thursday.
Alcántara said the order targeted states governed by the Revolutionary Institutional Party, or PRI, which President Enrique Peña Nieto belongs to, and were limited to homicide and kidnapping numbers. Alcántara did not provide evidence or reveal the names of the prosecutors who supposedly told him about Osorio Chong's orders.
Alcántara did not immediately respond to a BuzzFeed News request for comment.
Mexico's homicide rate reached record levels in 2017, with nearly 30,000 murders. That number surpassed the murder rate at the peak of the drug war during the previous administration.
In January, Alcántara accused the Ministry of Finance of trying to convince the authors of a report on the governments' fight against money laundering to "soften" the results, according to Proceso, an investigative magazine.
Alcántara, who works as a lawyer for a private practice in Guanajuato, was a legislator for the rival National Action Party, or PAN, serving two terms between 1988 and 1997. The PAN, through an alliance with several left-leaning parties, is ahead of the PRI in the polls for July's presidential election.
Alcántara also served as the head of the Executive Secretariat of Public Safety, or SNSP, the office in charge of collecting crime statistics from the country's 32 states from 2009 until 2011.
"A statement of this nature is always going to be political because if you have knowledge of this issue, you file a complaint, you don't make a statement," said Francisco Rivas, director of the National Citizens Observatory. Still, it is widely known that statistics from the states are "imprecise," Rivas added.
The secretary of the interior did not respond to a request for comment from BuzzFeed News. Roberto Femat, a spokesperson for Osorio Chong, said that the accusation "is not real."
"He doesn't have to deny something that is a lie."
Osorio Chong left his position to join the presidential campaign of José Antonio Meade, the PRI's candidate, earlier this month.