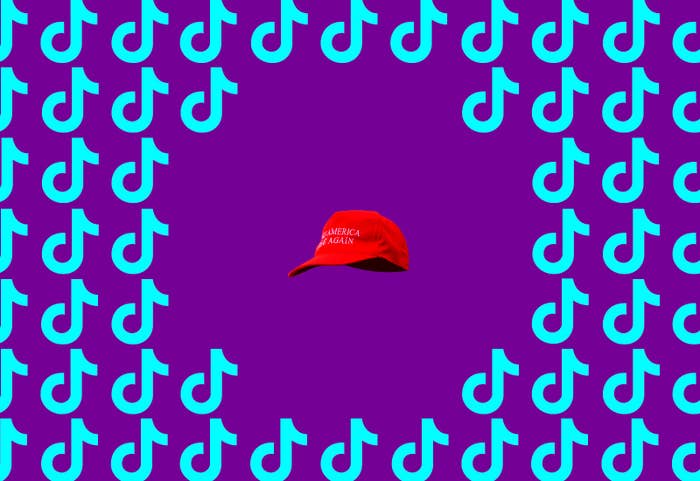 WASHINGTON — TikTok is where Bridgette Olek told the world she had to leave her father's Minnesota lake house after he discovered she'd protested at a Black Lives Matter rally in Fargo, North Dakota.
Tensions between the two had been brewing for a while. He's Republican and a Trump supporter. She's "the polar opposite." Olek said the final break came when she went to a protest instead of entertaining family members who were visiting for the weekend. Her father asked her to leave, so she packed up her van and headed to other parts of Minnesota, then North Dakota, then Arizona, and finally North Carolina — for now.
"You know those feisty white girls y'all be talking about," she said while driving in the TikTok video, over audio of Kash Doll's "Ice Me Out." "The ones with racist parents that are supporting Black Lives Matter? Yeah, a bitch just got kicked out of her house for supporting Black Lives Matter. I mean, it's time."

She added, "I'm 23."

And then an appeal to what seemed like no one at the time: "But I'mma be homeless for a while so if anyone wants to let me couch surf…" It's the kind of support teens and young adults like Olek have come to expect in an era of crowdsourcing and mutual aid groups. It was a big ask to Olek's 500 followers at the time. She now has 22,000.
The post was viewed by more than 700,000 times, and more than 5,000 people commented on the viral video. Most responses were encouraging. Some people offered her a place to stay, others asked for her Cash App and Venmo credentials so they could donate. In the coming weeks, she'd report back to her followers that she'd raised $503 of what she called "pity money" and in turn donated $600 to blacklivesmatter.com, evidenced by the receipt she used as a green screen backdrop in that same TikTok.
"That TikTok, I did not expect to blow up the way it did," Olek, who goes by the name of @pinkyringsaregay on TikTok, told BuzzFeed News. "I was basically just shouting into my phone saying, 'Whelp, I got kicked out.' I was truly taken aback by the response and then comments of everyone saying I could stay with them."
Most of the content on TikTok is centered around entertainment. Content creators flood the For You page with dance videos, comedy, and lip-synching in the wildly popular app, which boasts an estimated 800 million monthly users. TikTok is loudly in the news right now for its Chinese ownership, a potential sale, and now the looming Sept. 15 deadline for purchase by any American company.
Like much of social media, however, on TikTok, like-minded users rally together for a single cause. Social justice TikTok ramped up when Black content creators claimed they were being shadow-banned. Before the nationwide protests, TikTokers showed solidarity for Black content makers through posts and by updating their profile to a picture of a black fist. George Floyd's death expanded the movement and motivated many white teens and twentysomethings to reckon with their parents' views on race and politics.

The coronavirus pandemic has exacerbated the already simmering tensions between Gen Z and their parents; lockdowns have forced many together for months, working or studying from home. Even recent college graduates, like Olek, struggle with where they'll live and work in the coming months amid a pandemic. She called it a "weird life circumstance."

Search for "racist parents" or "conservative parents" on TikTok and peer into the lives of Gen Z'ers and millennials sounding off about their parents — some of them to the tune of thousands of red hearts that signal "yeah, we hear you!"

Publicizing the differences between the generations has become so popular that content makers are now acting out hypothetical confrontations with parents. These point-of-view posts are more anecdotal and rooted in someone's truth, but not necessarily that of the person posting. In one video on the #POV hashtag, a teenager cries about leaving home because, based on the caption, her parents disapprove of interracial relationships. A lot of teens pair the content with Macklemore and Ryan Lewis's "Can't Hold Us" and shoot in dimly lit rooms with similar neutral-colored backdrops.

Most teens who posted POVs weren't accessible, but BuzzFeed News talked to one 16-year-old TikTok user who said the app is like a haven for "venting" and trying to "talk through" things.

"It's just the internet is a safe place for many; separate from what your family thinks," said Ava Santiago.
But the stakes are higher for the young adults, some of whom disconnect from family members altogether because of opposing views. One content creator wrote a song about it.

In the song "I'm Right You're Wrong," Daren Girdner — @darendarendaren on TikTok — describes the disappointment he feels in his father who he says "doesn't understand white privilege." The short melody came to be after a two-hour conversation he had with his father, prompted by an exchange the two had on Facebook about racial inequality. At the time, Girdner, 27, was at a Black Lives Matter rally and his father had written "blm is a joke" in response to his son's post.

"We talked for nearly three hours," Girdner told BuzzFeed News. "We talked in circles. He didn't listen to a word I said. It was an unfortunate conversation. He really showed his true colors and his ignorance."
Within an hour of the conversation, Girdner wrote and recorded the song. A week and a half later his girlfriend, Ava Gordy, encouraged him to post it on TikTok.
"I went to sleep and woke up and the rest is kind of history," Girdner, who at the time had been on TikTok for a month, told BuzzFeed News. "It had a bunch of views and it resonated with a lot of people I guess. This song brought me a lot of peace in knowing I'm not alone."
More than 200 content creators have used the sound to tell their own experiences, including one who posted a screenshot of a text conversation between him and his father. "I will never forgive you fully for putting this tyrant in office," said Alex, a 21-year-old trans man on TikTok who told BuzzFeed News he stopped speaking to his father soon after the June 13 post. "You, personally, with your voting have directly limited my rights and safety."
Generational conflict over politics is a familiar story: In the 1960s, it was the counterculture movement versus their Depression-era parents. The themes are similar. But for Gen Z — the group who hijacked President Donald Trump's big return to the campaign trail in Tulsa by skewing attendance numbers — the digital community wields as much power as in-person protests for large takedowns and smaller ones, even those directed at family members.
They dominate TikTok. They're protective of the space, laughing off older millennials and Gen X'ers who post dance videos. Although that seems to have changed a bit as one TikToker, Madison Scott, told BuzzFeed News, "their content can be quite entertaining," but "younger people don't want their voices drowned out." Mislabeling Gen X'ers as boomers — a term to describe the generation born between 1946 and 1964 — is, however, still a thing.

When BuzzFeed News reached one teen content maker about TikToks they'd posted, they said they weren't sure their parents "would be OK" with them speaking about the videos. It was a common response, if any response at all, from most teens on the app who seem to think they're talking into a vacuum with a million of their peers.
Deborah Hanover, 22, relates to younger millennials who feel strongly about their stories being told. And while she considers herself to hold "old-fashioned views" about private family life, speaking publicly about her and her father's spats is one way to acknowledge the "beauty in cultural evolution" and the "independent thinking" of her generation. For her, the discourse between the two is just an example of two generations that are "stuck trying to figure each other out."
"I have a front-row seat to the mindset and behavior of the classic Trump supporter, and I am alarmed by what I see," Hanover wrote of her father in a viral Medium post. "It is a steady stream of misinformation that twists and bends to justify the unjustifiable, to deny the undeniable, built on an unmovable foundation of bitterness and distrust."
As a child, Hanover understood bedtime to be an hour after her family gathered for The O'Reilly Factor in their Staten Island home. In some ways, the former Fox News conservative talk show was her "pre-bedtime story."

She remembers Bill O'Reilly calling people "pinheads" (a term the former Fox News host used to describe people he disagreed with, especially Democrats). In hindsight, the talk show host set in motion her disdain for John Kerry during the 2004 presidential election. And her parents nurtured it.
"For a very long time, I actually echoed that mentality," Hanover told BuzzFeed News. "I echoed the rhetoric that I would see on Fox News because it was all I knew at the time."

Hanover is no longer a member of the Republican Party. Her college experience and living in Europe, she said, have broadened her outlook on politics, and in 2017 she registered to vote with no party affiliation. She won't be voting for Donald Trump this November. But her father remains a diehard supporter, and the extra time spent together because of COVID-19 amplified the tension between the two of them.
"We were all way more underfoot than we'd been in a long time and it opened a lot more windows to confrontation," Hanover said.
The conflict has caused a rift in their family — one that led her to write the viral Medium post "Confessions of a Trump Supporter's Daughter." It's a shift that's happening to families across the country. Children of conservatives are drifting away from their parents, and they're doing so in front of the entire world. There's a bevy of social media posts from teens and young adults who have denounced their parents' conservatism months before the presidential election.
The most popular example of this is, of course, Claudia Conway, the daughter of White House adviser Kellyanne Conway and attorney George Conway, a staunch critic of the president. The teenager is vocal about her opposition to Trump.
The 15-year-old has railed against a "pussy-grabbing president" and has expressed her support for the Black Lives Matter movement. And while many posts have been deleted — at the request of her parents, she says — this post, which starts as beauty advice and then turns into Claudia calling for the arrests of the police involved in Breonna Taylor's shooting, remains. It's a strategy some teens use to avoid getting shadow-banned for posting too many political TikToks or attract a larger audience by posting something less controversial, at first, to lure their viewer in.
"Hey guys, I've been getting a lot of questions about my skincare routine, so here it is," Conway starts. "So basically, I start my routine by pushing for the arrests of Breonna Taylor's murderers: Myles Cosgrove, Brett Hankison, and Jonathan Mattingly, because they've been walking the earth free for 119 days, so, that's basically my routine.

"Yeah, thanks for watching."
It's not clear if Conway's rallying her younger audience or garnering a new one with her Twitter announcements; recently, Rep. Alexandria Ocasio-Cortez of New York, whom she had been following, returned the follow. But Madison Scott argued that Twitter is less appealing to a lot of Gen Z'ers — largely, she said, because of the president's large platform on the app.

"Trump having a Twitter [account] has made many more alt-right Gen X and millennials join the app," Scott, 22, told BuzzFeed News. "It's kind of turned into a political war zone like Facebook instead of a place for comedy."
Scott's been at odds with her parents over political views and other family issues. She's been out of the house for a while, but the lead-up to an inevitable early departure started when her views on politics began to change in the eighth grade.

In the most recent public criticism of Republican parents, Rep. Louie Gohmert, a staunch Trump ally who tested positive for COVID-19 recently, was the subject of a tweet by one of his daughters, who said her father "ignored medical expertise." She also warned against blindly following Trump.

"Please please listen to medical experts," she tweeted from an account bearing her stage name, BELLSAINT. "It's not worth following a president who has no remorse for leading his followers to an early grave."
Separately, a second daughter, Kathryn Gohmert, took a shot at the president back in March.
"I wish so deeply Hillary was my president now," she tweeted. ●