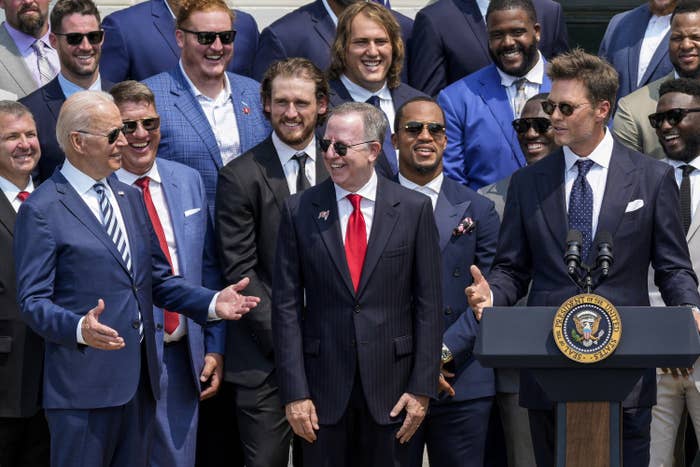 President Joe Biden welcomed Tom Brady to the White House Tuesday, five months after the quarterback's seventh Super Bowl win, this time as a Tampa Bay Buccaneer.
Brady skipped a visit to the White House in 2017 during Donald Trump's presidency and before that in 2015 when Barack Obama was president.
Most of the team ascended the stairs of the South Portico. Brady, head coach Bruce Arians, and owner Bryan Glazer appeared shortly after. The team presented a Buccaneers football jersey with the number 46.
"It was actually a very challenging season for a lot of reasons, but we bonded together and worked really hard," Brady said during a speech at the White House. "We put all our individual agendas aside, and we came together as a team."
Shortly after, Brady made a joke about election denialism.
"Not a lot of people, you know, think that we could have won," said Brady. "In fact, I think about 40% of the people still don't think we won."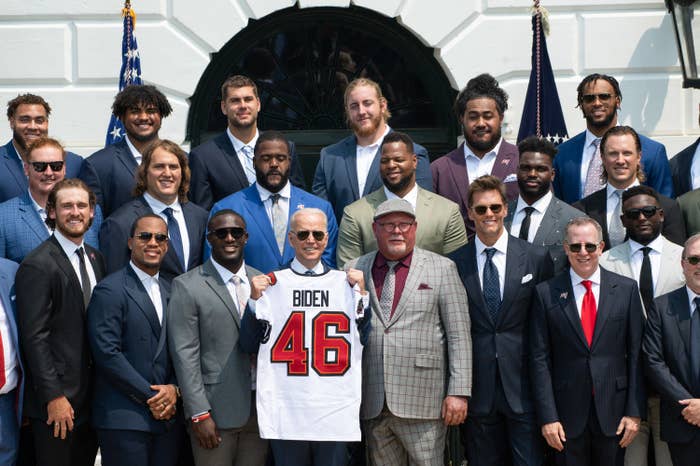 Brady, 43, last visited the White House in 2005 during the George W. Bush administration after Super Bowl XXXIX when he clinched his third title as a New England Patriot. Brady celebrated three wins at the White House during Bush's four-year term.
In 2004, the quarterback was a guest at Bush's State of the Union address.
The long-standing tradition of inviting athletes to the White House dates back to the mid-1800s. The practice expanded in the 1960s to professional basketball champions and then two decades later to professional football teams after former president Jimmy Carter invited the Pittsburgh Steelers to the White House to celebrate their 1980 Super Bowl win.
Athletes have made political statements in the past by not attending the celebratory event. But in 2018, Trump responded in kind when he rescinded an invitation to the Philadelphia Eagles after some players pulled out because of the ongoing discord over national anthem protests.
The ceremonial event became marred with controversy during Trump's four years in office. After team members and coaches of professional and college basketball teams said they'd decline an invitation to the White House if asked, Trump didn't.
Famously, Trump withdrew his invitation to Steph Curry in 2017 via a tweet. While it's not clear if Trump rejected Curry specifically or the entire Golden State Warriors franchise, the team later declined an invitation en masse.
The trend lasted the duration of Trump's time in office. No NBA team visited the White House during the Trump administration. In January, Yahoo News reported the Los Angeles Lakers hoped to restore the tradition with the new administration, but the 2020 championship team has yet to visit.