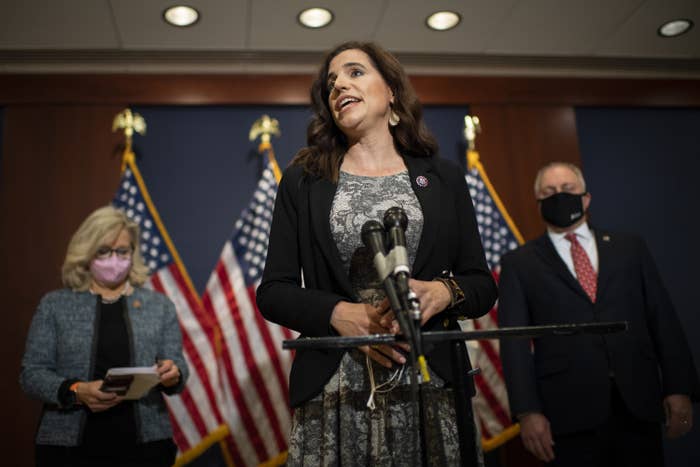 WASHINGTON – Katie Arrington announced a campaign to primary Rep. Nancy Mace on Tuesday in an unexpected comeback against another member of Congress who has fallen out of favor with Donald Trump.
Running in South Carolina in 2018, Arrington was one of the first congressional candidates to define the Republican Party as "the party of Trump." For months, Arrington criticized her primary opponent then–member of Congress Mark Sanford for not embracing the former president before defeating Sanford in 2018. Arrington later lost the general election for the first district seat to Democrat Joe Cunningham, who went on to serve a single term in Congress before losing to Mace.
"Let's be honest, Nancy Mace is a sellout," Arrington said in a video announcing her campaign. "She sold out the low country; she sold out President Trump. She's more interested in becoming a mainstream media celebrity than fighting for the people she's supposed to represent."
Mace, in her first term, has already found herself in Trump's crosshairs. Last year, Trump called on the party to primary her and several other Republicans in Congress – most of whom voted to impeach him after the Jan. 6 riots. Mace, however, did not vote to impeach but was openly critical of the former president and said his accomplishments were "wiped out" after the Jan. 6 insurrection. Mace was one of nine Republicans who broke with the party to refer a criminal case to the Justice Department against Steve Bannon who defied a congressional subpoena from the House committee investigating the riot.

Mace has sparred with Trump's most ardent supporters in Congress, drawing ire from the far-right flank of the party. Last December, Mace and Rep. Marjorie Taylor Greene traded insults on Twitter after Mace called out another first-year member, Rep. Lauren Boebert, for her anti-Muslim comments.
Mace was endorsed by former South Carolina governor Nikki Haley, who is also a potential 2024 presidential candidate.
Correction: One of Nikki Haley's former roles was misstated in a previous version of this post.