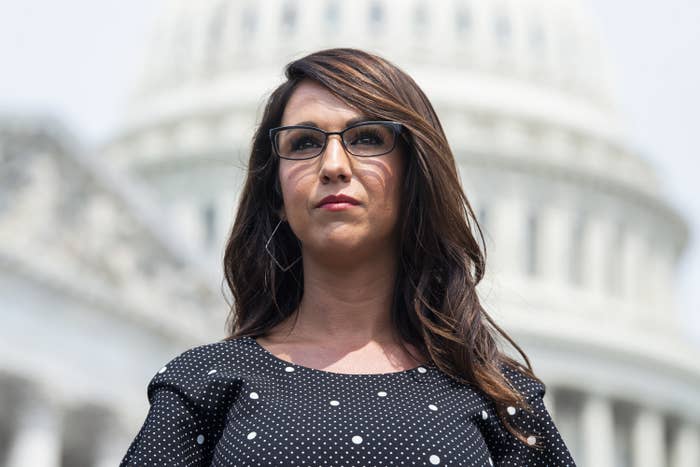 WASHINGTON — Congress is at a standstill on what to do about Rep. Lauren Boebert's anti-Muslim remarks directed at Rep. Ilhan Omar, with Democrats weighing another official reprimand of a Republican member and GOP leadership once again staying silent.
Democratic leadership met Tuesday night and discussed how to respond to Boebert. They didn't come to an immediate decision, a source familiar said, but are contemplating a resolution that would condemn anti-Muslim bigotry.
At nearly the same time, Omar and a group of her Democratic allies held a press conference to condemn Boebert and how the Republican Party has handled anti-Muslim discrimination. But Democratic House leadership is not rushing into another fight over one member's behavior, and Republican leaders have had no interest in even saying much of anything about what Boebert did.
Rep. André Carson said that he and the other members at the press conference were working with Democratic leadership, but Omar said a broad condemnation of anti-Muslim prejudice wouldn't be enough.
"We have already passed resolutions condemning Islamophobia," she said. "This is a problem that exists within the Republican conference and that is a problem that needs to be addressed."
Boebert's comments over the past week continue a pattern of fringe members of the Republican caucus making disparaging remarks toward both Democrats and members of their own party with little consequence from Republican leadership, even as violent threats spread.
At Tuesday night's press conference, Omar played a voicemail in which someone called her a "fucking traitor." Omar said she received it after Boebert's comments.
"You will not live much longer, bitch. I can almost guarantee you that," the person said.
The hesitation to reprimand another Republican member comes just weeks after the House voted to censure Rep. Paul Gosar and remove him from his committee assignments after he tweeted an anime clip that depicted himself attacking characters that looked like Rep. Alexandria Ocasio-Cortez and President Joe Biden.

During a floor speech in defense of Gosar, Boebert criticized Omar and called her a member of the "Jihad Squad" and accused her of paying her "husband, and not her brother husband" with campaign funds, again spreading long-running, unfounded, and denied allegations that Omar married her brother for immigration reasons.
Boebert has repeatedly made similar anti-Muslim remarks directed toward Omar. In a video published by the account Patriot Takes on Twitter last week, Boebert claimed she was getting into an elevator in the Capitol when a Capitol Police officer ran up to the elevator door with "fret all over his face."
"What's happening? I look to my left and there she is, Ilhan Omar, and I said, 'Well she doesn't have a backpack, we should be fine.'"
Republican Minority Leader Kevin McCarthy has been largely silent on the issue, making only one statement to CNN, suggesting Omar and Boebert talk. They ultimately did. It did not go well, and they subsequently each posted videos attacking one another.
"Hopefully, the Republican Party and its leadership itself would take direct action to cleanse itself from this toxic kind of conduct that its members are pursuing — not all of them, not all of them by any stretch of the imagination," House Majority Leader Steny Hoyer told reporters on Tuesday morning.
Boebert has gotten backup from some members of her party, though, leading to more infighting. Rep. Marjorie Taylor Greene defended her on Twitter on Tuesday morning in an attack on Rep. Nancy Mace, who had condemned Boebert's comments during an interview with CNN Monday night. The two continued the public spat throughout Tuesday, with Mace at one point tweeting emojis at Greene.
One moderate Republican member of Congress told BuzzFeed News that "maybe 1-2" colleagues could side with Democrats in a vote to censure Boebert.

"A lot of us are just embarrassed the institution of Congress is getting dragged to this juvenile place of operations," they said. "It's embarrassing all the way around for all sides."