Why People Are So Mad At Twitter Right Now
It's less about philosophy, and more about feeling tricked. A 2010 post from Twitter's Director of Platform spells it all out.
It was April, 2010, and Twitter had just done something that made 3rd party developers very, very nervous: it had purchased Tweetie, an iPhone Twitter app that was widely considered the best available. It was, in effect, getting its first official app.
Ryan Sarver, Twitter's Director of Platform, took to the internet to assuage developers' concerns ahead of Twitter's upcoming developer conference. Here's the meat of what he posted (you can read the whole post and ensuing discussion here):
I wanted to email everyone and share my thoughts on the acquisition from Friday, the communication around it and where we are going from here. We're incredibly excited about Chirp, and I think an open dialogue going into it is important. I look forward to meeting many of you there and continuing the discussion.

We love the Twitter ecosystem and work hard every day to help support you and make the platform you are building on as successful as it can be for everyone involved. We love the variety that developers have built around the Twitter experience and it's a big part of the success we've seen. However when we dug in a little bit we realized that it was causing massive confusion among user's who had an iPhone and were looking to use Twitter for the first time. They would head to the App Store, search for Twitter and would see results that included a lot of apps that had nothing to do with Twitter and a few that did, but a new user wouldn't find what they were looking for and give up. That is a lost user for all of us. This means that we were missing out an opportunity to grow the userbase which is beneficial for the health of the entire ecosystem. Focus on growing and serving the userbase is beneficial to everyone in the ecosystem and more opportunities become available with a larger audience. We believe strongly that the ecosystem is critical to our success and this move doesn't change that.

We have analytics that show our most engaged users are ones that use SMS, twitter.com AND a 3rd-party application. It further proves that there are different audiences and needs that we can never meet on our own and we all need to work together to provide what is best for the users. Once I understood the long-term view I strongly believed it was not only the right thing to do for users, but the right thing to do for the ecosystem as a whole.

To be clear, we are going to work hard to improve our product, add new functionality, make acquisitions when it's in the best interest of users and the whole ecosystem at large. Each one of those things has the potential to upset a company or developer that may have been building in that space and they then have to look for new ways to create value for users. My promise is that we will be consistent in always focusing on what's best for the user and the ecosystem as a whole and we will be sincere and honest in our communication with you. To the point that we can, we will try to give more certainty about the areas where we think we can maximize benefit to users. We will continue to focus on what is best for users and we will work together to make sure that we are creating more opportunities for the ecosystem on the whole. We will also admit our mistakes when they are made and the Blackberry client should never have been labeled "official". It has since been changed and you won't see that language used with Twitter clients in the future.

This week will hopefully show that we are focused on building a platform that no longer just mirrors twitter.com functionality, but offers you raw utility that provides much greater opportunities to innovate and build durable, valuable businesses.

...
Contrast that with what the company announced yesterday, and you can begin to understand why developers and insiders are freaking out — and why regular people don't really seem or need to care.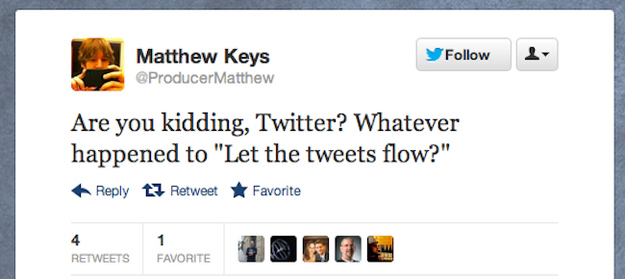 What emboldens developers further is a sense that they predicted this, and were assured that it wouldn't happen. One particularly prescient comment on Sarver's post, from developer Abraham Williams:
The communication between Twitter and developers has look more and more like this:

Twitter: We are rolling out this change.
Devs: Wait! What?
Twitter: ...
Devs: Wait! What?
Twitter: ...
Devs: Wait! What?
Twitter: Ok. we took your feed back and will tweak it a little.
Devs: But what about this?
Twitter: ...

Yes this is an exaggeration but the idea holds true.
Two years later, it's not so much of an exaggeration.
This doesn't mean this level outrage is warranted, exactly — there is a strong case to be made that a) Twitter can do whatever it wants, and that developers should be smart enough to understand that and b) that two years is a long time in Twitter's world, and it would be irresponsible for the company to allow third party apps to undercut its clearly stated business model (ads, ads, ads).
But it doesn't take a particularly strong sense of empathy to understand why developers feel slighted, here.