Twitter Users Say They Voted For Obama 2 To 1
A very different electoral map, according to an unofficial Twitter tool.
MIT's #IVoted tool is technologically simple: It monitors Twitter for instances of users saying "I voted for," collates the results, and uses geotagging to construct a Twitter-only electoral map.
The results are messy — a lot of the included tweets don't necessarily indicate a vote — but not in any apparently biased way. It's relatively safe to conclude, then, that the above map represents the politics of the second largest social network. Here are the results from last night: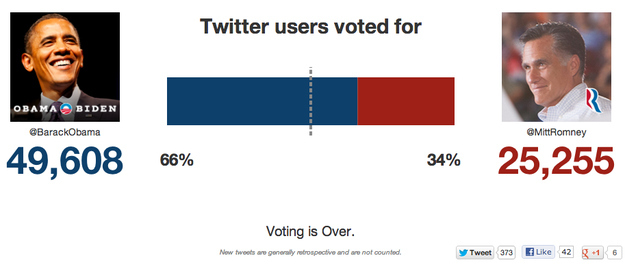 These numbers are somewhat, but not severely, more left-trending than the ones suggested by Twitter's internal sentiment analysis index. Here's where that stands right now (however, note that the "Since Yesterday" numbers likely include some post-call tweets):
The Twindex measures broader sentiment, not necessarily voting intention. But the trend is still very clear: Twitter went for Obama in a big way.