"This is a Twitter experiment."
When you see these words come out of Twitterland, pay attention. Twitter's experiments aren't experiments at all — they're alpha tests, maybe betas. If accounts and products with this description were truly experiments, they wouldn't be public. They're products, they're about to be released. Most of all, they're part of the plan.
The last major Twitter experiment was an account called @MagicRecs. It was a Direct Message recommendation engine that, after a few months, was reborn as a mainstream Twitter feature. Today, it's @EventParrot, an account that notifies you, via DM, when there appears to be a breaking news event.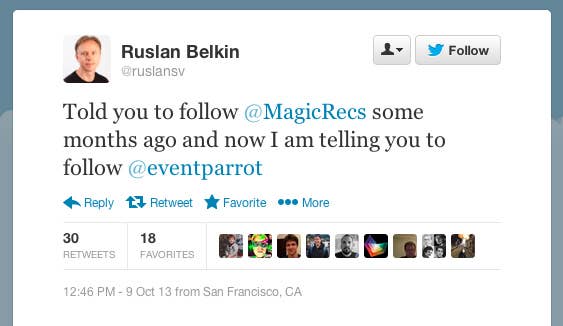 @MagicRecs told you what or whom your friends were interested in at a particular moment; @EventParrot tells you when breaking news starts. @MagicRecs' official incarnation is as a push notification feature in mobile apps. Every sign suggests @EventParrot is on the same path.
This is a vision of a new Twitter, one that won't replace current Twitter but that will supplement it — a Twitter that watches Twitter, and tells you about it. Let's call it notification Twitter.
It's exceedingly easy to imagine that Twitter is working on other products like MagicRecs and EventParrot, and to guess what they might look like. The concept applies cozily to TV, where a notification could both remind someone that a show is on or let them know that a lot of people are talking about an episode (this would, in theory, help Twitter's somewhat tenuous pitch that it can actually increase TV viewership). A notification overlay makes a ton of sense for sports — as in news, push notifications are already common in sports, but fragmented by league and news source. There's no reason Twitter couldn't build a tool that could do what the MLB or ESPN Scorecenter app does, or at least most of it, but that could also handle football, basketball, and hockey. Or spelling bees! Or sailing. Or whatever it is you tweet about, or follow.
Twitter's business pitch is this: It's where people go to talk about TV, sports, politics, and the news. It's created ad products that can be overlaid on events in real time, and which scale with popularity. We knew this before the IPO, and Twitter's S-1 filing was one long recapitulation of the idea, over and over again, with evidence.
But it's biggest weakness is this: Between 200 million and 300 million people use Twitter at least once a month, in total. About a year ago, Twitter told BuzzFeed that about 40% of its 140 million users don't actually tweet, they just log in and read at least once every 30 days. About 100 million of these users are daily users — the kind of people who might actually think to tune into Twitter during a live event. That's both a large number and a limiting one; it's many times smaller than Facebook's daily active user number. This would be fine — apples and oranges — except that Facebook is making aggressive moves to compete directly with Twitter on live events.
When Twitter was in user acquisition and retention mode, it built out a secondary service though email notifications. These notifications were intended to remind you that Twitter exists, and to follow more people. Now that Twitter is in IPO mode — live event and advertising mode — its goals have changed. What Twitter could create, and seems to be creating, is a live push notification infrastructure, centered around mobile devices, designed to bring Twitter's users where they need to be, right when Twitter needs them.
This new Twitter is invisible; it sits over old Twitter. It's assertive, not passive — you can't check it, but it can check in with you. And it's not just those 100 million daily users that could be signed up for Notification Twitter, it's everyone — the 200 million-plus "active" users, people who installed Twitter on their phones before the Oscars, or the Super Bowl, and kind of forgot about it. It's an idealized version of Twitter, at least according to Twitter's business interests: large, with high engagement, real time, and deeply proprietary. Functionally, it's as intimate as a text.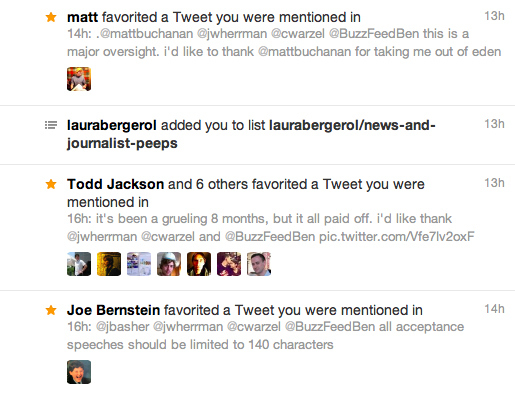 But, again, Notification Twitter does not exist on its own. All of its impressive qualities can be put to only one use, which is to get people back on main Twitter. And once they are there, Twitter's newly juiced-up notifications inside its "Connect" tab — 6 others favorited a Tweet you were mentioned in! — are there to remind the average user just how far their tweets are reaching. If it works and scales well, it will provide a boost for the main service. If it's overdone or noisy, like the email notifications have become, it will be steroidal, not nutritious.
And Notification Twitter can't have ads (though you can argue the whole initiative is one big ad for Twitter), which are prohibited by Apple's notification system. But it could remind you that the game is on, the your team is winning by a hair, and that there have been some funny jokes. It can, in other words, remind you to come back — to the game, to Twitter. And to where the ads are.