This Goofy Watch Is The Most Successful Kickstarter Project Of All Time
The highest grossing Kickstarter project ever raised $3 million in 60 days. This one will hit $2 million in fewer than three.
The Pebble watch was posted on Kickstarter on Wednesday. It's Friday afternoon, and the project is about to pass $2 million in funding. This, as far as I can tell, is the fastest rate of fundraising ever seen on Kickstarter. At the speed it's going, the project would sail past $40 million before it expires on May 18th. Kickstarter funding tends to slow dramatically as the projects go on, so we won't see a number like that, but I wouldn't be surprised to see this project break $5 million, or even $10 million. What's so special about it?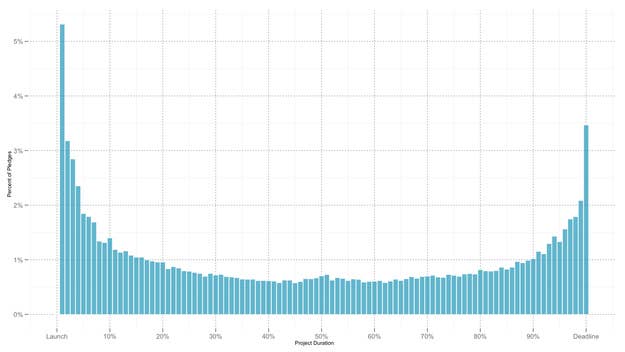 Pebble is an E-paper Bluetooth watch that connects to iOS and Android devices. It's a watch, so it tells time. It also has apps for controlling music, tracking runs, etc.
It's not a new concept: this type of machine has been a sci-fi/movie staple for decades, and even on the market for a few years. There are watches with Android, watches to connect to BlackBerrys (one of which the Pebble team actually worked on), and even adapters to make watches out of iPod Nanos — one of the first great Kickstarter success stories.
This watch is a little different from the others. It's slimmer and uses an e-paper screen, for one. It's also fairly cheap, at $100 for early donors and $150 for everyone else, in theory. It's made by an indie company, which makes people feel good.
But the main difference, and the reason this has been so successful on Kickstarter, is that the team promises it will work. They've portrayed themselves as people who understand that previous attempts at the connected watch have been categorically useless, and therefore understand how to build one that isn't. This logic doesn't necessarily follow, yet the project is undeniably intriguing. The Pebble team has figured out how to recast the entire "smart watch" proposition by tapping into the hopeful goodwill of Kickstarter, not to mention its users' know-it-all attitude.
It's brilliant, really: The Pebble project is an indirect way of making thousands of donors feel like they're better at hardware than the world's largest tech companies. This may be true! But life for a hardware startup is exceptionally difficult, and expectations for the Pebble are precariously high.
This is a new level of success for Kickstarter — these are VC-level numbers, not crowdsourcing numbers. And this isn't a beloved old game franchise fishing for a reboot, either. It's a totally new piece of hardware, made by relative unknowns. It'll be interesting to see what happens with this.