The Beginning Of The End Of Native Twitter Apps
Twitter is sinking the original TweetDeck to make way for its web apps. And why Twitter is done with native.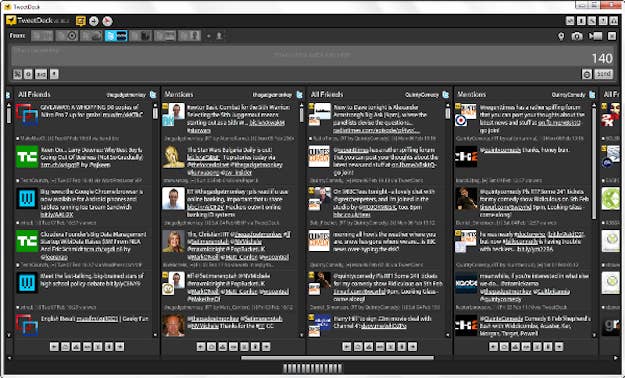 Another month, another Twitter app bites the dust — and this time, it's one of Twitter's own. The version of TweetDeck that runs on Adobe Air (the one with the yellow icon) will cease to function as soon as May, according to the company. Its iOS counterparts, which haven't been substantially updated in over a year, will be removed from the App Store as well.
Twitter signaled this move some time ago, when, in 2011, it announced "native" versions of TweetDeck for both Windows and Mac. Early versions of the software didn't match the Air version's feature set — including (admittedly half-baked) support for Facebook News Feed — so many power users stayed behind. Today, predictably, they're not too happy:
The Air app is getting discontinued, Twitter says, for technical reasons. It uses a version of the Twitter API that's getting retired soon, and depends on Adobe Air, a cross-platform application framework that has fallen out of favor since TweetDeck's launch in 2008, before it was acquired by Twitter.
Anticipating a backlash, Twitter has added a number of features from original TweetDeck to its web apps — according to a recent blog post, they've been trying to specifically migrate Air features to the site:
Today's release, as well as our recent release of content filters for search columns, is part of our ongoing efforts to bring the features and capabilities of our AIR app to TweetDeck web. We've pushed regular updates each of the last 24 weeks, squashing bugs and introducing oft-requested functionality, such as real-time updating of Tweets in columns, keyboard shortcuts & navigation, search improvements including typeahead and people search, a new interface and the options to change font size and column width, a more extensive quick actions menu on each Tweet, performance upgrades, full profile header images and more.
Twitter's focus on the web apps is very clear: The announcement doesn't mention native apps at all until the very end, when it states, "We think [our] web and Chrome apps provide the best TweetDeck experience yet, and that they are the apps in which you'll want to see us add new capabilities first, followed closely by our Mac and PC apps."
In fact, Twitter's "native" Mac and Windows apps are essentially web apps themselves, wrapped in a browser shell. If you crack open the Mac app, for example, you'll find HTML and CSS — the components of a website, not a truly native app:

This means that Twitter's announcement isn't just the end of the Adobe Air version. It's the end of non-web desktop Twitter apps altogether. (Twitter for Mac, a fully native app that didn't depend on Air, is no longer fully functional.)
Twitter's mobile apps use some web technology but are still deeply native; it's worth noting, though, that the app interface shared across iOS and Android has a near-perfect clone in Twitter's web app: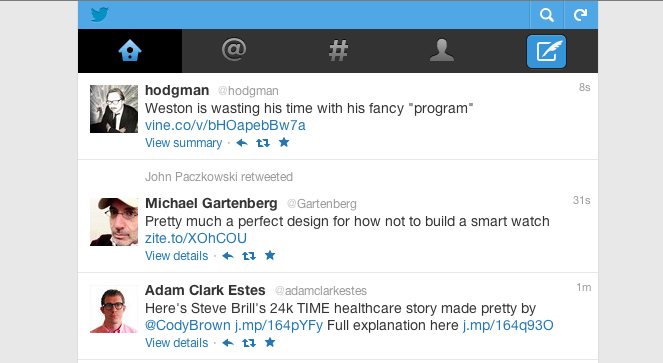 TweetDeck apps will lag slightly behind the web and Chrome apps; on mobile, the web apps will still lag slightly behind the native apps. But the trend is easy to spot: When you're on your computer, Twitter wants you using the web whether you know you are or not. It's easier for the company in almost every conceivable way; updates are cross-platform, sponsored content behaves like it should, and interface changes don't require an app update.
The trick, which Twitter hadn't quite mastered in 2011, is making people like the web apps. They're on their way to pulling that off with the TweetDeck web apps. It's only a matter of time, I think, before they attempt the same with the mobile apps.