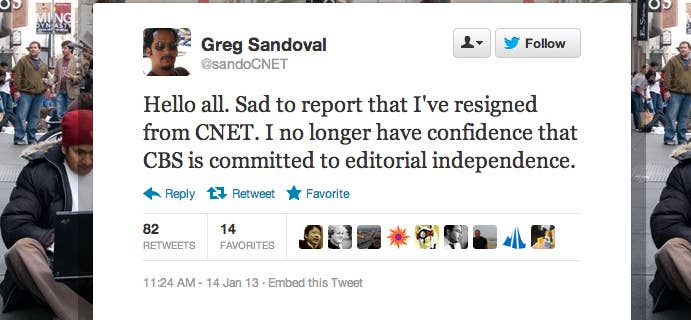 After CNET editors were forced to rescind an award nomination at the behest of their corporate parents, Senior Reporter Greg Sandoval — one of the best-known reporters in CNET's stable, who has written thousands of stories there — has resigned. "CNET wasn't honest about what occurred regarding Dish is unacceptable to me," he posted on Twitter. "We are supposed to be truth tellers."
He defended his peers who, he said, "did nothing wrong." The directive to pull the Dish Hopper DVR from consideration for the site's CES awards came from CNET's parent company, which is in litigation with Dish — and possibly directly from CEO Les Moonves. But Sandoval wrote that CNET itself "wasn't honest" about what occurred and that its leaders "used poor judgment" in how they handled the issue. "CBS and CNET were great to me," he posted, "I just want to be known as an honest reporter."
Last week, we wrote that what happened to staffers at CNET was "every tech journalist's worst nightmare." CBS Interactive employees confided in us, privately, that they too were unsettled by what had happened.
Sandoval is the first employee to depart after the controversy. Given his stated reasons and stature within the company, he may not be the last.