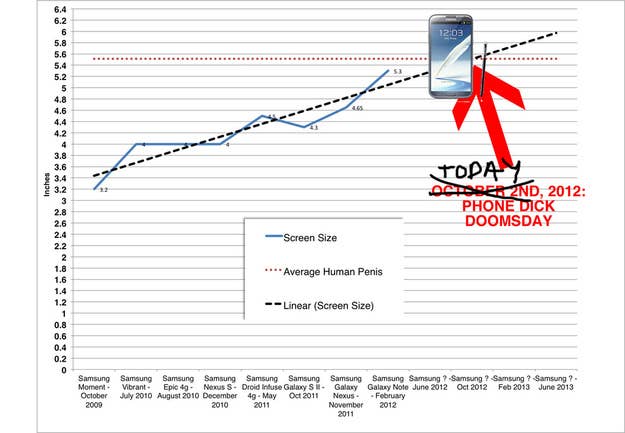 Five months ago, we used a complex mathematical model to predict when smartphones, which have been growing at an alarming rate, would pass a significant milestone. Our model, based on Samsung's smartphone releases, had phone screens surpassing the world average penis length on October 2nd. It is my responsibility to inform you that our model was wrong. It was far too conservative.
Today, at IFA, Samsung announced the new Galaxy Note smartphone:
The Samsung Galaxy Note II has a 5.5-inch HD super AMOLED screen — slightly bigger than the original Note's 5.3-inch screen. It's running a 1.6GHz quad-core processor, and has an eight-megapixel rear camera and a 1.9-megapixel front-facing camera.
This is a generational leap in an incremental timeframe; an Usain-Bolt-level breaking of records. It's time to throw the old models out and grab the future with two hands: the new smartphones are here, and they're not just bigger. They're bigger.