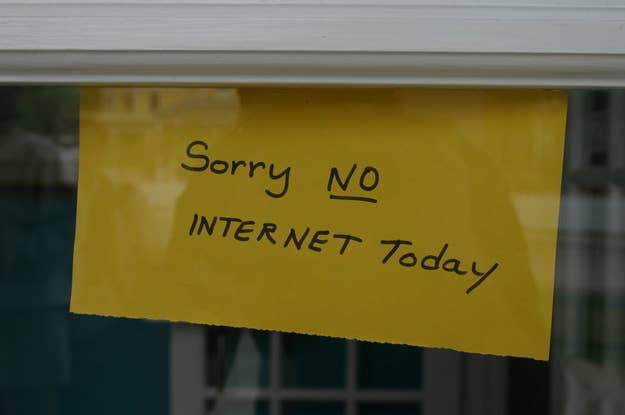 OK, here's the scenario: A storm plows through your hometown, knocking out the electricity. Your lights go out, and with it your Wi-Fi. Your laptop, still charged, is without Internet.
The local cell networks are both degraded by the weather and instantly overloaded as thousands of people around you call their friends and family to ask, "Hey, did your power just go out? You OK?"
Your phone is getting service, but just barely. Calls are patchy. 3G and 4G Internet aren't working at all, so neither are your apps. All you can depend on is the most resilient, and limited, feature of your cell service: text messages.
The Washington Post has a great post up about how to use Twitter, which was originally a text-based service, without Internet access. But there's a lot more you can do with SMS—from Twitter and Facebook to email and search. Here's how to access the Internet without the Internet:
Search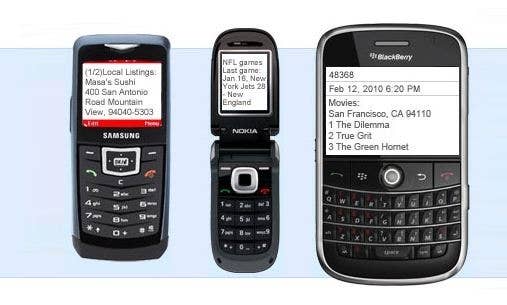 You can still use Google even if all you have is SMS access. Just add 466453 (GOOGLE) to your phonebook, then text to it as if you're searching.
Email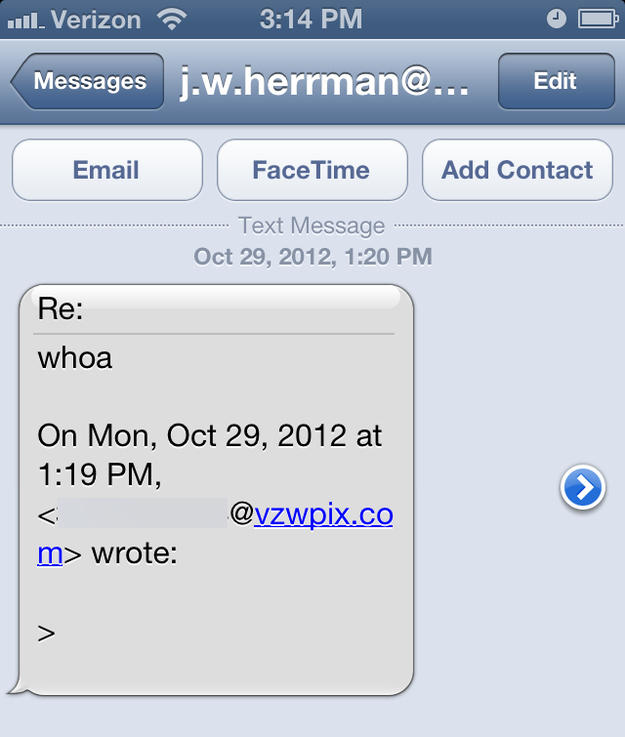 Here's something you may not have known about your phone number: It has an e-mail address. Almost every carrier operates what's called an e-mail gateway, meaning that you can send and receive e-mails via text.
Here's how to figure out your phone's e-mail address:
If you're on Verizon, it's yournumber@vtext.com (as in 5551234567@vtext.com), or if that doesn't work, yournumber@vzwpix.com
If you're on AT&T, it's yournumber@txt.att.net, or if that doesn't work yournumber@mms.att.net
If you're on Sprint, it's yournumber@messaging.sprintpcs.com
If you're on T-Mobile, it's yournumber@tmomail.net
(For other carriers, or to troubleshoot yours, check here.)
Now, to receive your e-mail via SMS, you'll need to forward it to your gateway address: Most e-mail services offer this for free in the settings page. Here's how to do it in Gmail, for example. You'll have to turn this on before you lose Internet access. So, like, now.
If this doesn't work, and in my experience it may not, depending on your carrier and e-mail provider, you can try an automated forwarding service such as TXTJet.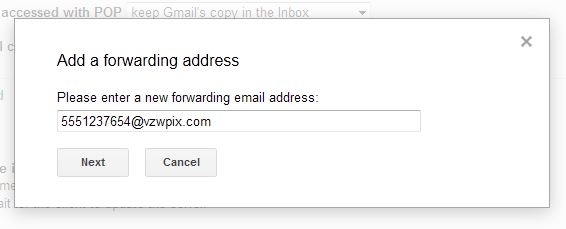 To send e-mails via text, you can usually just enter an e-mail address instead of a phone number. These same e-mail gateways work in reverse, meaning you can either respond directly to messages forwarded through the gateway or send a new message by entering "email_address@whatever.com" in the recipient box in your texting app. This works on many older phones, too, though typing out email addresses on a T9 keypad will be a chore.
It's not the most graceful process, but it works.
Twitter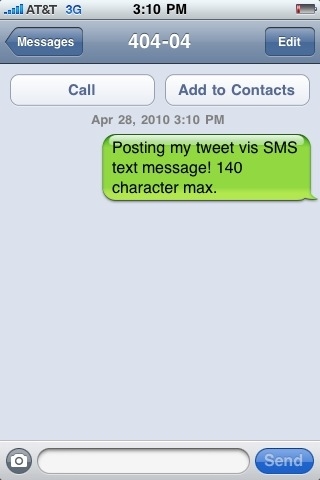 You can do almost anything on Twitter via SMS, which, if you're interested, you can read about here. But in the event of an outage, there are really only two Twitter SMS features you'll need.
To get simple updates from any account, set up an SMS Fast Follow. This does not require your Twitter account, and will keep your text volume low. Just send "Follow [username]" to 40404. (No @ symbol required.) This will let you receive updates from important accounts, but won't let you post. Some suggestions and example for Fast Follows, though yours will be location-specific:
@nycgov
@wsjweather
@fema
@twc_hurricane
To post to Twitter, follow these instructions from Twitter's FAQ:
How to add your phone to your existing Twitter account via SMS:

-Send a text to your Twitter code [40404] with the word START.

-We'll reply and ask you to text YES to the Twitter short code.

-Text your username to the same number. Do not use the @ symbol or quotation marks. Send your username ONLY. For example: larrybird

-Next, text your password. This is case sensitive, so be sure you are sending your password correctly.

-That's it! You're ready to go!
You account can now be used with the whole range of Twitter text commands, found here. A few important ones:
ON: turns ALL your authorized Twitter updates and notifications on.
OFF: turns ALL phone notifications off.
Otherwise, anything you send to 40404 will be posted from your account. (These instructions only work for Verizon, AT&T, and affiliated MVNOs.)
Facebook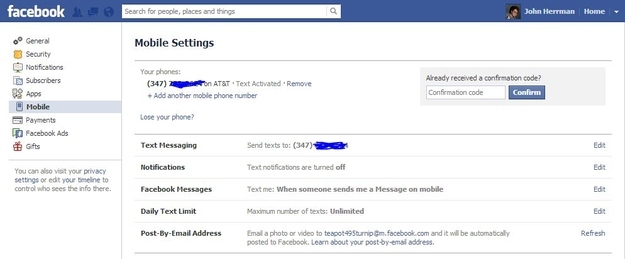 This used to be more functional, but you can still have Facebook forward you notifications and private messages via SMS, as well as post status updates. You can also respond to private messages, which is potentially valuable if you don't have someone's phone number but happen to be Facebook friends.
To activate Facebook via SMS, go to your Facebook account settings and click "Mobile" on the left side of the page. Turn on Facebook Message forwarding and Notifications. (You can customize which ones get through in a submenu.)
Once this is set up, you can also post a status update by texting it to 32665 (FBOOK).