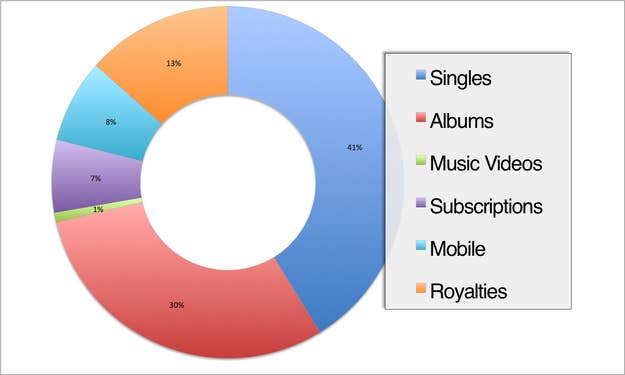 The RIAA's yearly sales report is out, and the big news is that digital music sales have finally matched physical media sales, which literally nobody didn't predict. What's really interesting is how the digital music sales break down.
- We spent more money on singles than we did on albums. This is the iTunes effect, basically.
-We're finally spending a meaningful amount on Spotify, Rhapsody and Rdio, but they still made up less than a 10% of digital sales and 5% of all music sales for the year.
-We spent a lot of money on "mobile," which is made up almost entirely of ringtones and ringbacks. Yep: America spends as much on fuzzy cellphone snippets as it does on the inevitable future of music.
Pretty much all the digital numbers are up from last year, except ringtones (probably because of smartphone adoption) and music video sales (because of YouTube/Vevo).
Overall, the music industry grew by .2% last year despite collapsing CD and DVD sales. Great job, music industry! You are not dead. And great job, America! I recognize your ringtones from the radio.