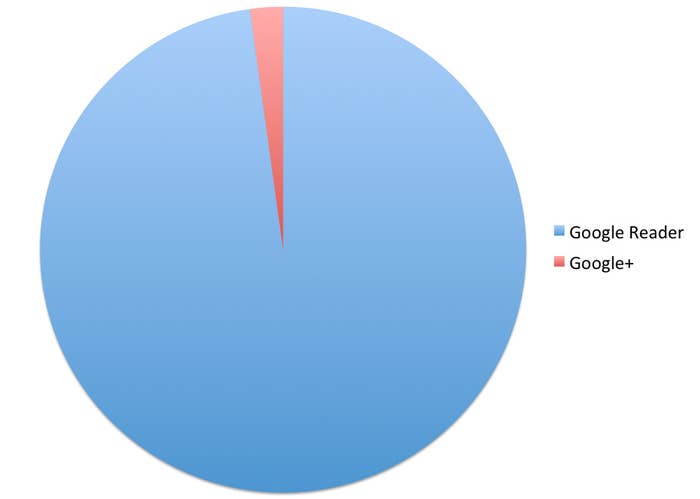 According to data from the BuzzFeed Network, a set of tracked partner sites that collectively have over 300 million users, Google Reader is still a significant source of traffic for news — and a much larger one than Google+. The above chart, created by BuzzFeed's data team, represents data collected from August 2012 to today. (Yesterday, Google announced that it would close Reader in July.)
We should add that this data isn't complete. Google Reader traffic became much harder to measure last year when Google began defaulting users to SSL encryption in such a way that masked referral data. And this doesn't include data from apps that use Google Reader as a sync service, such as Reeder. In other words, it's likely that we're actually missing some Reader traffic here.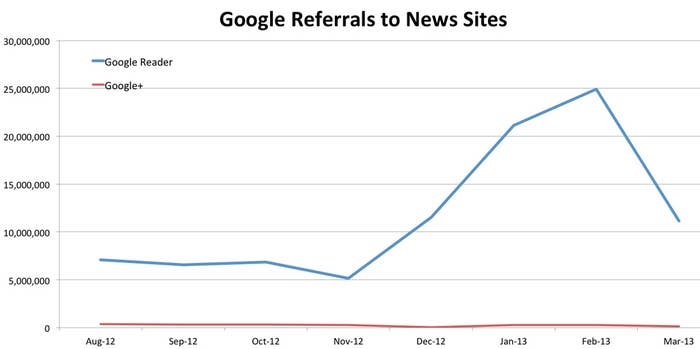 The second graphic* shows measured Reader and Google+ referrals over time. This one, too, requires qualification: The changes in Reader's numbers can be explained mostly by the addition of new sites to BuzzFeed's partner network, not growth in Google Reader (the total number of visitors to partner sites increased, in other words).
But the relative numbers are still surprising: Despite claims that it has over 100m monthly active users, Google+ barely moves the needle for sites across the network, while Reader is a healthy source of readers.
*For reference: in August of 2012, according to the same data, Facebook drove over 70m visitors to sites in the network while Google Reader was well under 10m.