On Thursday, Facebook's Manager of Media Partnerships, Andy Mitchell, told a panel of journalists and fellow Facebookers that the site was moving away from "passive sharing," referring to apps released by the Washington Post, Wall Street Journal, SocialCam and others that automatically share users' activity on Facebook. Fellow panelist Liz Heron tweeted the news:
Social readers, as news outlets call their passive sharing apps, got off to a great start, driving millions of pageviews and quickly accumulating a staggering number of users. A earlier this year, however, the apps experienced a drastic drop-off in active users: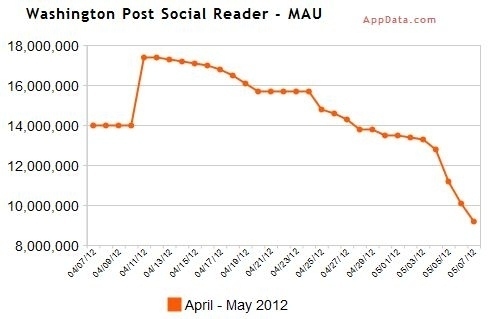 At the time I was quick to attribute the drop to widespread user complaints; Facebook quickly revealed that, ostensibly in response to said complaints, social readers' visibility in users' feeds had been reduced.
AppData's metrics for the WaPo app show that its numbers still haven't recovered, over four months later.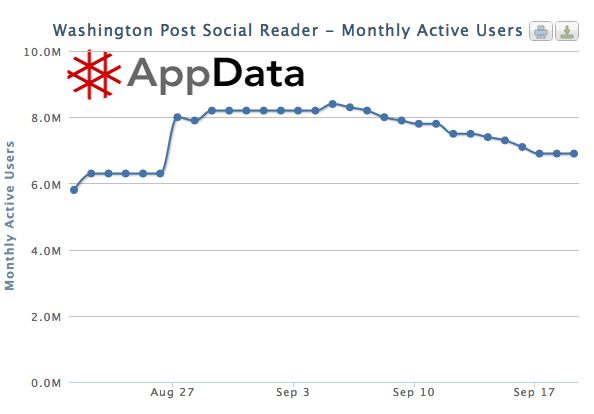 It's not clear whether Mitchell is suggesting that Facebook will ban frictionless news apps, discourage their development or just further minimize them in the news feed. In any case, it'll be the rare Facebook change that doesn't inspire a backlash.
I've reached out to Facebook for comment, and will update if I hear back.
Update: Facebook spokesperson Malorie Lucich tells BuzzFeed FWD:
As with any new product, we've learned more about the user and partner experience for social readers since launch. We're continuing to work with publishers to build social readers, and other social functionality, into their sites while encouraging activity more similar to that of the share and Like buttons, and providing clear controls such as the new Shared Activity plugin.

We're committed to making media sites more social, while balancing the best way of driving distribution for these sites and helping people discover great content through friends.