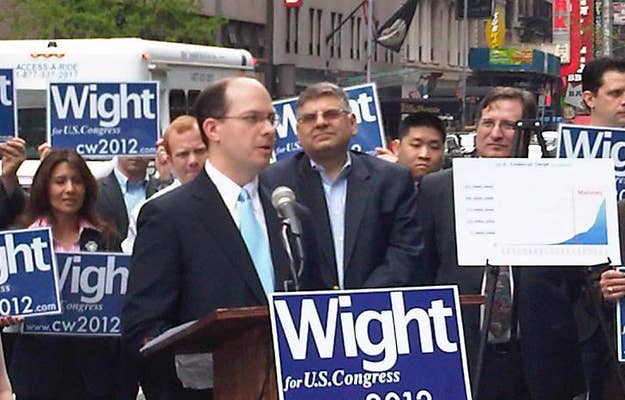 Shashank Tripathi, known on Twitter as @comfortablysmug, was outed by BuzzFeed FWD after posting a series of false and potentially damaging tweets about Hurricane Sandy damage and relief efforts. He has since apologized and resigned from his job as campaign manager for Christopher Wight, Republican candidate for New York's 12th Congressional District.
The candidate has now issued a statement on his website, and it's unambiguous: Wight says he's "shocked and disgusted" by the actions of his former colleague, and that he had "no indication that he was capable of the type of behavior he exhibited."
In additon, after the outing, city councilman Peter Vallone called for criminal charges to be brought against Tripathi.
The full statement:
"Yesterday was a very tough day for me and for my campaign staff — just as it was for many New Yorkers. Not only are we reeling from the shock of Hurricane Sandy's destruction to our communities and surrounding areas, but I also remain shocked and disgusted by the actions of my former campaign manager, Shashank Tripathi. His actions were all the more distressing, occurring as they did, in the midst of Monday's disastrous weather – during a time when no one was truly safe. I learned from online reports yesterday, just as others did, that Shashank had been spreading false information from a personal and anonymous Twitter account. While he had been with my campaign for seven months, I had no indication that he was capable of the type of behavior he exhibited. I immediately accepted Shashank's resignation and I have named Nick Mackey as my new campaign manager."

"I offer my deepest condolences to the families who lost loved ones and those who were and continue to be impacted by this terrible storm. Our thoughts and prayers go out to all Americans who are striving to piece their lives back together in this devastating aftermath. I would like to commend New York City's countless first responders, doctors, nurses, and citizen heroes for exhibiting tremendous bravery under these adverse circumstances."

"The priority today is to ensure that my team and I do everything we can to help our fellow residents and all those nearby who are currently in need. Through unity in the aftermath of such destruction, I am confident that we can rebuild our city and prosper as we display the American spirit that is admired the world over."