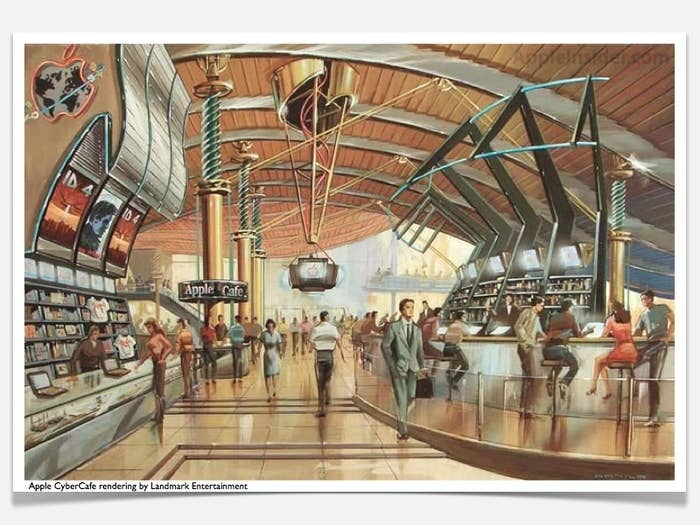 The first Apple Stores opened in 2001, in Virginia and California. As of 2014, there are over 400 locations around the world.
Largely lost to history, though, is an alternative plan for Apple retail — a vision of Apple "cybercafes" to be built around the world's capitals — that was announced in 1996, then killed a year later.
This 1996 CNET article detailing the plans is an incredible read, in retrospect:
Apple Cafes are expected to let users surf the Net at high speeds, play games, and design Web pages along with the offerings of a full-service cafe. The stores also may sell consumer products with Apple logos.
!!!
"The time is right," said Satjiv Chahil, senior vice president of marketing for Apple, in a telephone interview. "Cybercafes are in. The technology finally is reaching out to 'the rest of us.' This will be a place to showcase our products in the real world."
This plan, it's worth noting, was announced in 1996, before Steve Jobs returned to Apple via the company's acquisition of NeXT. Apple was in trouble, which might explain why it tried to license its name for a chain of internet cafes. Anyway:
From every table, customers will be able to surf the Net, order food and beverages, and have videoconferences with other patrons. Private members-only VIP rooms also are planned. The move for private areas and invited guests mirrors that of other cybercafes, who have found a growing revenue stream in hosting corporate functions and special events.
"The cafes could resemble a 'wired' Hard Rock Cafe," the article says, "or Planet Hollywood. The moneymaking potential is great."
AppleInsider, in a 2012 report on Apple's retail history, dug up a couple exceptional renderings, reproduced above and below: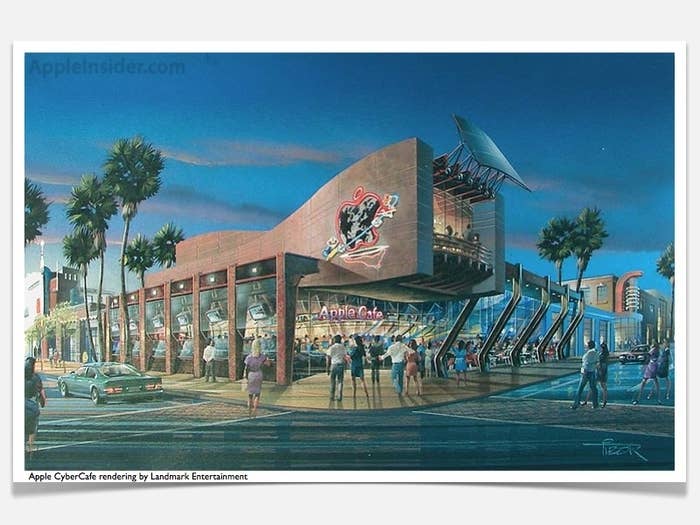 So what happened? It's not entirely clear! Apple confirmed to CNET in 1997 that the plans had fallen apart, and blamed its partners, telling the site "If somebody approaches us again, we'll be happy to consider it," she told the site. "It just didn't work out with this group in particular."
But Apple's partners shot back: "We think it's a great project, and we'd like to move forward." And so Apple's peculiar idea was set aside until about five years later, when it was resurrected as one of the most successful retail initiatives of all time.