Halloween In The Heart Of The Tech Bubble
For some San Franciscans, tech culture is the scariest thing out there.
The description of the Mission Halloween party looked intriguing: It promised a mix of Lusty Lady's erotic dancers — the "world's only unionized worker owned peep show co-op," which had recently been evicted — upstairs, and a tech-themed haunted house downstairs.
It was going to be a one-night-only party at the precise center of San Francisco's tech-gentrification controversy — a pressing, genuine concern for longtime city residents. It was activism, of a sort, wrapped up in fishnets and covered in Halloween makeup.
"We want to create an event that celebrates that history and less mainstream perspective on Halloween, even in the face of tech zombies," said Maxine Holloway, a porn performer, artist, activist, and co-founder of the event. "The sex workers, artists, writers, the arts, and the sex-positive culture we have in San Francisco is what makes it San Francisco, and gives it a lot of its dirty charm and magic. It is threatened, and that is super scary to me."
"My favorite are the haunted houses that make you think and examine society around you," says Val Killmore Castro, co-organizer of the event, who has worked on Coney Island's gentrification-themed haunted houses. "Reality is scarier than ghosts jumping out of dark corners."
It was going to be a haunted house for San Francisco's old guard. But they asked one another, would techies themselves show up?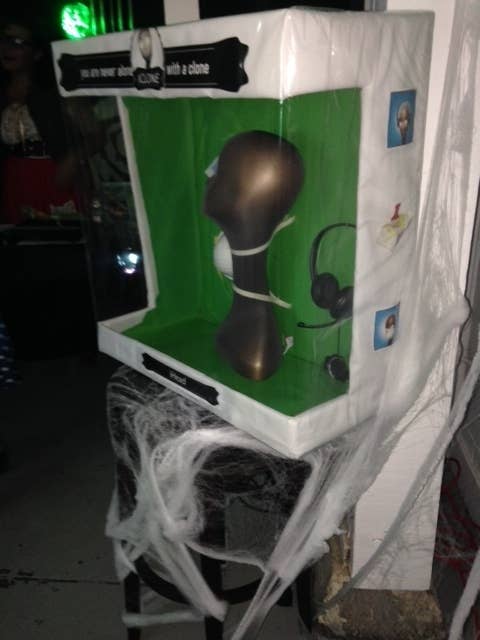 The venue, located down an alley in the increasingly gentrified Mission District, usually hosts dance parties and various types of shows (next month: Bear Pride night featuring Peaches). A group of about 20 of us — mostly twentysomething hipsters, about a third in homemade costumes, and lots of lesbians — waited in a white room, decorated with printouts of "iClones" and Halloween-store cotton cobwebs.
The door opened, and we were ushered into the haunted house tour. First stop, a graveyard of tombstones for "dead" internet companies: MySpace and Pets.com, as well as Yahoo and AOL.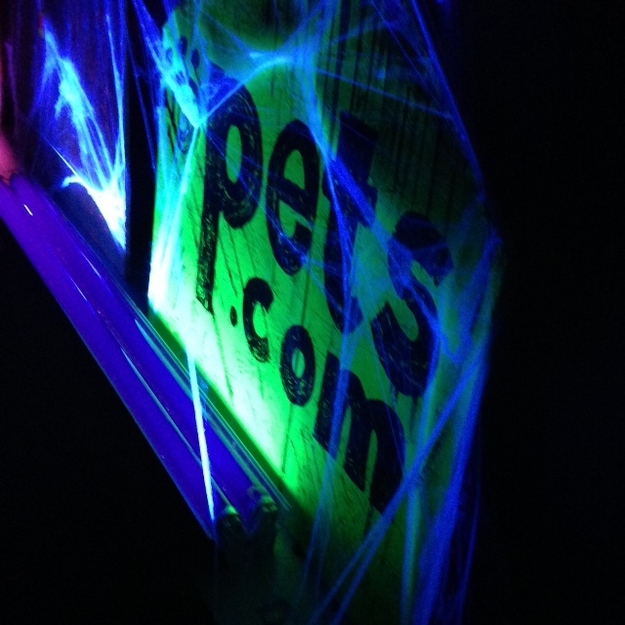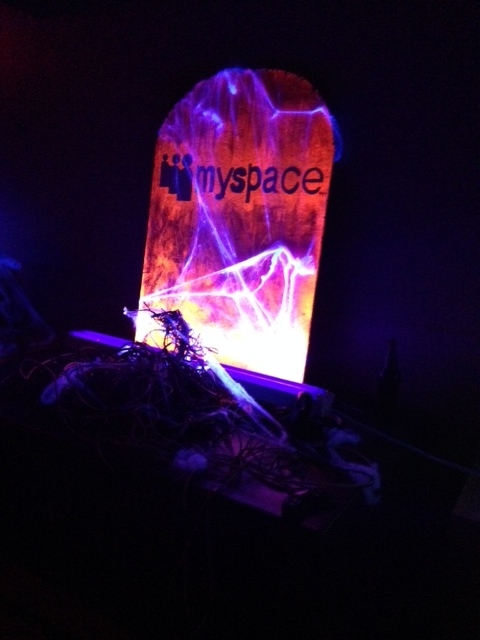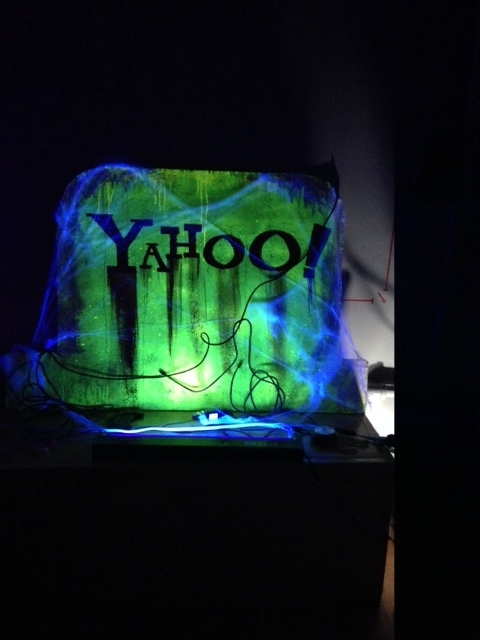 There was an overarching conceit: In the afterworld, Google and Apple have joined forces and bought and incorporated every single online company. Facebook became DeadAliveBook to connect us with the afterworld. The Winklevoss twins were conjoined cyclops twins. There was a Genius bar selling iBones.
Up on stage, Steve Jobs, back from the dead, was debuting his high-tech eTorture line with an electric chair re-imagined with a electronic music component to fry people in sync with the music, and a voice-activated guillotine. An Arianna "Mummington," in what looked like a Ross Dress for Less beige suit and Halloween skull makeup, was running for office.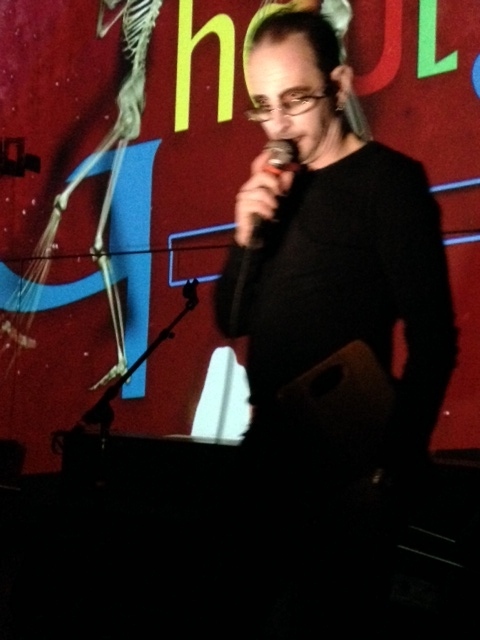 Even critics of the industry's effects can't escape being entrenched in modern technology. Most San Franciscans have seen complaints about Google buses posted on Facebook via iPhone.
So, there were plenty of jokes that would appeal to people on all sides of the tech gentrification debate: a giant photo of a smashed iPhone screen, gags about horrible photos on "OkLucifier," and glitchy video-conferencing system run through YouTomb. The soundtrack was one of internet dial-up and static.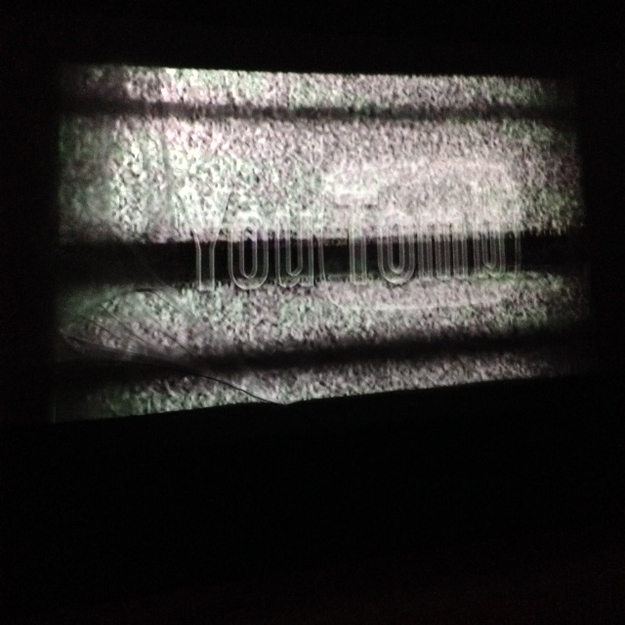 There were more pointed, and sometimes hackneyed, jabs at tech companies spending millions buying up everything in sight, lawyers who over-sue, companies not supporting the arts, and everything — culture, products — being sold through Google.com.
"It was not terribly deep or insightful," one man, a friend of a friend of a performer, said. "But I liked the description of the event — a San Francisco thing, the people against the institution."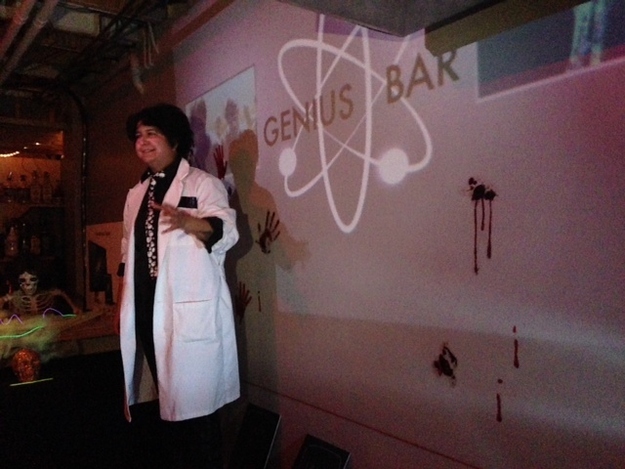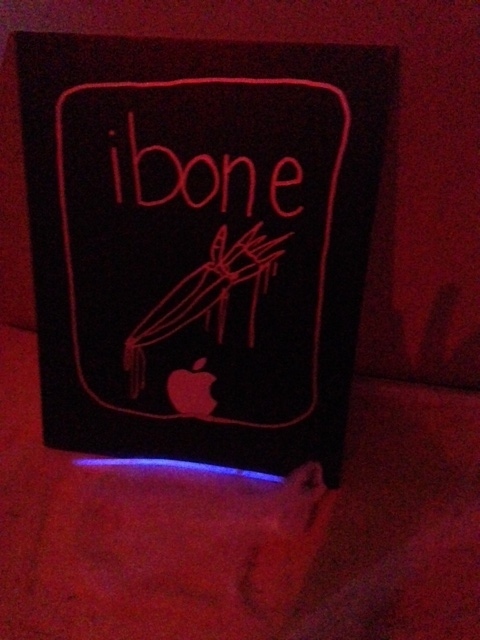 The party had a bit of a low-budget, almost high school vibe. Black sheets hung from the ceiling, partitioning the room. There were strobe lights, black lights, and Halloween-store cobwebs. But that was also kind of the point: DIY, grassroots, political art versus the sleek, moneyed world of startups.
People applauded, cheered, and played along — but almost in the kind of way you do when a friend's band plays. You believe in them, what they are doing, and what they stand for, and you want them to succeed. Who cares if the guitar isn't quite in tune?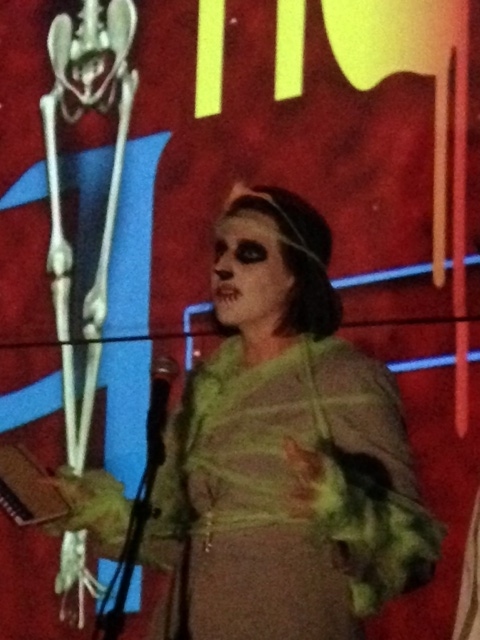 At the end of the tour, on the other side of the door — the side where the Lusty Ladies, the burlesque dancers, drinks, and music were — things were decidedly better, which is also the whole point. The alternative, sex-positive world of artists, activists, porn stars, and musicians is a side of San Francisco that's just a lot of fun, and the one at risk of getting trampled under the exploding tech industry.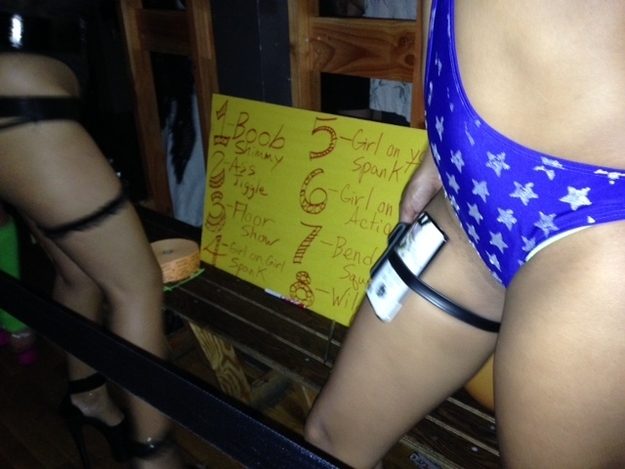 Lusty Lady's dancers ran a Spin-a-Prize wheel (I won a girl-on-girl spanking) and danced out on the floor. Burlesque performers of all sizes in pasties took the stage, as did a stripper who started, at least, in a full monster costume.
Attendees in homemade costumes shared the floor with burlesque dancers and strippers. When the DJ played Ke$ha, everyone sang the lines: "I don't need you or your brand new Benz or your bougie friends." Others got lap dances in booths hidden by curtains made of garbage bags.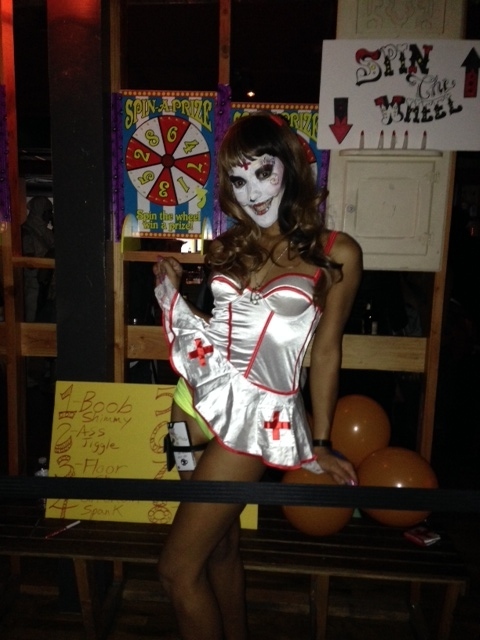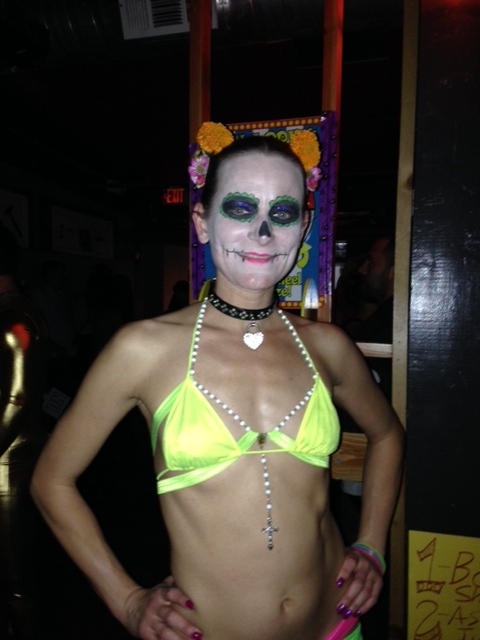 There was even a piñata made to resemble the landlord who had raised the rent, pushing out the Lusty Lady dancers from what was once a unionized, worker-owned strip club. The ladies took turns whacking him to shreds.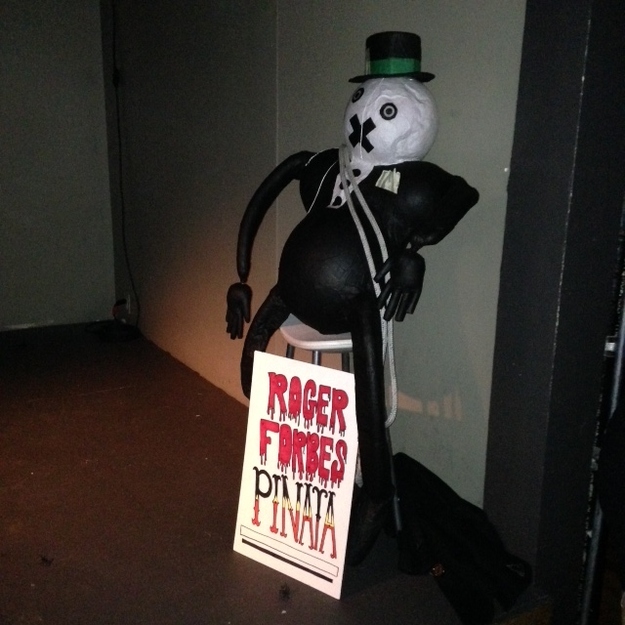 At one point, Holloway, on stage, dressed as a "Twatter," asked if anyone at the party was from Google or one of the other big tech companies, or if she and her friends had scared them all away. There was one "woo-hoo!" from the corner.
I immediately spotted a dude in a clean hoodie — way too clean for this crowd — and a "regular" haircut. "Was that you?" I asked. "Do you work at Google?" He did. When I said I was a reporter and asked if I could talk to him, his friend, a Ph.D. student from Stanford who had brought him there, came forward. He was game. The techie retreated to the bathroom.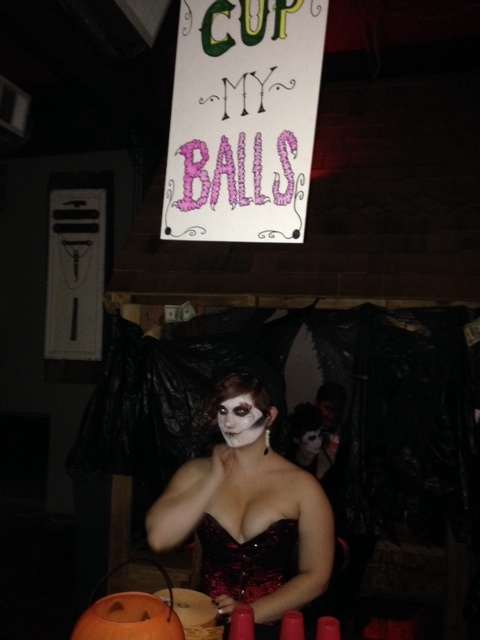 "It's not that he is embarrassed," the Stanford guy, who asked me not to use his name, assured me.
When I asked why there weren't more Google people, he said, "I don't know if Google people wouldn't come to this, but I don't think it is even on their radar that something like this even exists." He had heard about the event from a fellow student.
I asked what his friend had thought of the haunted house. "He certainly wasn't offended. Mildly amused, but it's not like it was brilliant humor," he said. "It is nice to explore new concepts and different ways to think about things and general absurdity. It had real potential, but it lacked the punch."
This was not a party to change minds, and it wasn't going to change the world. But some techies did see inside their critics' world and found it unthreatening, which, in the San Francisco of 2013, was triumph enough.