Facebook Is Charging $15 To Message Popular Users
Facebook has quietly raised the price for sending messages to people with lots of followers. Whether or not they're actual celebrities.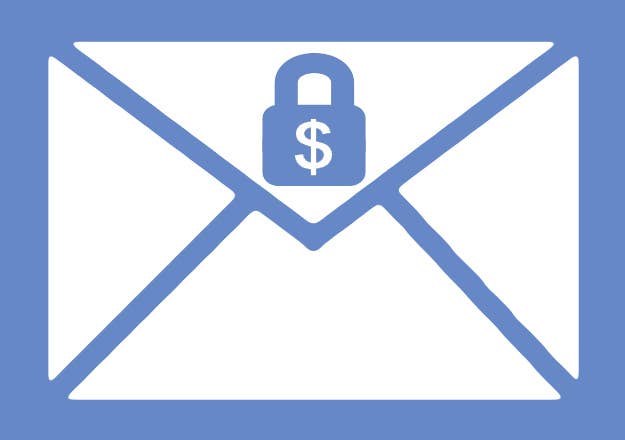 "It's free and always will be," reads Facebook's signup page. But that may need an asterisk: It's free as long as it doesn't involve messaging someone really popular. That could cost you $15.
Today, several news organizations reported that the site is now rolling out paid messaging in the U.K. and thirty-six other countries. It appears, however, that it is has already been happening here in the United States, and with higher prices than anyone expected.
You may remember that last December, as BuzzFeed reported, Facebook started a pilot program to charge users a dollar to send messages to strangers (this functionality used to be free). If users choose not to pay, their messages go to the somewhat hidden "other" mailbox. At the time Facebook told Buzzfeed it was "tinkering with [the price] over time."
Tinker they did. Without announcement, Facebook upped the price for some messages to $5 and even $15. "At the time of announcing the test we let people know we would be testing a variety of prices," Facebook told BuzzFeed. "The highest price we are currently testing in the US is $15, but this is still a test and these prices are not set in stone. We have tested a range of different prices so far."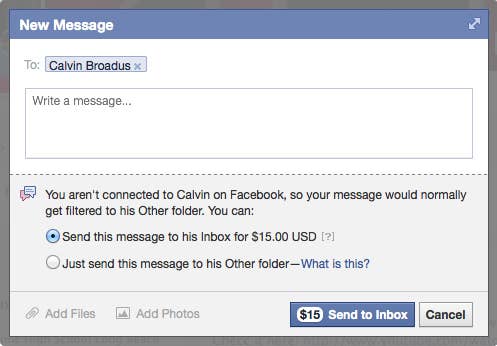 The site temporarily tested a $100 fee for an extremely select group of users, but ditched it after the media discovered that it cost that much to contact Mark Zuckerberg's inbox. That test was shrugged off by Facebook as an experiment to test "extreme price points" to "see what works to filter spam." The $15 inbox, however, appears to be a part of Facebook's actual business plan. (Users under the age of 18 aren't allowed to send paid messages — which precludes the worrisome teen heartthrob/parent's credit card use case. Don't worry: currently you can contact Justin Bieber for free.)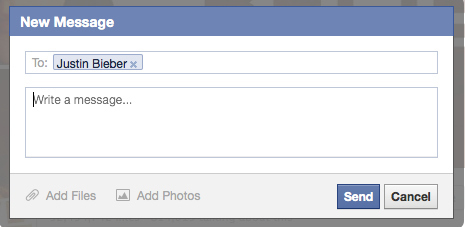 Facebook told Buzzfeed the price is based solely on the number of followers someone has, meaning that it isn't limited to traditional celebrities. For now, though, for-pay inboxes seem somewhat randomly selected; there are clearly other factors at play. It costs £10.68 (around $16.30) for U.K. users to message diver Tom Daley and singer-songwriter Ed Sheeran's apparently fake account. Yet, I, a US user, can contact them for free. However, I have to pay $15 to message each of three very different popular users: Snoop Dogg, Salman Rushdie, and Neal Mann, social media editor of the Wall Street Journal. I can message Vin Diesel, however, who has over 40,500,000 likes, without charge.
The $15 club gets stranger still: It costs $15 to message Lockergnome's Chris Pirillo, who has only 133,756 followers, or MySpace's Tom Anderson, who has 1,414,069 followers. When asked to elaborate the selection criteria, Facebook would not offer any further information.
It seems doubtful that many people will pay $15 to send Facebook messages to MySpace Tom. But a true celebrity? Who knows. And paid email as a method to fight spam has been promoted before by people such as angel investor Esther Dyson, who presented the idea at Google's Solve For X event at SXSW. But it's hard to shake the feeling that paid messaging flies in the face of Facebook's stated mission, as declared well before its less-than-stellar IPO: "making the world more open and connected."