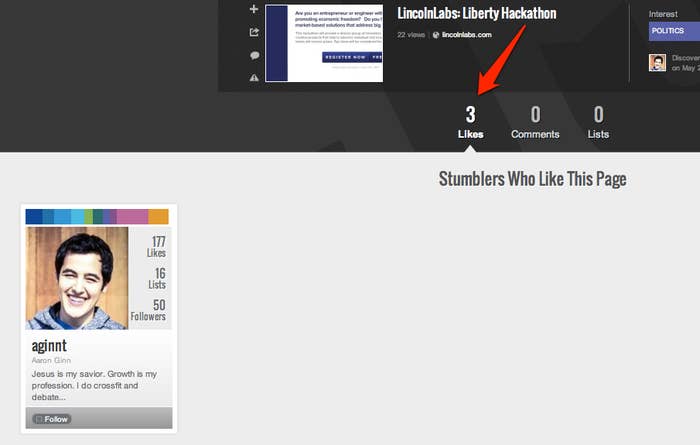 On June 11, employees at StumbleUpon received an email from their co-worker Aaron Ginn, former digital "Growth Hacker" for the Romney Campaign, announcing that the company was going to host a 24-hour "Liberty" Hackathon on June 21.
"The Hackathon's theme [is] liberty focused issue advocacy and combining political and private data," the email explained. It included a link to the event's website with a longer explanation:
Are you an entrepreneur or engineer with an interest in promoting economic freedom? Do you have ideas for market-based solutions that address big social problems? This hackathon will provide a diverse group of innovators the opportunity to build creative products that help to advance individual and economic liberty.
Ginn was one of the organizers. The funder: the billionaire conservative Charles Koch, CEO, chairman and co-owner of Koch Industries.
Recently, the Republican National Committee created an open data platform to encourage hackathons to develop apps and websites, in order to bring the party digitally up to date. The Koch brothers are part of a similar but competing effort to get techies to build on their voter data. According to Ginn, the Liberty event will be the first Hackathon to have access to voter data.
"[The Charles Koch Institute] is interested in talking to people in the Valley who believe in taking a market-driven approach to the problems," says Ginn, who explains that the Koch Institute has no involvement in the event beyond funding it. "The people in the Valley who are interested in this stuff often don't have access to the right people to get something to happen. We are able to provide a venue of communication to [Washington] D.C."
The values and ideals behind the startup community — anti-regulation, pro-market, individualist — speak directly to the libertarian platform. But in the staunchly liberal Bay Area around San Francisco, the Koch name is poison.
Ginn's announcement was immediately met with reply-all emails questioning the decision. Why the company was putting their name behind libertarian and conservative causes? Wasn't this going to be negative brand association?
In direct response to the company's decision to host the Hackathon, roughly 15% of the staff — about a dozen, at StumbleUpon's size — started looking for new jobs in order to leave the company, according to an inside source who spoke with BuzzFeed on the condition of anonymity.
"There is insane anger to the point where people are willing to walk out from their jobs. And management isn't willing to do anything," the source told BuzzFeed at the time. "People are looking for other jobs and taking days off to go interview. They have lost all faith in management."
"The CEO said he didn't he do his homework in order to realize what he accepted," the source said. "The [public relations] guy was never told and he is having to try to clean up."
A screaming fight erupted between Ginn and another StumbleUpon employee. The two were told to leave the office, cool off, and talk to human relations. (HR didn't take any steps against either employee.)
StumbleUpon CEO Mark Bartels stepped in to clarify the situation to the staff: "We are a neutral party and not in the business of taking sides. This is about tech and not about politics. SU is not endorsing any party and shouldn't be seen to be. That being said feedback has been noted."
Bartels also told colleagues that he was concerned about negative press coverage. In the Bay Area, he worried, hosting such an event could tarnish a tech company's reputation. Bartels suggested that if the media asks, the company is to stress they are merely hosts of the event.
That was their response to BuzzFeed's inquiries last Friday: "This is not a StumbleUpon-sponsored event," they told Buzzfeed. "We have a great meeting area in our office and are allowing one of our employees to use the space. We host numerous tech events and meetups at our office; we are not aligned with any organizations participating in this event."
Tuesday morning, Liberty Labs quietly updated its website announcing the venue has changed to the offices of online ticketing company Eventbrite. "We made a decision to allow one of our employees the use of our space and soon after realized the event was not the right fit for the company," StumbleUpon says. "As a result the event is no longer taking place at StumbleUpon."
According to Ginn, the hackathon is supposed to be a "beta test" for similar events. "We want to see what interest there is," Ginn says. So far he estimates about 150 people have signed up.
But the protests at StumbleUpon doesn't bode well for the future of conservative forays into Valley culture.
The organizers have closed the event to the press and are defensive when asked about politics. "This is not a conservative event " Ginn says. "Some people are trying to brand it that way in an attempt to make it not a success."
"It is frustrating," he adds. "The whole goal is not to be political but connect like-minded liberty believing people. If you are in a startup, you are liberty believing. I can't help that. I can only educate them."