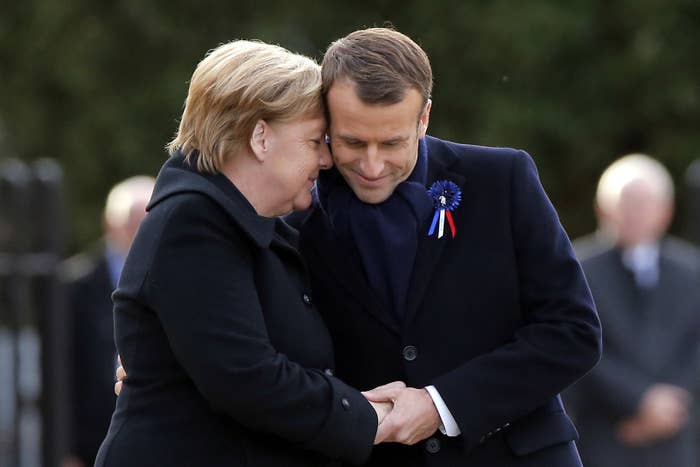 One hundred years after their countries fought one another on the battlefields of World War I, French President Emmanuel Macron and German Chancellor Angela Merkel embraced Saturday, laying a wreath and unveiling a commemorative plaque at the site of the war's end.
The ceremony was held near Compiègne, France, where WWI ended with the signing of the armistice 100 years ago after a conflict that killed around 17 million people.
A German leader had not visited the site since WWII, according to Agence France-Presse.
"On the centenary of the November 11, 1918 armistice, Mr Emmanuel Macron, president of the French Republic, and Mrs Angela Merkel, Chancellor of the federal Republic of Germany, here reaffirmed the value of Franco-German reconciliation in the service of Europe and peace," the plaque reads.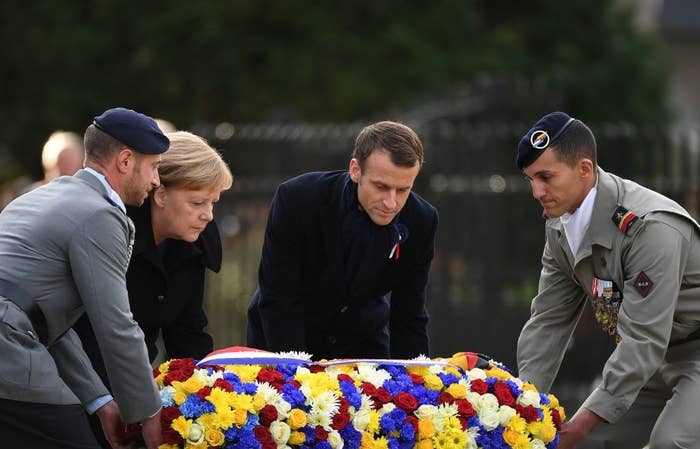 President Trump was not set to attend the French–German event, as he and the first lady were scheduled to visit the Aisne-Marne American Cemetery and Memorial, a cemetery about 60 miles from Paris where many American soldiers who died in WWI are buried.
However, their visit was canceled due to bad weather, with White House chief of staff John Kelly and Chairman of the Joint Chiefs of Staff Joe Dunford attending in their place.
Trump was supposed to travel by helicopter, which became impossible because helicopters can't fly in such inclement weather, an AP reporter tweeted.
This explanation was insufficient for a few former staffers of President Obama's White House.
Ben Rhodes, a former Obama deputy national security adviser, said he had helped plan these kinds of trips.
"There is always a rain option," said Rhodes. "Always."
And former Obama speechwriter Cody Keenan tweeted a photo of Obama giving a Memorial Day speech at a veterans cemetery in the pouring rain in 2010.
"Guess which President didn't let a little weather stop him from honoring the troops," Keenan said.
Another former Obama staffer, Pod Save America host Tommy Vietor, also called out Trump for never visiting US troops stationed in Afghanistan.
"And now he won't honor the fallen at a World War I cemetery because of a little rain," he said.
Rep. Eric Swalwell, a Democrat in California, criticized Trump for his absence, calling it an "embarrassment" that he "can't find his way to honor our fallen."
"To win World War I, brave Americans fought through snow, mud, & sand with bombs dropping from above, landmines in the ground below, & bullets flying at their faces," Swalwell tweeted. "The least of their worries was rain."
The criticism didn't come just from Americans, however; Nicholas Soames, a conservative British MP who is the grandson of prime minister Winston Churchill, also blasted Trump.
"They died with their face to the foe and that pathetic inadequate @realDonaldTrump couldn't even defy the weather to pay his respects to The Fallen," he tweeted.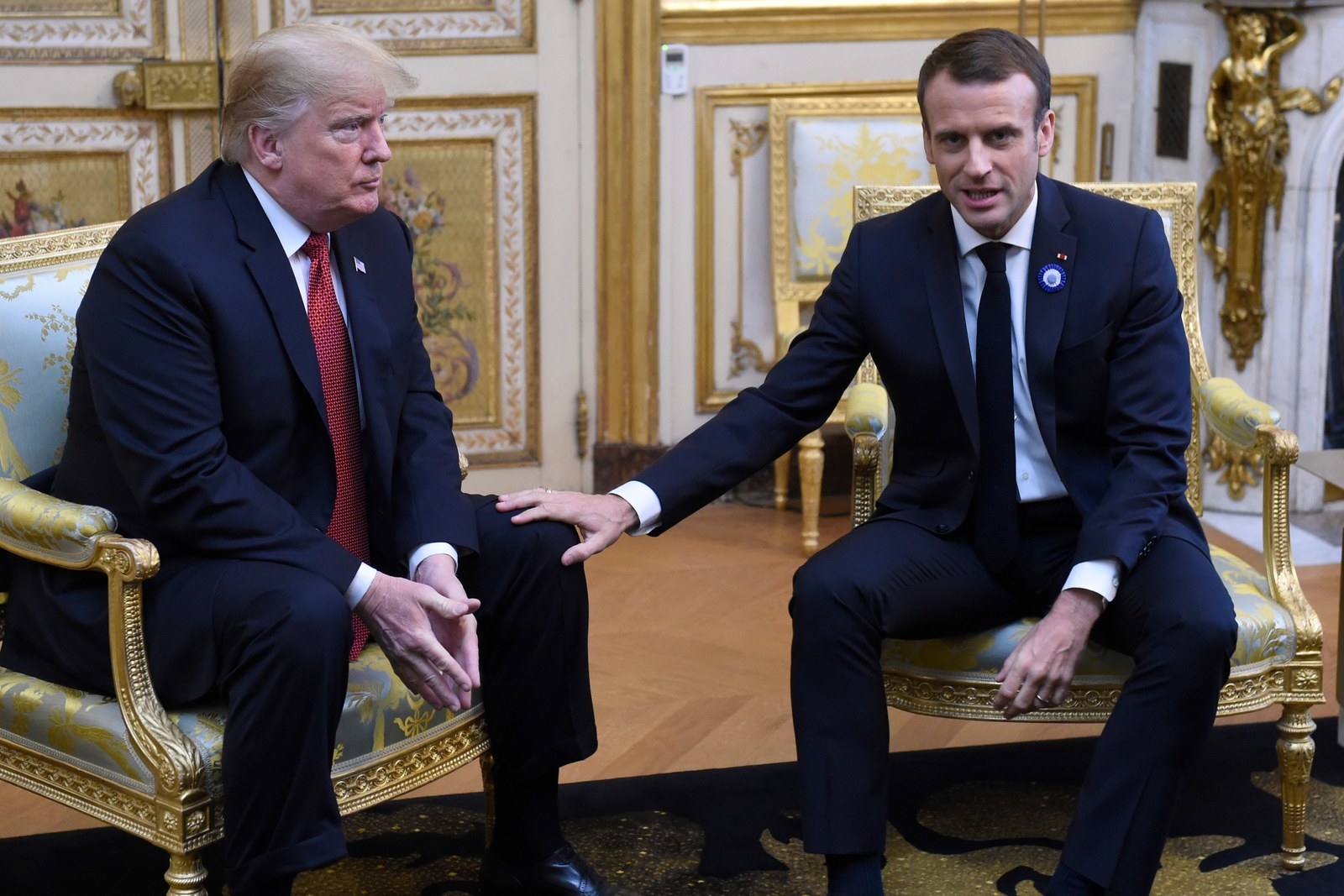 President Trump and the first lady were still expected to pay their respects the the Tomb of the Unknown Soldier at the Arc de Triomphe in Paris.
The couple will then join leaders on Saturday night for a dinner at the Musée D'Orsay art gallery.
Earlier on Saturday, President Trump and President Macron met in Paris at the Élysée Palace, where they exchanged a rather awkward grip-and-grin before the cameras.
It came after Trump sent a tweet critical of Macron just minutes after touching down in Paris on Friday evening.
"President Macron of France has just suggested that Europe build its own military in order to protect itself from the U.S., China and Russia," he wrote. "Very insulting, but perhaps Europe should first pay its fair share of NATO, which the U.S. subsidizes greatly!"
Speaking to reporters on Saturday, Macron said he was trying to suggest France share more of the burden of Europe's defenses.
"It's unfair to have the European security today being assured just by the United States, and we need a much better burden sharing," he said. "That's why I do believe that we need more European capacities, more European defense, in order to take this part of the burden."